The drop of 2.85% for the month appears quite moderate, especially as it occurred in the lead-up to the Brexit deadline of October 31. However, as with September's figures, this month's numbers were flattered slightly by the WLTP-related fall in registrations last autumn. Over a three-year period, October sales have fallen by 20.5%, which is a very significant decline.
At a manufacturer level, Ford is continuing to decline at a faster rate than the overall market, resulting in its YTD market share falling to 10.2%, from 10.8% for the same period last year. The striking thing about Ford's market share is that it is now concentrated in such a narrow part of the market: 89.2% of sales come from B- and C-segment hatchbacks and crossovers (plus a tiny number of C-segment MPVs). For a company that used to talk about "white-space" vehicles (cars that created new niches, such as the original S-Max), large parts of the market are now a white space to Ford.
In contrast, second-placed Volkswagen has maintained registrations, and slightly increased market share to 8.6% YTD. Next year, the relative performance of Ford and VW will depend on the reception to the new Puma and the new Golf. It seems unlikely that VW could catch Ford in a single year, but it is possible that VW could significantly close the gap between them.
In third place, Mercedes-Benz is consolidating its position ahead of BMW. YTD, Mercedes is approximately 8,000 units ahead. In the same period of last year, it was approximately 2,000 units in front. BMW itself is now fractionally ahead of Vauxhall, which has lost share as sales of the Astra and Insignia fade – the two models have dropped almost 10,000 units YTD.
Of the other Top 10 brands, the biggest fall in sales has come from Nissan (down 11.4%). The good news is that the new Juke is now in production and should start making a difference to the sales figures from the start of 2020. The bad news is that 2020 will also be the last year of production for the second-generation Qashqai, so Nissan will not be properly out of the woods until 2021. Conversely, the best sales improvement has come from Toyota, who increased sales by 1.5% in volume terms (or 4.3% better than the overall market). This is due to the new Corolla (with a little help from the C-HR), showing yet again the importance of fresh product – so long as the fresh product is also good.
Outside the top 10, the best performance of the brands with more than 1% market share has come from Dacia (up 32.9%), as it has replaced its all-important Duster. However, the most significant increase is probably Volvo (up 14.3%) for two reasons. Firstly, Volvo has increased volume by a larger amount (6,000 units vs 4,000 for Dacia) and, secondly, because it represents a change in image for the brand. From being a bit of a tail-end Charlie in the premium segment (five years ago, few people chose a V40 over a 1-Series), Volvo is now a fully competitive alternative – the XC40 can go head-to-head with any competitor.
The least surprising figure so far this year is diesel, which has dropped to 26.8% market share, with registrations down 18.1%. However, what is interesting is the wildly different proportions in diesel sales of the major brands (see table, below). Land Rover has the highest proportion at 81%, while four brands have almost eliminated diesel altogether (the table covers all brands with at least 1% market share).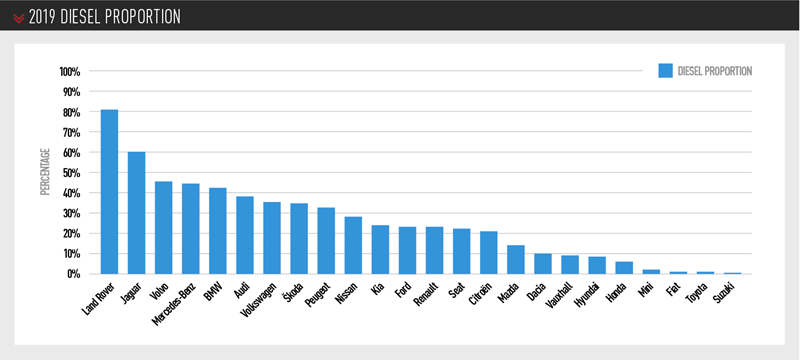 There seem to be two factors at work – the size of the average model in the range, and how keen the manufacturer is to drop diesel engines as a matter of policy. Land Rover has the largest and heaviest average model, because it has nothing smaller than an Evoque, while Jaguar has nothing smaller than the XE. People may assume that a range skewed heavily toward diesel is why JLR has suffered in the past two years, but that is not really true. Diesel sales of large SUVs and crossovers have held up well, because there is not yet much of an alternative – petrol is too thirsty and battery electric models are only just starting to appear. JLR's problems in the UK are because the Discovery 5 and XE have missed their sales targets by a big margin.
For all the brands with a diesel proportion of more than 10%, there is a broad correlation between vehicle size and the proportion of diesel sales – premium brands are about 40%-45%, while the larger mainstream brands are mostly about 20%-30%. As one would expect, VW, as the one semi-premium brand, is between the two. That leaves Škoda as the main outlier, mainly thanks to the very diesel-heavy Superb large saloon, and the fact that the Octavia is unusually diesel-oriented – reflecting the fact that it is the large, practical choice in its class and is popular with fleets.
The list of seven major brands with a share of diesel below 10% is an interesting one. Vauxhall is keen to get out of diesel, because its own range of diesel engines were not particularly competitive, and it is not worth converting its models to PSA diesels, as the market shifts away from oil-burners. Honda has only ever seen diesels as a necessary evil, and Toyota is keen to promote petrol hybrids as the natural way to go. Suzuki has always bought in its diesel engines, so is happy to sell more of its own petrol motors, while most Fiat models are too small to make any sense as a diesel.
The most intriguing name on the list is Hyundai, because its diesel sales are under one third of sister-brand Kia. Given the similarity of the models, there seems no particular reason why the Ceed and the Sportage should have a diesel proportion more than three times higher than the i30 and Tucson. Is Hyundai positioning itself for a big push on electric vehicles?
DAVID FRANCIS