New car retail offers in the UK have become more affordable than the previous two quarters this year, according to the latest analysis from AM.
According to AM's analysis of 259 manufacturer representative example retail offers from their websites, the average monthly payment was £352, a 1.9% decrease quarter-on-quarter.
However, the lowest priced months on average were still in Q1, when the monthly payment average hit a low of £311 to tempt buyers before the March plate-change.
Almost a third (32%) of offers in Q4 were below the average monthly payment of £352 and this tracks at a similar level to Q3.
The trend for price reductions quarter-on-quarter continues in Q4 with average deposits down by 4.2% to £5,990, compared with £6,250 in Q3.
Average APR rates increased slightly, from 4.2% to 4.3%, showing that the industry is broadly sticking to a similar approach quarter-on-quarter.
While monthly payments and deposits have fallen in Q4, the average balloon payment has actually increased by 3.2%, to £13,305. This shows manufacturers have been tweaking the figures in the last three months of the year to make payments more affordable, while ownership at the end of the contract has become less tenable.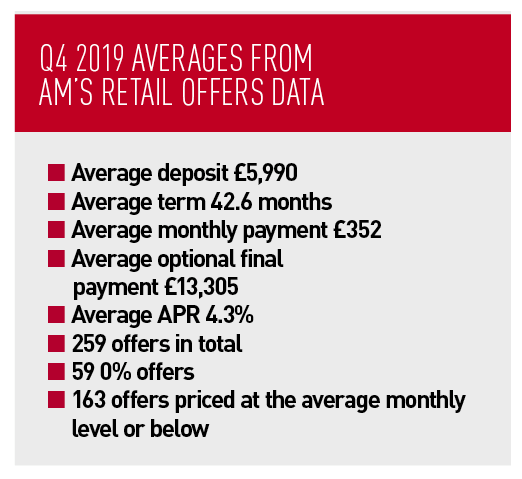 Manufacturers have continued strong 0% finance support to close out 2019, with an 11.3% rise in the number of 0% APR deals to 59 out of 259 offers.
Dacia and MG have the joint lowest priced monthly offer in Q4, at £99 each. MG's offer is 0% though, while Dacia has a much lower deposit level and a much higher APR, at 6.9%.
The MG3, Ford Ka and Škoda Fabia are the most affordable 0% offers this quarter at £99, £99 and £105 respectively.
The most affordable models in the table for Q4 show a lot of smaller cars, as would be expected, but the Ford Tourneo Courier sticks out as a cracking deal for a compact family MPV for under £150 a month with a low deposit and low-rate finance.
The Audi R8 is the most expensive model of Q4 by monthly payment, at £1,399 a month. That's also following a £26,880 deposit and a final payment of £54,680 to own the car at the end of four years.
Citroën has continued its strategy from Q3 of having the least competitive APR rate out of any other manufacturer finance house in the UK, at 9.9% on its SpaceTourer people carrier.
Plug-in vehicles are becoming more affordable as the quarters go on – nearly all of those featured in AM's analysis are priced at a lower level than the £352 average for Q4. There are eight models below the monthly average in Q4, compared with seven last quarter.
Model
Finance type
Deposit (£)
Term
Monthly payment
Final payment
APR
Offer ends
Top 10 most affordable by monthly payment
MG3 Excite 1.5 DOHC VTI-tech
PCP
3,459.00
48
99.00
3,283.00
0.00%
31/12/2019
Dacia Sandero Access Sce 75
PCP
639.00
48
99.00
2,557.00
6.90%
31/12/2019
Ford Ka+ Zetec 1.2 Ti-VCT 85PS
PCP
2,327.00
24
99.00
6,147.00
0.00%
31/12/2019
Škoda Fabia Hatch S 1.0 MPI 60PS
PCP
2,239.65
48
105.00
4,110.30
0%
01/01/2020
Dacia Logan MCV Access SCe 75
PCP
1,002.00
48
119.00
2,947.00
6.90%
31/12/2019
Peugeot 108 Active 1.0L 72 3dr
PCP
3,700.00
48
119.00
3,092.00
0%
31/12/2019
Hyundai i10 SE 1.0 67PS Petrol 2WD Manual
PCP
2,700.00
24
123.37
4,432.50
4.90%
31/12/19
Dacia Sandero Stepway Essential SCe 75
PCP
821.00
48
129.00
3,552.00
6.90%
31/12/2019
Peugeot 108 TOP! Active 1.0L 72 5dr
PCP
4,077.00
48
129.00
3,645.00
0.00%
31/12/2019
Dacia Duster Access TCe 100 4x2
PCP
1,135.00
48
139.00
4,623.00
6.90%
31/12/2019
Top 10 most affordable by 0% offer and lowest monthly payment
MG3 Excite 1.5 DOHC VTI-tech
PCP
3,459.00
48
99.00
3,283.00
0.00%
31/12/2019
Ford KA+ Zetec 1.2 Ti-VCT 85PS
PCP
2,327.00
24
99.00
6,147.00
0.00%
31/12/2019
Škoda Fabia Hatch S 1.0 MPI 60PS
PCP
2,239.65
48
105.00
4,110.30
0%
01/01/2020
Peugeot 108 Active 1.0L 72 3dr
PCP
3,700.00
48
119.00
3,092.00
0%
31/12/2019
Peugeot 108 TOP! Active 1.0L 72 5dr
PCP
4,077.00
48
129.00
3,645.00
0.00%
31/12/2019
Ford Tourneo Courier Zetec 1.0 EcoBoost 100PS
PCP
728.00
36
149.00
6,728.00
0.00%
31/12/2019
Fiat Panda Waze 1.2 69hp
PCP
4,121.00
40
159.00
4,121.00
0.00%
31/12/2019
Fiat 500L Urban 1.4
PCP
3,836.00
40
159.00
6,050.00
0.00%
31/12/2019
MG3 Excite 1.5 DOHC VTI-tech
PCP
169.00
48
169.00
3,283.00
0.00%
31/12/2019
Fiat Panda City Cross 1.2 69hp
PCP
2,345.00
40
169.00
4,451.00
0.00%
31/12/2019
Top 10 highest APR rates
Citroën SpaceTourer Flair 2.0 BlueHDI M 150PS 8-seat
PCP
15,500.00
48
449.96
12,991.00
9.90%
31/12/2019
Citroën SpaceTourer Business 2.0 BlueHDI M 150PS
PCP
14,474.00
48
378.53
10,236.00
9.90%
31/12/2019
Subaru Levorg 2.0i GT Lineartronic CVT
PCP
6,026.50
48
369.00
11,118.00
6.90%
31/12/2019
Subaru Outback 2.5i SE Lineartronic CVT
PCP
5,012.75
48
349.00
12,259.00
6.90%
31/12/2019
Subaru Forester 2.0i XE Lineartronic CVT
PCP
5,634.50
48
349.00
11,449.00
6.90%
31/12/2019
Subaru BRZ 2.0i SE Lux 6MT
PCP
4,600.00
48
299.00
11,692.00
6.90%
31/12/2019
Subaru Impreza 1.6i SE Lineartronic
PCP
5,218.50
48
279.00
8,385.00
6.90%
31/12/2019
Subaru XV 1.6i SE Lineartronic
PCP
5,641.50
48
249.00
10,798.00
6.90%
31/12/2019
Peugeot 208 Signature 1.2L PureTech 82 S&S
PCP
1,987.00
48
238.57
4,764.00
6.90%
31/12/2019
Suzuki Swift Sport 1.4 Boosterjet 5DR
PCP
2,639.64
49
229.00
6,223.00
6.90%
31/12/2019
Top 10 EV or hybrid models by lowest monthly payment
Renault Zoe Dynamique Nav R110
PCP
£3,855.00
48
199.00
£5,275.00
5%
31/12/2019
Smart EQ Fortwo Coupe
PCH
£1,693.00
36
219.00
N/A
N/A
31/12/2019
Smart EQ Forfour
PCH
£1,712.00
36
239.00
N/A
N/A
31/12/2019
Smart EQ Fortwo Cabrio
PCH
£1,649.00
36
249.00
N/A
N/A
31/12/2019
Mondeo Titanium Edition HYBRID Electric 2.0 TiVCT 187PS Auto
PCP
6,143.00
36
269.00
11,453.00
0%
31/12/2019
Hyundai IONIQ Hybrid First Edition 1.6 Petrol 141PS
PCP
£6,500.00
37
297.22
£10,485.00
4.90%
31/12/2019
Mitsubishi Outlander PHEV Design Petrol Auto 4WD (Leather)
PCP
£11,625.00
25
329.00
17,499.00
0%
31/12/2019
BMW i3
PCP
£5,079.00
48
349.00
£11,457.00
4.90%
31/12/2019
Kia Niro Self-Charging Hybrid 3 1.6 GDi 1.56 kWh battery auto DCT
PCP
£2,677.00
37
367.29
£11,902.50
5.90%
31/12/2019
BMW 225xe Sport Active Tourer
PCP
£5,449.00
48
369.00
£11,312.60
4.90%
31/12/2019