The Society of Motor Manufacturers and Traders (SMMT) has reported that UK car production declined by 4% during October after issuing a stark 'no deal' Brexit warning earlier this week.
SMMT chief executive, Mike Hawes, warned that the UK automotive sector's "global competitiveness is under threat" from the uncertainty surrounding the UK's departure from the EU as the manufacturer body revealed that 5,622 fewer vehicles were built last month compared to the same period in 2018.
A total of 134,752 units rolled off the production lines of the UK's car manufacturing plants last month, meaning that the nation's car production has now fallen in 16 of the last 17 months, with YTD performance down 14.4%.

Hawes, who issued a stark warning about a potential 'no deal' departure from the EU at the SMMT's annual dinner in London earlier this week, said: "Yet another month of falling car production makes these extremely worrying times for the sector.
"Our global competitiveness is under threat, and to safeguard it we need to work closely with the next government to ensure frictionless trade, free of tariffs, with regulatory alignment and continued access to talent in the future.
"This sector is export led, already shipping cars to more than 160 countries, and in a period of unprecedented change a close trading relationship with the EU and preferential trading with all these other markets will be essential to keep automotive in Britain."
The SMMT reported that weak demand at home had triggered a 10.7% drop in production for UK market while exports declined by 2.6% during October.
Model changeovers did play a part in the downturn, it said.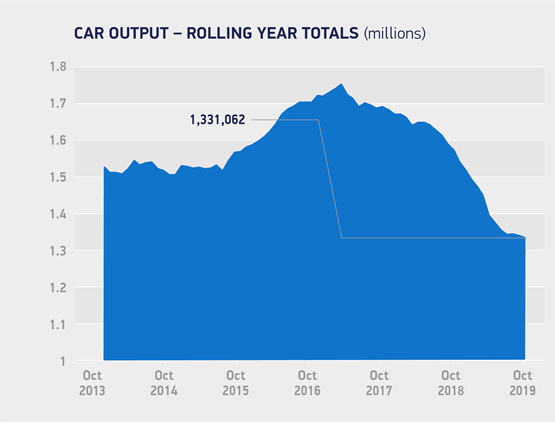 In a guest opinion feature posted on AM today, David Bailey gave a comprehensive view of the impact of the referendum result and the SMMT's warning of the potential impact of a 'no deal' Brexit scenario.
Bailey is a senior fellow at The UK in a Changing Europe and professor of business economics at Birmingham Business School.