At mid-September Cap HPI's data showed the average value of a used car was down -1.1%, and its values experts are expecting the month-end drop to be another 2% overall, similarly to August's outcome.
Despite some snippets suggesting that the market is firming in some areas Cap HPI is not seeing this in the data yet. Its director of valuations Derren Martin told AM: "It's still weakening, which is what we predicted would happen. It's not doom and gloom, just a pricing realignment really with more supply coming in and demand not being great."
Across the market, average 1yr car old values are down 1% (£350), 3yr cars are down 1.1% (£250) and 10yr cars are down 1.2% (£60)
Feedback from the industry is that September is pretty "steady", he said, as consumers face rising monthly payments when they change their car due to higher interest rates and expensive cars.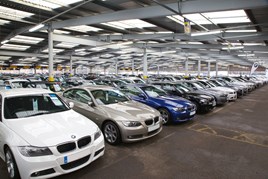 There are still many petrol and diesel cars with values 50-60% higher than in early 2020, and the average is 25% higher.
He said it feels like new car supply is returning to normality, and that means dealers are focused on stock turn in particular, to avoid any risk of book drops, and are working hard, he said.
The electric car market has generally stabilised, he said, and overall the average drop is 0.4%. Nevertheless, some EVs that hadn't dropped much in value during the summer months still look quite expensive so have suffered now, such as the Kia EV6 (-3%, £1,200), Nissan Ariya (-3%, £1,200), Lexus UX (-4%, £1,000) and Volkswagen ID5 (-2%, £700), all at 1yr/10k.
Martin said there has been low volume of these previously in the wholesale market so such drops were perhaps inevitable once more cars were offered to the trade.
Looking at the September new car market, he said there are good offers available from OEMs who are keen to secure their market share, and while retail is fairly slow going he expects rental companies and Motability will be getting a good supply of cars.