Mercedes-Benz is adding plug-in hybrid powertrains into its small premium car ranges.
Later this year the UK's Mercedes dealers will gain the A 250e and B250e PHEVs to their showrooms.
The new models use a 1.3-litre turbocharged petrol engine, combined with an electric motor to deliver a combined 218PS and 450Nm.
CO2 emissions range from 32-36g/km.
The A 250e is available in both hatchback and saloon body styles, with the latter offering the lowest emissions of 32g/km, although all versions are in the same 16% BIK band.
Prices are expected to start at around £33,500 for the A 250e hatchback when it goes on sale before the end of the year.
A 15.6kWh battery is used in both the A 250e and the B 250e. It provides a zero-emission range of around 42 miles and can be charged in less than two hours.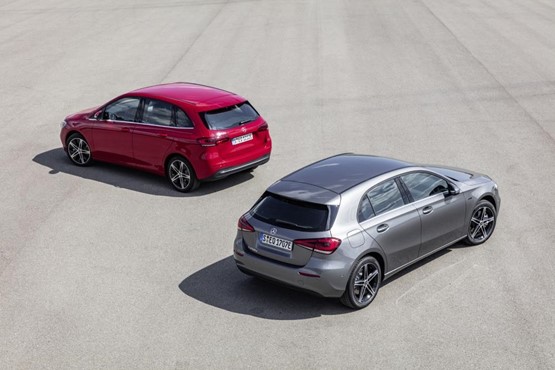 Official fuel economy figures suggest an average of more than 200mpg is achievable.
New drive programs "Electric" and "Battery Level" are available. Maximum e-performance can be experienced in "Electric" whereby the combustion engine is only engaged if the driver uses kickdown on the accelerator pedal. In the "Electric" program the recuperation strength can also be selected via paddles behind the steering wheel.
The new versions join Mercedes's expanding EQ Power line-up that includes the C- and E-Class 300de, E 300e and S560e.
There will also be a GLC plug-in hybrid offered shortly. Mercedes says it will offer more than 20 plug-in models by 2020.