A director of classic car dealer Tom Hartley has been handed a nine-month suspended jail sentence following his involvement in a crash involving a Ferrari 458 Spider and a Porsche 118 Cayman GTS.
Carl Hartley (32) from Swadlincote, Derbyshire – son of Tom Hartley, who founded the luxury car dealership bearing his name in Swadlincote – and Henry Hibbs (27) from Middlefield, New Ollerton, were both convicted of dangerous driving and at Sheffield Crown Court on January 15.
The court heard how tests carried out by South Yorkshire Police had shown that the Ferrari, which had been driven by Hartley, had been doing 68mph on a 50mph road before the two vehicles smashed into each other at Tinsley roundabout, near to the M1 motorway, on May 20, 2018.
South Yorkshire Police told the court how Hartley initially fled the scene following the crash but later identified himself as being involved in the collision before pleading guilty to a charge of dangerous driving at the start of a trial in November.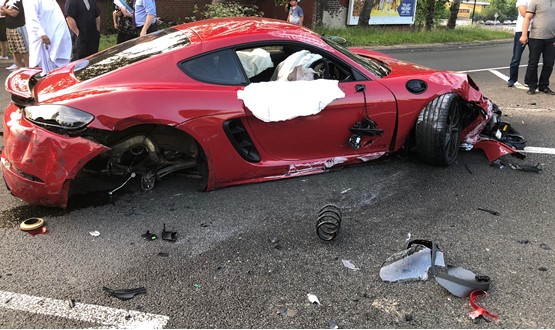 Traffic Officer and the officer in charge of the investigation, PC McEnery, said: "The airbag unit from the Ferrari was shipped overseas where a professional was able to confirm at what speed the airbags in the vehicle were deployed - 68mph. The road that the cars collided on has a 50mph speed limit.
"A collisions investigator carried out extensive tests on the car to check for damage to the braking system- no damage was found.
"Within the investigation, officers appealed to the public for information and witnesses who had seen the cars earlier in the evening.
"Numerous witnesses came forward, all highlighting the 'dangerous', 'unsafe' and 'racing style' behaviour that the drivers had been showcasing across South Yorkshire. Both vehicles were captured on numerous CCTV footage at various locations."
Hartley was sentenced to nine-month in prison, suspended for 24 months and 200 hours unpaid work at last Wednesday's court hearing.
He was also disqualified from driving for two years and ordered to take an extended test before driving again and ordered to pay £1,400 in costs.
Hibbs, the driver of the Porsche, pleaded not guilty to dangerous driving but was later found guilty by a jury sitting in a week-long trial which ended on November 12.
He was sentenced to ten months in prison, suspended for 24 months and 220 hours unpaid work.
He was also disqualified from driving for two years and ordered to take an extended test before driving again and ordered to pay £4,070 costs.
PC McEnery said: "Vehicles racing and travelling at speed are a dangerous combination and this collision could have seriously injured the drivers and innocent road users.
"I hope Hibbs and Hartley reflect on what consequences their actions could have had."
Hartley, who is listed as co-owner and director on the Tom Hartley website, featured in 32nd place on the Sunday Times Rich List in 2018, when his personal fortune was estimated at £23 million.