A terminally ill independent car dealer is targeting the completion of a five-mile walk to raise funds for Brain Tumour Research.
Mark Calaz, who worked selling cars at his family's Slades of Devises car dealership, in Wiltshire, for 20 years, was a keen walker and organised expeditions which included a trek to Everest Base Camp as a volunteer with the Army Cadet Force.
Now, ten months after he was diagnosed with a glioblastoma multiforme brain tumour – the most common type of primary cancerous brain tumour in adults – he has set a mission to walk five-miles in a bid to raise awareness of his condition and funds for the cancer charity.
His wife Mandy Calaz said: "Mark was a very fit and healthy person who could walk for miles and all day long.
"Unfortunately, he is not currently able to walk as far now but is going to attempt to walk five miles.
"We know that this isn't far for some but for Mark this is like a marathon. Please support him is this massive challenge."
In a moving account of his health battles published on the Brain Tumour Research website, Calaz revealed that he was diagnosed with a brain tumour after collapsing at home last year.
He underwent surgery at Southampton General Hospital in December last year but doctors were not able to remove the entire tumour.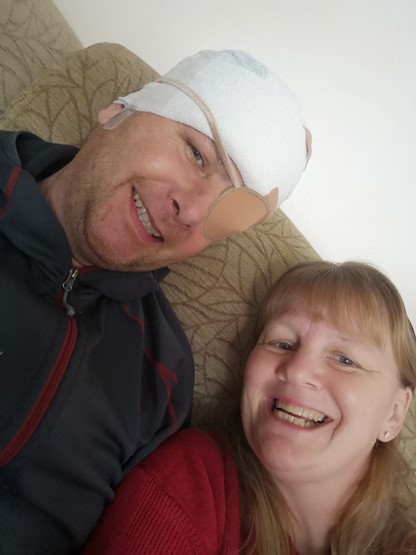 He said: "The neurosurgeon explained that it would only be possible to remove about 80 per cent of the tumour and that I was looking at a limited time-span of at best 18 months given I was a healthy man.
"I found it very difficult to register everything he was saying, but Mandy did and was very upset."
He added: "I try not to dwell on what's coming and focus on the positives and making the most of each day."
Calaz is now focussing on his charity walk effort and Mandy is attempting to gather sponsorship for his efforts.
To donate to the cause, visit the couple's JustGiving page by clicking here.
Brain tumours kill more children and adults under the age of 40 than any other cancer yet, historically, just 1% of the national spend on cancer research has been allocated to this devastating disease, according to Brain Tumour Research.
Brain Tumour Research is aiming to build a network of experts in sustainable research at dedicated Centres of Excellence whilst influencing the Government and larger cancer charities to invest more nationally.
A mission ststament on its website states: "We are the only national charity in the UK that is dedicated to raising funds for continuous and sustainable scientific research into brain tumours and we are a leading voice calling for greater support and action for research into what scientists are calling the last battleground against cancer."