Vertu Motors has appointed two new national fleet sales managers for its Vansdirect light commercial vehicles (LCV) retail business.
Michelle Fairclough takes up one of the Newport-based operations' new specialist fleet roles having joined the business from Intercounty Truck and Van Mercedes-Benz, while Liam Nicholas joins having previously worked for Euro Commercials Mercedes Benz and Northgate plc.
Fairclough, who has more than 20 years' experience in the automotive industry, said: "Vansdirect is a very successful internet-led business with a strong team of dedicated and professional retail sales colleagues.
"Liam and I have been brought into the business in a newly developed fleet role to enable it to target fleet customers and gain further growth.
"We aim to focus on companies that do not necessarily buy from us. Either they do not really know what we can offer and how they can benefit, or they are used to dealing with the typical large hire companies or sourcing directly from dealers.
"I believe that I can bring my wealth of knowledge to benefit Vansdirect and I feel the values and ethos of its parent company (Vertu Motors) is very similar to my own.
"Ultimately, I pride myself on strong customer service as well as introducing new customers to our business and the advantages that they can enjoy."
Nicholas, who also has significant experience in fleet sales and rental and is a qualified international transport manager with the Certificate of Professional Competence (CPC Level 2), said: "I've known of Vansdirect since 2008 when I was working for Lloyds Banking Group as the company sponsored Cardiff City for their final season at the famous Ninian Park.
"Having left finance and embarked upon a successful 10-year career in the automotive sector I have kept an eye out and always admired Vansdirect.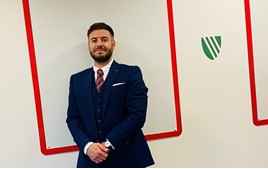 "It was when Vertu Motors bought it for £7.5 million last year that I realised it was becoming a pretty big deal and since then it seems to appear everywhere I look.
"Having won the best van leasing broker award four consecutive years in a row and sponsoring some of the biggest names in world professional darts, it is a forward-thinking and ambitious business.
"It was a no-brainer to join the newly-created Fleet Department with Paul Cox, the new sales director, alongside Michelle Fairclough who I've had the pleasure of working with in the Mercedes-Benz dealer network over the years.
"I was fortunate to report directly to Paul in my last role as business development manager and knowing how passionate and obsessed he is with putting customers first and excellent customer service that aligns with my own values and was one of the main reasons I've joined him on this new journey to help our customers succeed."
The two new appointments at Vansdirect follow last month's announcement that Samantha Ward had been appointed as its new operations director.
Ward has been with the business since January 2016.
Last year the business claimed the best van leasing broker award at the Leasing Broker Federation Awards for the fourth consecutive year.