Passionate, driven and caring were among the terms used to describe Horizon Magna Motor Group founder and chairman Colin Sharpe after he died at the age of 77.
Tony Roberts, managing director of the Poole-based retail group, paid tribute to the founder and chairman of the business which remains in family ownership 52 years after Sharpe founded it as a 26-year-old.
Sharpe passed away peacefully at Poole Hospital on February 3, following a battle with ill-health.
He leaves behind his wife Margaret, sons Damian and Christian and the legacy of a £90 million turnover car retail group with Honda (5), Mazda (5), Nissan and Subaru franchises.
Roberts said that it had been an "incredible achievement to go from employing from people to 255 in that 51-year period" but was keen to pay tribute to the man as well as the businessman.
"It's still very raw. It's a tremendously sad time", Roberts told AM. "I have worked with Colin for 36 years and he was a truly remarkable character who was involved in the business right to the very end."
He added: "He was a driven character with a vast understanding of the motor industry and a passion for the engineering side, but he was also extremely compassionate and pragmatic leader.
"Together we have worked through periods of recession, production issues and tsunamis and Colin was always concerned for the people impacted by those tough times as much as he was the business.
"When the Tsunami hit Thailand, he was immediately motivated to set up a fund to make donations to the communities impacted there."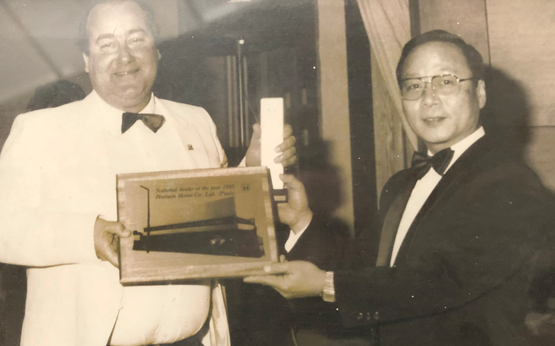 Sharpe travelled to the Far East on various occasions during his career as he forged strong ties with the brands his business represented.
As well as forging ties overseas, Roberts said he had always been eager to operate a family-run business that looked after its staff – a point he underlined during the COVID-19 pandemic.
Roberts added: "One bit of advice that Coline gave me that I will always remember was 'don't hire people and train them to be good, hire good people and train them'."
AM will endeavour to update readers on arrangements for Colin Sharpe's funeral in the coming days.