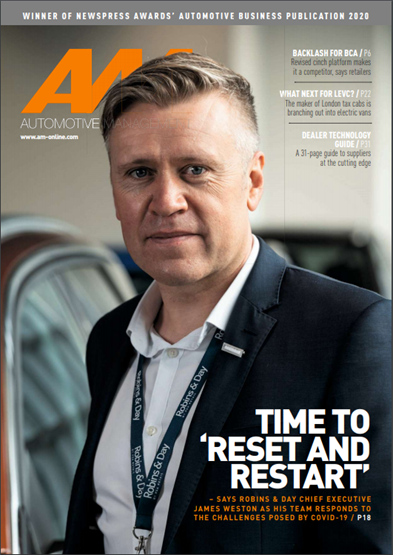 Insights into motor retail technology, new competition in the electric van market, dealers' reaction to Cinch and AM100 group Robins & Day's fight back since lockdown all feature in the new November 2020 issue of AM magazine, available to read today in print and digital formats (here).
Dealers and rivals voice frustrations at the latest evolution of Cinch, the online direct sales platform owned by BCA, which markets BCA's cars direct to retail buyers as well as also advertising dealer stock.
We've more detail on Automotive Management Live Virtual, and headline sponsor RAPID RTC, including how to register ready for the online event on December 2-3.
James Weston, chief executive of Robins & Day by PSA Retail, the manufacturer-owned AM100 dealer group, told AM exclusively how his management team used the COVID lockdown to develop new strategies and ensure its workforce would emerge stronger and more determined to succeed.
Joerg Hofmann, chief executive of Britain's electric taxi and van maker LEVC, gave an exclusive interview to AM where the former Audi executive compared his previous employer's demands for dealer capital investments versus LEVC's modest needs of "what is really needed to fix a car and get a minimum brand recognition".
In a third exclusive, former Peter Vardy and Lookers senior executive Cameron Wade, now managing director of tech firm Silver Bullet, talks about how online sales will bring the cost per sale down for dealerships which will still remain a key part of that sales process.
There's a 36-page Dealer Technology Guide in the new issue of AM, spanning everything from lead management to remarketing.
It's time for motor retail to address men's mental health, according to the industry veterans behind new organisations Menable and Automotive Minds which tell AM they will coach business leaders to open up the conversation around stress, depression and compulsive behaviours.
More motor retail executives discuss how they're overcoming challenges in a recent virtual round table, which we report on here.
Rygor Commercials executive Chris Marsh talks about motivating his team and smoothing the process of vehicle repair and parts supply.
And don't forget our monthly Guess The Car competition, with a chance to win a John Lewis voucher.
Editor's Letter
After the lull of the second quarter this year, hasn't quarter four turned into a race for everyone? The pressure is on to finish the year as strongly as possible and keep that confidence sustained into 2021 as we all continually adjust to the changing restrictions.
To help keep you inspired and up to date with the latest best practice, and to help you see what your peers have been up to, AM has two virtual events scheduled for November and December, which you'll be able to log on to from your PC or phone.
Firstly, there'll be a webinar for this year's AM100 on November 18, in association with BDO, where we'll reveal the latest trends and highlights of the UK's biggest motor retailers. Details of how to register for this will be on AM-online shortly.
Secondly, on December 2 and 3 we're holding Automotive Management Live Virtual. There'll be 20 insightful speakers plus exhibitors to meet on our hi-tech, interactive, virtual exhibition platform and you'll be able to download brochures, view videos and attend live Q&A sessions with industry experts. See page xx for more details.
I've missed seeing many of you at industry dinners and conferences, so hopefully I'll see you – virtually – at those two.