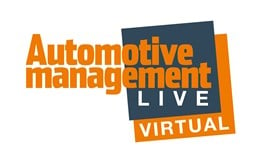 Effective marketing and CRM, profitable car sales and workshop efficiency will be among the critical subjects at Automotive Management Live Virtual in January, ensuring dealers can get 2021 off to a great start.
The virtual event, which runs over two days (January 20 and 21), will also share learnings and case studies from more than a dozen UK motor retail groups.
In total AM Live Virtual, with headline sponsor RAPID RTC, will feature 20 seminar sessions offering visitors insight, advice and guidance to improve their strategic planning and their day-to-day operations. And the supplier partners will showcase their latest products and services for automotive managers on enhanced interactive stands with video, live chat and demonstrations of new technology.
Attendees will be able to meet in the virtual networking lounges, watch presentations designed to inspire and innovate, can quiz the expert presenters in their live Q&A sessions, and can arrange private virtual meetings without needing to go anywhere.
Attendance to AM Live Virtual is exclusive to dealer and vehicle manufacturer personnel. To get into this insightful automotive event for free you must register in advance at www.automotivemanagementlive.co.uk
Our virtual event is accessible from desktop, tablet and even mobile devices on the following browsers: Google Chrome, Safari, Firefox and Microsoft Edge.
Some of the sessions already confirmed:
Connecting the ecosystem; making automotive commerce faster, better and smarter.
Presented by CDK Global, CitNOW, GForces, LSH Auto UK and Group 1 Automotive UK.
(sponsor – CDK Gobal)
Leadership in a virtual world
Presented by Dr William Holden, chairman of Sewells and Katie Saunders, HR director of JCT600
(Sponsor – Real World Analytics)
Insight and reviews drive away the winter blues – Beat the bug and smash your budget in 2021
Presented by Neil Addley, founder, JudgeService
(Sponsor – JudgeService)
Motor retail property
Presented by Robert Stephens of RS & Co, and Richard Adams of Accendia