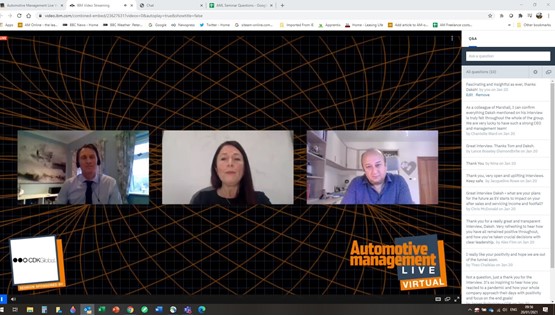 Daksh Gupta, chief executive of Marshall Motor Holdings, kicked off day one of Automotive Management Live Virtual this morning with an insightful interview in which he outlined the concerns of furloughing staff and the opportunities ahead of new dealer reward models.
During a 40-minute interview Gupta told AM that some question why more employees aren't on furlough as the UK endures repeated lockdowns that require car showrooms to close, but Marshall's concerns, as a Great Place to Work, of course include the mental wellbeing of employees, who in some cases may live alone, so Gupta pointed out that the decision is not an easy one.
He also noted that emergence of agency model contracts for dealers, increasingly likely over this decade, could improve dealers return on sales and remove the significant interest charges incurred currently on stock that must be held by the retailer.
Dealers and OEMs can still register now to attend Automotive Management Live Virtual tomorrow, and get access to watch the content you've missed on catch-up.
Gupta was followed by a panel debate, 'Connecting The Ecosystem; Making Automotive Commerce Faster, Better And Smarter'.
Led by CDK Global's global partner director Matt Benns, he was joined by Jamie Nash, Group 1 Automotive's marketing director, Carol Fairchild, CitNOW's chief customer officer, Tim Smith, GForces chief commercial officer, Norman A McKeown, LSH Auto's head of IT, and Kim Petit, CDK Global's customer experience director.
Together they discussed the progress being made to a fully connected, open ecosystem for motor retailers which would drive their efficiency and support them in delivering the best customer experience possible.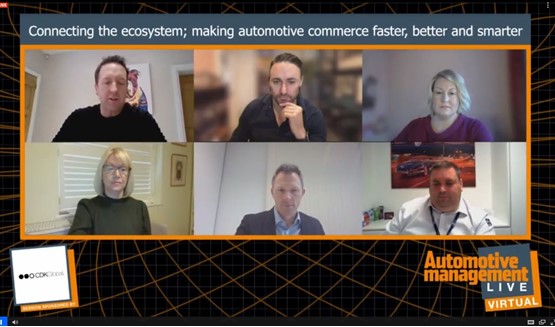 Facebook's head of automotive Anita Fox and RAPID RTC's VP sales and support Pontus Riska led the third session of the morning, 'Embracing The Paradigm Shift'.
Fox outlined Facebook research which has determined the continuing need for human interaction, particularly at the point of purchase, despite more car buyers having to make their enquiries remotely.
"The need for human interaction hasn't changed, but how they connect has," she added.
The need is for man and machine to work together, added Riska. He highlighted that businesses are under a digital transformation but there's a great risk that the improvements made are not sustained in the future.
For the full agenda of Automotive Management Live Virtual on January 20-21 click here.