Used car stock levels and prices have remained stable in January, following a year of unprecedented growth.
Figures from eBay Motors Group show that average used car prices were up by just 0.8% month-on-month, while stock levels remained on par with December.
Days to sell increased from 39 to 45 days, which is closer to pre-pandemic levels.
"January was characterised by some welcome stability across the sector. The continued levelling out of advertised prices was good news for dealer profitability, especially as stock levels remained constant," said Dermot Kelleher, head of marketing and research at eBay Motors Group.
"The rise in days to sell is no cause for alarm as they're actually tracking close to the pre-Covid January levels of 44 days recorded in both 2019 and 2020."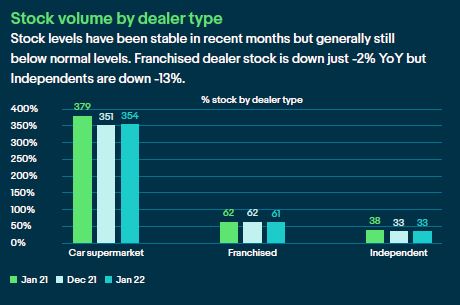 Faced with the ongoing shortage of used car stock, dealers entered January with inventories averaging 46.7 vehicles, on a par with 47.1 in December but 10% down year-on-year.
Month-on-month stock levels were consistent across the three main retailing channels with car supermarkets seeing a slight improvement from 351 to 354 units, although down 6.5% from 379 in January 2021.
Franchised dealers averaged 61 units, just one vehicle down month-on-month and year-on-year. Independents average 33 units, the same as December, although 13.4% down year-on-year.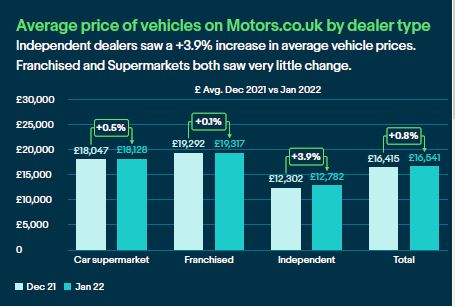 Following the significant gains achieved during the second half of 2021, advertised prices levelled off for the third consecutive month averaging £17,863, up just 0.8% on December but a year-on-year increase of 17.8%.
The biggest month-on-month gains were in the independent sector where prices rose 3.4% to £14,714. While average prices remained static in franchised dealers at £21,808 and car supermarkets at £18,922.
Used car prices surged by 30.5% during December, according to Auto Trader. The growth left a quarter of 'nearly new' cars priced above their brand-new equivalents.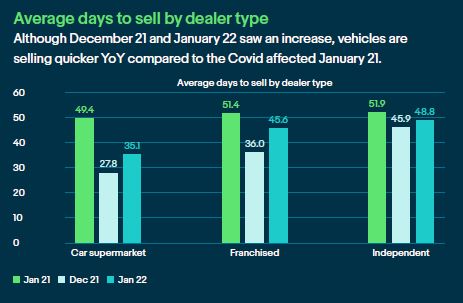 Although average days to sell increased month-on-month from 39.4 to 45.5 days, a rise of 15%, it was an improvement on the 51.2 days averaged in January 2021 when the UK was in a Covid lockdown.
Car supermarkets achieved the fastest sales of 35.1 days, followed by franchised dealers at 45.6 days and independents at 48.8 days.
The Tesla Model 3 has been declared the most desirable used car and electric vehicle (EV) of 2021 for dealers by Aston Barclay.
The US-built electric car appeared in the remarketing firm's top 10 desirability index on seven occasions: more than any other model.