Mazda has a reputation for going its own way and things are no different with its first electric vehicle – the MX-30.
The brand, which has so far side-stepped all-but mild hybrids due to a determination to refine the internal combustion engine (ICE), comes to market with an electric car featuring a relatively small 35.5kWh battery offering a range of just 124 miles.
Just as with the Mini Electric and Honda e, the small battery keeps the CO2 footprint of production down along with the MX-30's price. Sitting on the same platform as the CX-30, the MX-30 crossover comes in three trim levels, with the SE-L Lux starting at £28,545 before the Government's £2,500 plug-in car grant (PiCG).
The first 500 MX-30s to reach the UK will be £30,495 First Edition models, marked out by a door mirror and roof colour which contrasts the body of the car.
All MX-30s feature LED headlights, a reversing camera, adaptive cruise control, sat-nav and a head-up display. SE Lux adds 18-inch alloys, LED lights, an 8.8-inch touchscreen infotainment system and with Apple CarPlay and Android Auto smartphone connectivity.
Sport Lux (£30,545) adds privacy glass, piano black and chrome trim, heated seats and keyless entry. The range-topping GT Sport Tech costs £32,845 and features a 12-speaker Bose sound system, a sunroof, heated steering wheel and a 360-degree parking camera.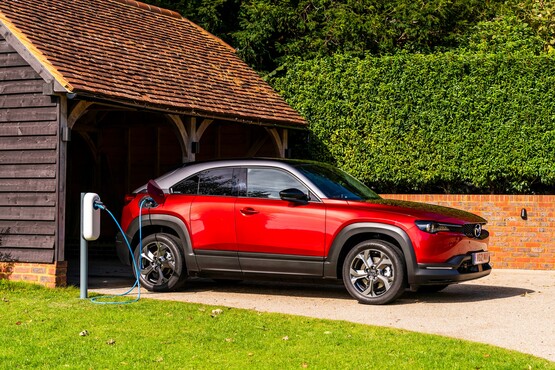 All MX-30s come with free installation of a NewMotion home charge point. While a DC socket allows for rapid charging up to 50kW – adding an 80% charge in 30 to 40 minutes – the 7.4kWh home charger will take around five hours for a full charge.
The MX-30 has an air of style and quality which dealers should be keen to expose customers to, Mazda having cherry-picked elements from its design heritage and incorporated them into the new EV.
Most notable are the RX-8 style, rear-hinged 'suicide doors'.
Mazda, which started life as a cork manufacturer, has also incorporated responsibly-sourced cork into the cabin, with the uniquely tactile alternative to traditional wood lining the centre console.
The MX-30 GT Sport I drove also included light grey fabric seats which brightened the cabin and are made using fibres from recycled plastic bottles.
Mazda's widescreen infotainment looks the part and – controlled on the move via a rotary dial on the centre console – is one of the most intuitive systems of its kind.
Although claiming to possess SUV traits, the MX-30 falls short of some C-segment hatchbacks in terms of space, but there was enough head and legroom for my 6ft 1in frame in its rear quarters.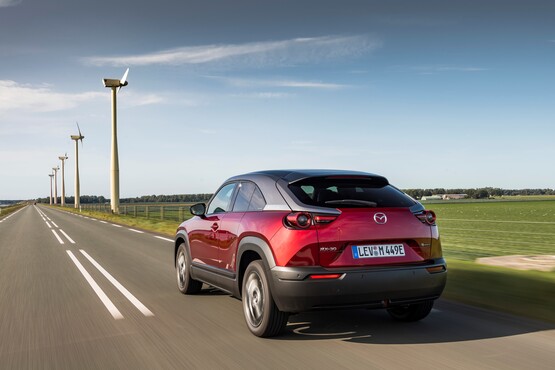 Boot space ranges from 341 to 366 litres dependent on whether the Bose sound system is fitted, as its sub-woofer eats into space.
Driving the MX-30 is a lesson in smooth acceleration, forgoing the neck-straining urge of some EVs. Mazda claims a 9.7 second acceleration to 62mph and a maximum speed electronically limited to 87mph.
While not particularly quick off the line, the MX-30's torque-biased output of 145PS and 271Nm is useful on 'give and take' B-roads. And, true to its roots, the MX-30 delivers dynamically, employing Mazda's new Electric G-Vectoring Control Plus system to adjust the car's balance through a corner. The system helps to create a very agile SUV.
Mazda UK MD, Jeremy Thomson, concedes that the MX-30 "is not for everyone" as anxiety remains about EV range and charging infrastructure.
But Mazda's range now has a refreshingly different EV model that has a strong set of brand principals at its core.
Q&A with Jeremy Thomson, managing director, Mazda UK
The MX-30 feels like it's been a long-time coming. Why is that?
MX-30 was launched in Europe about 16 months ago, with around 10,000 sales by the end of the calendar year. We are coming in latterly at the end of March, but also rather fortuitously, given the re-opening of showrooms. The reason we've been relatively relaxed about EVs is market dynamics. While there's been a huge amount of noise surrounding EVs, it's only been over the past 12 months that we've seen a significant increase in consumer demand. As a manufacturer of modest volume we have to be careful where we put our R&D focus.
How does the MX-30 size up against other EVs?
We have points of difference. First, MX-30 is an SUV and that segment's 50% of the UK mix. Also, it's a car with a medium-range battery. People have a binary way of thinking about batteries and range. We are trying to add some nuance to the discussion. Just as a one-litre petrol engine isn't appropriate for all, neither is an EV with a large battery. There is a strong environmental argument about right-sizing. Service records show the average daily mileage for a Mazda is 26 miles. This car has the right range for most needs.
What impact will an EV have on Mazda UK's CAFE commitments?
The amount of those fines will be heavily modified as a result of the MX-30. We'd expect to be penalty-free in the next couple of years.
How have Mazda dealers adapted to electric car sales?
Dealers have appropriate vehicle charging, although that might be associated with another brand on the same site. All our dealers have a demonstrator too. We actually brought in around 50 left-hand drive cars from the Netherlands to give customers an early look. Around 50 dealers took that opportunity. Sadly, because of lockdown, many of those cars went back without turning a wheel.
Is it important to get potential MX-30 customers behind the wheel?
Many manufacturers have just shoe-horned a battery into an existing B-segment car so customers have an idea what they might be like. MX-30 is a new platform, with a unique interior and door solution. Hands-on test drives will be important. EVs require more input from the dealer, I believe. I'd never dream of buying my first EV online and having it dropped off on my driveway on a lorry.
Does Mazda's first EV deliver conquest potential?
I'd think around 50% of MX-30 customers will be conquest. EV buyers are well informed and will consider what the whole sector has to offer to fulfil their needs.