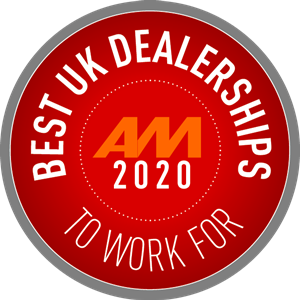 Best UK Dealerships To Work For

For the third year, AM is running the AM Best UK Dealerships To Work For programme.
Taking part is FREE
Tim Rose, AM editor, said: "Employees at our 2018 Best Dealerships To Work For felt supported, respected, recognized for their good work.
"They have strong connections with their supervisors, can share their opinions or feedback.
"And they feel rewarded, with chances to progress their careers, training and a broad range of staff benefits."
If your workforce feels similarly, register your dealership for our 2019 programme, run in partnership with Best Companies Group.
It's totally free of charge.
And there is no risk – if your survey results aren't strong enough to make the listing, no-one outside your business will ever know. But if they are, you'll be celebrated as one of the best.
Benefits for the businesses which become 2019 AM Best UK Dealerships To Work For:
FREE use of AM Best UK Dealerships To Work For logo for your recruitment marketing.
Best Dealership To Work For trophy to display in the workplace, and press release templates for your use.
FREE registration to our flagship Automotive Management Live 2019 exhibition at Birmingham NEC, where the awards will be presented.
The head of the overall highest scoring dealership will receive a VIP invitation to the 2020 AM Awards, to join AM on the front tables, and to be presented with their award again on the grand stage at our flagship event.
Option to purchase a detailed report from Best Companies Group, with your employees' anonymised responses to each of the survey's questions, verbatim comments and benchmarking data. This is purely optional. No purchase is necessary to take part.
There is no risk.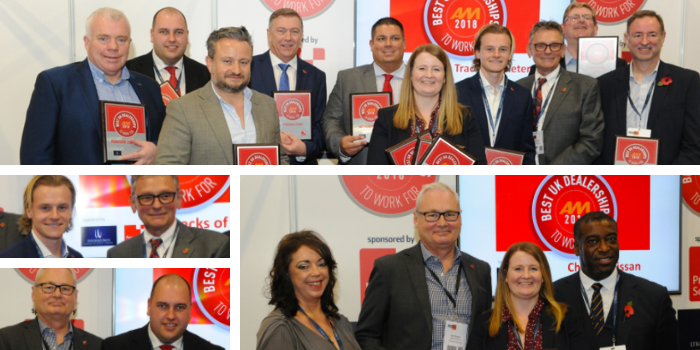 Have a question? Email Tim Rose at tim.rose@bauermedia.co.uk.
Best Dealership to work for news
Aftersales

25 Mar

​Chorley Group will discount all service and repair work on NHS workers' cars by 50% as a thank you for the work they are doing to protect the public's health from the effects of the COVID-19 coronavirus outbreak.
View all
Chorley Nissan in Burnley is the AM Best UK Dealership To Work For in 2018, with the highest score of all the dealerships that took part in this year's survey
Where the AM Best UK Dealerships to Work For excelled and where they may need to do more
In this very competitive labour market, being named a best place to work will help with employee recruitment, staff retention, dealership marketing, and the dealer's overall reputation in the community.