Inchcape UK will reassert its commitment to growth with the creation of an all-new standalone used car sales division and a series of large-scale dealership development projects.
After making headlines with the disposal of 20 dealerships in the past two years and losing the 'retail' classification from its London Stock Exchange listing as its global focus shifted towards distribution, the PLC is on course to fulfil the goals of its five-year plan.
Chief executive James Brearley told AM he is "really proud" of the results of the project to 'right-size' the group and harness technology to streamline its operations and drive omnichannel retail.
Now he's keen to grow through local market "dominance" with the help of a new 20-site used car retail operation.
"I think we now have a really good structure and we've positioned ourselves to maximise opportunity in our market areas," says Brearley.
"With our new footprint and omnichannel retail, we're in really good shape to embrace the opportunities that the market presents."
Brearley has overseen a dramatic restructure of Inchcape UK since he joined as chief executive in January 2017.
He re-joined Inchcape after leaving his post as managing director of Pendragon's Stratstone and Chatfield's Trucks divisions in 2015, initially working on the import contract for Jaguar Land Rover in Thailand having previously worked with Inchcape in the late 1980s.
Group chief executive Stefan Bomhard later asked him to join as the boss of the UK retail operation.
"There was a huge amount of opportunity to change and improve the business," Brearley recalls.
"I wanted to prove I could do it somewhere else."
While Inchcape's Ignite strategy to right-size its business and refocus on distribution and wholelife automotive opportunities would come later, it was immediately apparent Brearley could make his mark.
He says: "This was a very old-fashioned business in the way it operated. Very non-digital and very paper-intensive, operating in vertical silos, if you like.
"(The dealerships) were working as individual businesses with no best practice shared. It was a collection of businesses rather than a group."
Brearley says he also likes the exposure his role with Inchcape UK gives him to a wider business which includes distribution through close OEM partnerships, describing it as "interesting and educational".
Inchcape currently operates manufacturers national sales companies (NSCs) under licence in 35 global markets.
Brearley says he would expect Inchcape to be "the first choice" for any global automotive manufacturer looking to establish itself in the UK, but adds: "The UK's pretty well covered."
RINGING THE CHANGES
Brearley described Inchcape UK as "under-invested" at the time of his arrival, the result of "a series of historic acquisitions".
"What nobody had actually looked at was the crossover of franchise points and the space between them," he says.
"The thought process had to ask the questions, 'do we want all these sites, and do we need to be engaged in these expensive areas from a property and people perspective?'
"The reality is that you can deliver a car into London from Coventry or Bolton or Norwich or wherever for a lot less, from a place where property is 30%-to-50% cheaper."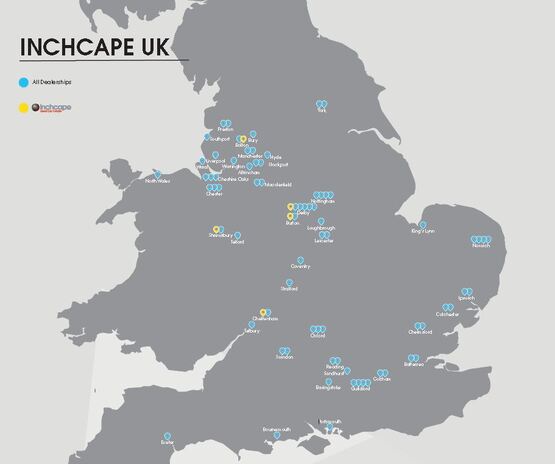 Brearley suggests that financial savings can be made through amore geographically-focused business, both in terms of logistics, marketing and greater career progression for its workforce.
He says: "The Arnold Clark and JCT600 model for dominating an area is one that works."
Brearley also set out to break down the barriers between the businesses to ensure a flow of best practice and simplify its operations through better processes and digital tools.
Central to leveraging the scale of the group would be the creation of a DMS (dealer management system) that could bring together processes, data analysis and the marketing of used cars.
Brearley says: "(Pendragon's) Pinewood had Pinnacle and had spent years working on a platform that it was possible to build a dealer group from."
Inchcape's strategy would involve an in-house development team working with supplier partners to deliver its own bespoke solution.
Head of digital strategy Paul Buckley leads the team which oversaw creation of the solution which brings together software from Salesmaster Stockbook, CitNOW, Rapid RTC, enquiryMAX and business intelligence delivered via Power BI.
Brearley says: "Five years on, we now find ourselves in a position where we have bespoke lead information and business controls."
The ongoing nature of the work to drive digital innovation put Inchcape UK "on the front foot" when COVID-19 hit in H1 last year, Brearley says.
Over the past 12 months innovation to allow the full balance of car sales and aftersales to be paid online have further enhanced the group's omnichannel offering.
"Between January and the end of March we sold 20,000 cars," Brearley says. "Look at our share of new car retail in January. We sold 5% of the market volume. That's punching well above our weight.
"In April, we have just ended up 1% on 2019. That wouldn't have been possible without the digital retail capability we now have."
RESILIENCE THROUGH RESTRUCTURE
Inchcape's digital capability will be the heart of its plan to drive the success of its newly restructured portfolio.
Its portfolio now numbers 80 locations, including its five new standalone Inchcape Used Car Centre businesses.
In H2 2019 the group disposed of seven sites to Group 1 Automotive and Motorline for a combined £21m and its Inchcape Fleet Solutions (IFS) operation to Toyota.
Among Inchcape's 2020 dealership disposals were Volkswagen West London and Twickenham to Citygate Automotive and Cooper BMW/Mini in Tunbridge Wells to Arden.
The disposal of 12 BMW, Mini and BMW Motorrad retail outlets to Vertu Motors followed, along with the £29.7m sale of its Jaguar Land Rover (JLR) Arch
Concept dealership in Southampton to Hendy Group, JLR York to Lloyd Motor Group and and VW Oldham to Swansway.
In a set of 2020 annual financial results which revealed Inchcape's sector classification on the London Stock Exchange had become 'Business Support Services' – previously 'Speciality Retail' – Inchcape says its disposals in the period (including two in Australia) had generated aggregate net proceeds of £64m.
This helped bolster its balance sheet after a 36% decline in overall revenues and pre-tax losses of £188m at the half year point.
Those 2020 full year results show a 25% revenue decline from £9.38bn to £6.34bn as pre-tax profits slumped 131.8% to a statutory loss of £128m (2019: £402m profit).
In its UK and Europe Retail division, the revenues fell 25% from £4.03bn to £3bn and operating profits declined 21% from £32.2m to £25.4m.
Inchcape UK's 2020 disposals came hand-in-hand with a restructure which included 200 redundancies.
But the move – part of a global restructuring programme targeting more than £90m of annual savings – helped the group begin 2021 in more resilient shape.
Having already repaid the support it received from the UK Government after July 2020 – and a £100m loan from the Bank of England's Corporate Financing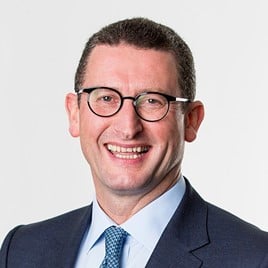 Facility – Inchcape chief executive, Duncan Tait, reported Q1 2021 results "ahead of our expectations", with revenues of £1.9bn.
Zeus Capital says it expected Inchcape to achieve a pre-tax profit of £215m in 2021.
In his interview with AM Brearley recalls his concerns for cashflow and how long the pandemic was going to last in March 2020.
He says that the prior preparation of digital tools allowed a greater degree of focus on the group's workforce.
"Unless we have engaged and motivated people all that work is a waste of time," he says.
Brearley says Inchcape UK gathered all but one personal email address from the group's 3,600 employees so that weekly business updates could help "instil confidence about the business".
All of the group's heads of business remained in work throughout the crisis as aftersales operations continued to keep customers mobile.
Brearley says that the group started to plan the return to showroom trading in detail around three weeks into the first lockdown and says that the market's bounce in June, July and August last year made it "an easy decision" not to furlough staff in H2.
The decision to make redundancies was described as "difficult", but an extended notice period kept employees in the business from July to October to maximise their chance of finding alternative employment.
Brearley says the business "did not want to close the doors" during January's 'Lockdown 3' and kept its staff working, claiming that this was partly possible due to the right-sizing of the business.
"We were very much in control of our expenditure," he says.
Brearley also says the group has performed ahead of the market since re-opening in the middle of last year, delivering 4% return on sales for 2020 and 2.5% in April this year.
Staff well-being has become a key priority as a result of the COVID crisis, however.
Inchcape UK had been providing counselling for certain members of staff most impacted by the COVID-19 pandemic, but Brearley says it was equally important to ensure a balance for those not showing signs of strain.
He adds: "Many roles have changed and it's important people aren't spending their whole days strapped to a screen."
STAFF TURNOVER
Inchcape believes that it's better training the staff you know than recruiting from outside, using its "gilded training programme".
While the group's sales executive turnover was 33% in the year he joined, this had improved to 20% in 2019.
Over the past 12 months staff turnover among sales executives stood at 5%, although Brearley acknowledges that this is, in part, due to COVID-19's impact.
Brearley says he admires Sytner Group's approach of paying its staff "over the average".
Back in 2017 Inchcape UK reviewed its sales team structure, increasing the basic annual pay of a sales executive by more than 50% to £22,000.
Brearley says Inchcape UK still pays commissions, but has stopped paying percentage commissions, because "it's our belief that it's not the responsibility of sales executives to manage profitability".
GROWING INCHCAPE'S FOOTPRINT
After disposing of businesses to refocus its portfolio geographically, Inchcape is once again investing in property.
The group has just signed off on a new Jaguar Land Rover (JLR) Arch Concept dealership in Norwich and has begun development of a sprawling standalone service centre in Guildford.
"That will be two storeys, with 30 bays to start with, which could expand to 50," says Brearley. "We're also building a retail centre right at the centre of Guildford, near the traffic lights, which will be open in Q3."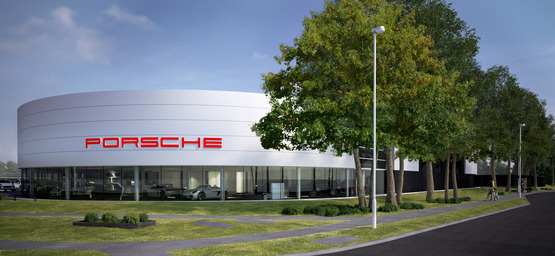 Work is also underway to create a new flagship Destination CI Porsche Centre, in Bournemouth, which will open in Q4.
But the most significant change in the group's footprint is set to come from its new used car strategy.
Inchcape UK is planning to open 20 new standalone businesses – each with an adjoining fast-fit aftersales offering – by the end of next year.
The business has already established six outlets, with sites in Cheltenham, Derby and Shrewsbury joining previously established locations in Burton-on-Trent, Bolton and York so far this year. A site in Chester is also on the cards.
Brearley says Vertu Motors had acquired the York facility as part of the purchase of Inchcape's Cooper BMW division in December, but says there is more to come from the project, which will be re-branded later this year.
"Looking at the two established sites (excluding York) they are making 6% return on sales and we are very comfortable with that," he says.
"We've opened three more sites this year, another two in Q2 and next year we'll have 17-to-20 primarily around the areas that we dominate in the North West, East and West Midlands."
The used car sites are being established in industrial units – Brearley deems former franchised locations costly and poorly-configured by comparison – and will accommodate six workshop ramps for fast-fit maintenance.
Brearley says used car preparation would be carried out on-site, with a minimum of 180 vehicles in stock for customers to view.
LOW COST BASE
The used car centre business model is based around each site retailing 100 cars per month "from a low cost base".
Unlike online retail disruptors Cazoo, cinch, and Carzam, Brearley says the new sites will be located in and around Inchcape's existing franchised dealerships and would not be targeting nationwide coverage online.
Brearley says: "We studied Cazoo, Carmax and Carvana. I think Cazoo is interesting as a model of how not to do it.
"We have an omnichannel platform, but we understand low cost facilities, low cost preparation to a high standard and the distribution costs. On top of that we already offer a 14-day money back guarantee anyway.
"We definitely can deliver to someone's house, at a cost, but we believe that there's no demand from consumers for that whatsoever.
"We absolutely believe that people want to test drive cars and have seen that in the spike of activity that's been seen since the lockdown was lifted."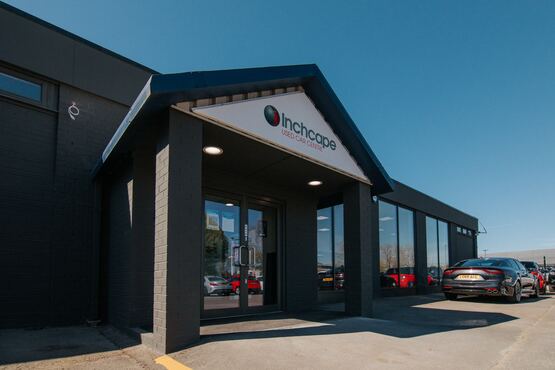 Brearley says Inchcape UK currently has a used car stock of 6,500 vehicles – benefitting from the 40% of dealership car purchases that generate a part-exchange – adding that it achieves a "marketing cost of £52-per-unit, versus Cazoo's £2,900 per unit".
"Even in year-five of its plan Cazoo will still spend £500 per unit," he adds.
Despite the current shortage of used cars entering the market, Brearley says that Inchcape has been able to maintain its stock volumes, despite "paying the price" for some additional units.
He says: "Part of that has been through a reduction in the number of cars we take to auction.
"When I joined Inchcape there was a tendency to remarket something that was more than five years old or 50,000 miles, now it's more like 10 years and 80,000 miles, dependent on the car."
2021'S HEADWINDS
Brearley tells AM that it was easy to look forward to the next couple of months with optimism, but says that uncertainty about the impact of the global shortage of semiconductors on both new and used car sales is a concern.
"I'm concerned about new car supply for the second half of the year," he says.
"What keeps me awake at night is the big unknown – supplies for September."
Of less concern to Brearley are conversations about the launch of agency-model car retail.
He says the wider Inchcape business had spent a lot of time looking at the agency model in its role as an NSC in other territories and says his main concern is that it "risks rewarding mediocrity".
Brearley says: "The average will be much closer in terms of performance and that's not good for us as we're an above average performer."
For now, Brearley remains optimistic about Inchcape UK's future.
He says: "I'm really proud of the team and what we've achieved together. We have a five-year plan and we're delivering on it."