You could be forgiven for thinking that the 'car bug' skipped a generation in JCT600 chief executive John Tordoff.
Son of Jack Tordoff, the founder of JCT600 and a keen rally driver, and father of Sam Tordoff, who drives in the British Touring Car Championships, John admits that he once actively avoided involvement in his father's business.
In stark contrast to older brother Ian, now the director in charge of JCT600's Trade Vehicles Division, who readily asserted, "I hated school – all I wanted to do was come and work in the garage", the group's current chief executive admitted to AM: "I spent the first 24 years of my life having little or no interest in the business. It didn't excite me, it didn't interest me, it didn't really do anything for me if I'm being honest – but one thing I always had was an interest in business."
Sitting in a glass-sided meeting room overlooking a range of Porsche sports cars that spans a collection of 356s from the mid-1950s to two £1.4 million 918 Spyder hybrid supercars, it is hard to believe that Tordoff finds it so easy to separate cars from business now.
The man born in a flat above the original Brooklands Garage founded by his grandfather, Edward, back in 1946, and raised in a family consumed by car sales and rally driving, said: "I'm not my dad. I went in another direction and really came back to the business by chance. I like to plough my own furrow."
Jack Crossley Tordoff, now 83, founded the JCT600 business in 1961, naming it after the registration plate on his Mercedes 600 at the time, and received a standing ovation at the AM Awards 2018 when he became the latest inductee to the AM Hall of Fame.
John Tordoff left school at the age of 18 and went to work for a firm of chartered accountants in Bradford before being drawn into the fold back in 1987, as a newly-married 24-year-old, by the lure of a well-paid job as a project accountant working for then finance director Brian Crowther amid plans to float the business on the Stock Market.
Ultimately, JCT600 would call time on the project "made fashionable by the likes of DC Cook", after implementing processes and reporting systems that brought its operations into the 21st century.
"That left me without a job really, but I'd already made the leap into the business by then," said Tordoff.
He was soon promoted to the post of dealership accountant within the Porsche and Specialist Cars business and progressed to the position of general manager, a post he held for a decade.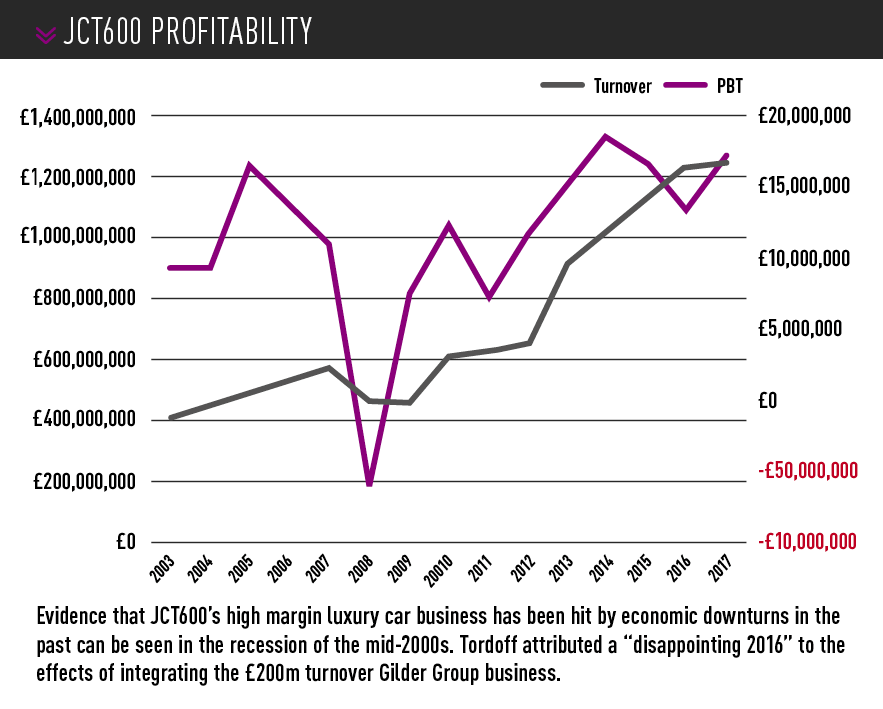 Tordoff oversaw the opening of JCT600's Brooklands Ferrari dealership in Leeds in 1998, and became the group's first general manger to make £1million net profit.
"I think it's only when you sit here today and look back that you see that those were the best days of your life," he said. "As a 'head of business' you get a really good mixture of interaction with the staff and the customers and the manufacturers."
Tordoff speculates that he was seen to be a 'better fit' than older brother Ian when the time came to appoint a new chief executive in 2000. Ian is now tasked with ensuring the smooth operation of a 100% auction policy, which puts 200 to 300 cars under the hammer each month at BCA's Brighouse and Leeds auction centres.
"I had never wanted to spend my life being an accountant, I just saw it as a way of learning about and getting into business," said.
Driving growth
When John Tordoff took the helm of JCT600 he was steering a £400 million turnover business with fewer than half of the current 2,250 headcount and 52 dealerships.
He insists that the rapid growth was not something he drove from the start. Rather, he was guided through his first few years by finance director Brian Crowther and former managing director Harry Taylor.
The real changes started to happen after the experienced pair took retirement and Tordoff established an operations board to make key strategic decisions about the business in 2006 as part of a restructure which saw the group appoint a team of brand directors.
Soon the target of becoming a £1 billion business was set.
The chief executive is the only family member to sit on JCT600's operations board, which also includes group
operations director Richard Hargreaves, finance director Nigel Shaw and HR director Katie Saunders.
What Tordoff describes as "fairly piecemeal" acquisitions have seen the group grow to a point where its annual results to December 31, 2017, revealed a 2% rise in turnover to £1.25 billion (2016: £1.23 billion) and the reversal of a decline in profits experienced a year earlier, when operating profit before exceptionals dipped 26.9% from £18.6m to £13.6m.
In 2017 the group credited a refusal to chase manufacturers' "unrealistic new vehicle sales targets" and a withdrawal from more expensive fleet channels for a recovery of its operating margin – from the 10.6% of 2016 back to the 11.4% of 2015 – and a 26% increase in operating profit before exceptionals, from £13.6m to £17.1m.
New car volumes in retail and fleet fell by a combined 9.6% during the 12-month period but JCT600 managed to grow its used car volumes by 4.4%.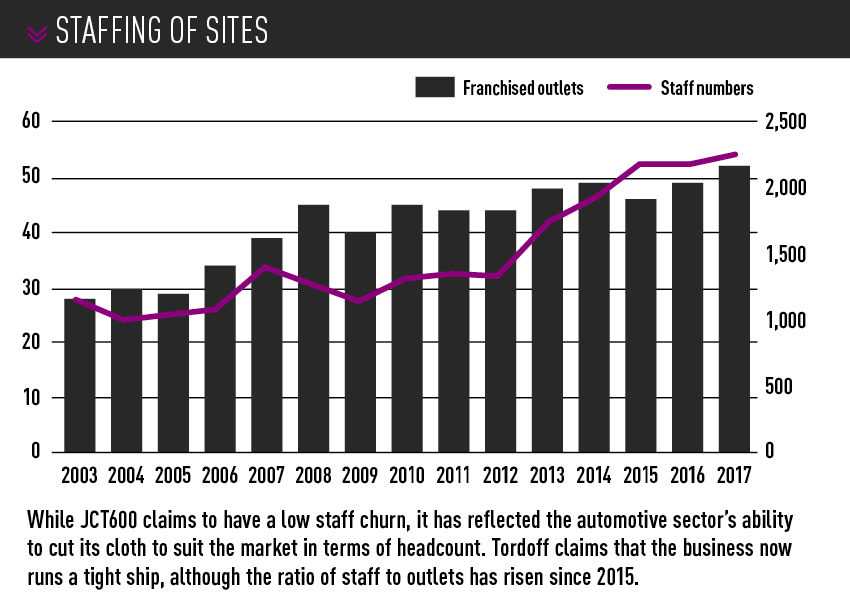 The period has also seen it "cover-off" a trend towards leasing, said Tordoff, with the launch of JCT600 Vehicle Leasing Solutions (formerly JCT600 Contracts).
"There is a shift towards leasing, but it's a very small one at this stage," said Tordoff. "As a business we have set up our own PCH and brokerage division to try to counteract that threat.
"Since February it has gone from nothing to five to ten deals a week and it will grow and grow."
The JCT600 business is not yet ready to follow others in to the world of used car supermarket growth with its PriceRight brand, however, and will maintain the single site at Rawdon, between Leeds and Bradford.
Tordoff also suggested that the Tordoff Collection luxury used car brand, which operates out of a site at Wallsend, near North Shields, would not be replicated.
He said: "That business will grow but it's not part of our strategy, though selling 70 to 90 high margin luxury cars a year on top of our other operations is good to have."
So how will JCT600 grow?
It seems unlikely that JCT600 will buy its way to greater scale.
Tordoff describes the experience of adding an immediate £200 million to the business's turnover with the acquisition of 10 dealership and 450 staff of the Gilder Group in 2013 as "a real headache", adding that it is not something he would be keen to repeat.
He said: "No sooner had we acquired the business than the Office of Fair Trading started to investigate and that set everything back six months.
"Although we'd prepared for the acquisition, it didn't half cause some indigestion. Acquiring a business of that scale sees you spinning a lot of plates and it's hard to notice if you lose a few.
"As a result we had a disappointing year in 2016, and that came as a shock to the system, but we learned from it, shook ourselves down, and the business is in a much better position now."
Another recent shock to the system came when BMW UK served JCT600 with 12 months' notice that it would not renew its franchised contract for Bradford.
Discussions are ongoing with potential additions to the portfolio to "fill in the gaps" in the group's franchise portfolio as it nears the end of its contract on October 1. But Tordoff insisted trading from the facility on Sticker Lane would not end abruptly.
"JCT600 will continue with a BMW aftersales operation and we'll be selling used cars from the site," he said.
"We own the land and the facility and we have the customer database for the area, so we're in a very strong position from that point of view."
Tordoff claimed that the BMW Bradford franchise had been the German brand's best performing site in Yorkshire in 2017, but asserts that the site's profitability will rise following the loss of the franchise and a shift to premium used cars.
JCT600's list of franchise partners grew in July with the acquisition of Jaguar and Land Rover dealerships in Doncaster from Pendragon, prompting a new wave of investment, which will include further developments with a Porsche brand which has seen sales rise 17.4% to 8,874 to the end of July.
In the past eight months JCT600 has spent over £7m on retail property with the opening of its Porsche Centre Teeside, a redeveloped Peugeot Bradford dealership and the £1m refurbishment of its Sheffield Mercedes-Benz site.
Redevelopment is about to get under way at the Porsche Centre Sheffield, with a nine-month programme of works also delivering the expansion of the Porsche Centre Newcastle.
The two new JLR sites will also need to be brought together under the brands' Arch Concept retail standards.
Tordoff added: "For some time Jaguar and Land Rover have been the most obvious brands missing from our portfolio and it's good to finally have them. They are two brands of which we have faith in the future."
Although Tordoff conceded that discussions were ongoing about the future of the group's Vauxhall franchises in Bradford, Castleford and Shipley, he suggested that its volume brands – Kia, Mazda, Mini, Peugeot, Seat, Smart, Volkswagen and Vauxhall – were still realising good profits, despite the uncertainty of the current economic climate.
Reflecting on a wider group portfolio, he said that Maserati was proving "a challenge" after it decided to go head-to-head with the likes of BMW and Mercedes-Benz, but added: "Brands such as Aston Martin, Bentley, Ferrari and Porsche are flying at the moment and that has been great for us, but the volume brands have continued to do good numbers.
"We have a few gaps to fill and we are in discussion with two or three manufacturers that would be a good fit. As with every brand – luxury, premium or volume – you have to weigh up the pros and cons of investment and return.
"There are certain brands that you look at and it's very difficult to see how the levels of investment demanded will be justified."
Best place to shop and work
Despite a decline in new car sales in 2017, there are few signs that demand for JCT600's current brand partners is on the wane, according to Tordoff, who claims the group is "overrun with customer enquiries".
A fear of missing out on potential leads has led to growth of the group's operations in Chesterfield, where it opened an Audi and Mercedes-Benz car PDI centre in June last year.
Along with the facility, which can process 3,500 fleet vehicles annually at the former Volkswagen franchised site on Sheepbridge industrial estate, is a new contact centre opened earlier this year.
Tordoff said: "There are jobs in the industry now that just didn't exist 10 years ago and these are an example of that. I can see the number of staff at the centre growing from the current 20 to 25 quickly to 70 or 75.
"Customer expectations are changing every day and where the expectation was that you could respond in 24 hours, it now needs to be 10 minutes."
JCT600's desire to remain accessible to its customers also extends to the digital side of the business. Investment in this area increased 13% in 2017 as the group's website visitor numbers rose by 22% and online leads rose by 38%.
The group spends 90% of its marketing budget on digital solutions and has been working with Manchester-based SEO specialist Code Computer Love to run A/B testing to improve the performance of its website.
Tordoff said that he is satisfied that it now "punches above its weight".
In April JCT600 finished above OEMs and other retailers in the Equator digital marketing agency's survey of automotive sector websites, joining Sandicliffe Motor Group in scoring 25 out of a possible 35 points.
Industry leaders such as Mercedes-Benz Retail Group, Renault Retail Group (both scoring 17) and Porsche Retail Group (scoring 13) ranked lower.
Tordoff said: "Speed of response is a constant frustration to me and is one area where we need to operate far better to ensure good coverage across the group between 7am and 10pm.
"We also have to offer an experiential shopping experience. It's my belief that many car retailers are struggling to get a grip of that and evolve. They are still dealing with customers in a way that's best for the management of the business, not best for the customer."
Two years ago JCT600 set out on a mission to be known as "the best place to work and best place to shop".
While Tordoff concedes that many PLCs will beat his business on basic wage, he still contests that many are attracted and retained by high levels of commission and a comprehensive training offering.
Annual staff churn stands at around 25% and in 2016 JCT600 was named among the Sunday Times' Best Companies to Work For, before rising 27 places into 57th in 2017.
Group HR director Katie Saunders helped deliver the listing and has since driven the group's recruitment strategy, which is led by social media channels and development of the 'Wired' staff development programme, started in 2013.
The clearly defined career path has seen internal appointments for managerial roles increase from about 30% to around 70%.
Saunders told AM that the group now rarely fills positions, such as a new head of business, from outside the business.
The Tordoff succession
While Tordoff is far from ready to hang up his keys to JCT600's head office near Bradford, it is clear that there are options to ensure that the business remains in the family.
Tordoff's nephew Jack works alongside his father Ian in the trade centre, while his other nephew, James, is showroom manager at Bradford Vauxhall.
His middle son, Joe, is sales manager at Kia Castleford, while youngest Elliott works in JCT600's property department.
It is his oldest son, Sam, who appears be leading the race to succeed his dad, however.
Known to many as an accomplished campaigner in the British Touring Car Championships, he is a qualified accountant, works as a financial analyst in the business, and is "very much plugged into sales director Graeme Thacker", according to his father.
However, in contrast to his father, the eldest sibling must at least partly overcome his love of cars to be in a chance of becoming chief executive.
Tordoff stressed: "Sam's got his own ambitions. Yes, he wants the job but he knows that won't happen while he's spending 15 weekends a year at a racetrack.
"He's 30 now and he knows that, at some point, something's got to give."