Maserati franchisees are readying themselves for a "hell of a ride" over a coming 10 months set to bring an influx of new products and a new corporate identity (CI) promising to transform their dealerships' fortunes. For Peter Charters, general manager of the Maserati's North Europe operation, one of the victories will be emerging from 2023 with a network of franchised partners in profit for the first time in a very long time.
"Half of my experience has been in network development, so the dealers and how they perform is something very close to my heart," says Charters, who has been at the helm of Stellantis-owned Maserati GB for three years, having previously been Vauxhall's retail network development director and head of sales.
Asked how long it was since Maserati retailers made a profit, Charters admits: "I've not been here long enough to tell you how long it's been."
But he is confident about retailers' future prospects. "It's been a tough period for dealers within the Maserati brand, there's no getting away from that," Charters says.
"We came close to breakeven for the network last year and this year, with the introduction of the new models, our anticipation is that the dealer network as a whole will be into profitability and then grow from strength to strength."
At the end of February, Stellantis' full-year trading results for 2022 revealed Maserati had delivered a second year of profitability after years in the doldrums. Profits of €201 million (£177m) were delivered on revenues of €2.3 billion (£2bn) after margins reached 10.1% in H2 as the impact of sales of its new Grecale SUV started to be felt.
"Maserati is back, doing the right things in the right way," said Stellantis chief executive Carlos Tavares at the time. Stellantis reported that the Italian brand's near-doubling of its 2021 profits last year was helped by higher average pricing resulting from sales of its MC20 supercar.
That trend is set to continue as Maserati's range expands exponentially this year with what Charters describes as "a massive product offensive".
While Charters is coy about the prospect of a six-figure average selling price, such a significant shift – and the margin opportunity that comes with it – is not out of the question. In 2022 retailers benefited from the first full year of sales of the £190,000, 200+mph MC20 supercar.
MODEL OFFENSIVE
This year that will be joined by a topless MC20 Cielo version of that car and Charters tells AM the 12-month order bank for that model is already full.

The Maserati GranTurismo will celebrate its 75th anniversary with the arrival of an all-new £145,000 version of the two-door GT, meanwhile, with a GranCabrio on the way and the GranTurismo Folgore set to become the brand's first fully-electric vehicle with an expected price tag of around £200,000. Maserati will make an electric version of all its models by 2025.
Moving still further up the price scale, Maserati will also introduce a MC20 GT2 race car priced at around £350,000 this year along with its 740PS, track-only Project24 hypercar – of which just 67 will be made.
"Grecale is arguably the most important car for us, for the dealer network, though," Charters tells AM. "Pre-ordered customer cars are just starting to come through and building up in terms of volume.
"That's a huge opportunity for us. Grecale is currently in ICE (internal combustion engine) only, but by the end of the year, beginning of next, we anticipate a fullelectric vehicle as well."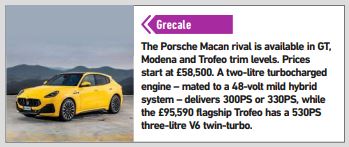 Grecale positions Maserati in an SUV segment which is still Europe's most buoyant. It sits below the Levante with a starting price of £58,500 and the anticipated best seller, the Grecale Modena, priced at £64,500. Showrooms will also continue to feature the Ghibli and Quattroporte saloons.
Accompanying the new broader range offering, a recently introduced Fuoriserie personalisation programme allows Maserati customers to choose from an array of bold colour options and decals, ensuring that the new models are sure to stand out.
Charters played down the upsell opportunity of Fuoriserie for retailers, however, suggesting that the aim was to offer more choice to customers. He is clearly keen to not to detract from a drive to make the brand feel more accessible and affordable, despite its new crop of six-figure sports cars and supercars.
AFFORDABLE LUXURY
Since 2019, the brand has backed away from the fleet and rental sectors and Charters says that the "vast majority" of registrations are now retail, with 90% of its finance offering accounted for by PCP. Across the same period all Maseratis have also come with three years' servicing as standard (offer excludes V8 models) and, increasingly, a stronger standard specification which has helped to boost residual values. "People think we are much more expensive than we are," he says.
"That's great in some respects because they obviously put a value to the Maserati brand. On the negative side, we need to say to people that, while we're really pleased that they've got that view of our brand, they can actually afford one. "Particularly with Grecale, we want to get that message across because it is an affordable car with a strong residual value."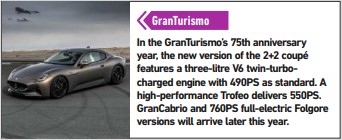 According to Society of Motor Manufacturers and Traders (SMMT) data, Maserati registered 720 vehicles last year. That is more than double the 309 units registered a decade earlier, but just 42% of the 1,701 delivered in 2017. Despite the clear excitement at the opportunity presented by a rejuvenated model range, Charters will not comment on projected volumes for 2023, but says: "(Retailers) will see enough volume that it will make a difference for them.
"It is our intention, 100%, not to oversupply the market with any of the new products. The first year, we'll just be keeping up with demand.
"If I think of GranTurismo in particular, the opportunity is really promising with UK volume in the hundreds. Just look at that car's history and – even though the price is substantially going up – the fact is that there's hundreds of orders taken already. "In isolation, that car alone represents a huge increase for the dealer network."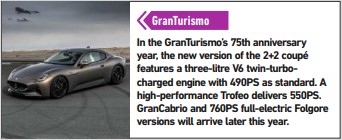 This year's GranCabrio could be more successful still with UK customers. "We like wet heads", Charters tells AM of the nation's strong appetite for convertibles.
DEALER PARTNERS AND RETAIL MODEL
A leaner car retail network has been central to Maserati's drive to deliver improved profitability for its retailers. When AM profiled the brand in 2016 it had recently increased from 12 to 19 sites, with 26 sites mooted as the potential future scale.
Now the network is back to 12 locations with Rybrook appointed to the Bristol territory and Hendy Group adding a site in Poole during the past 12 months. Constellation Automotive-owned Marshall Motor Group, which had operated in Peterborough, was among the departures.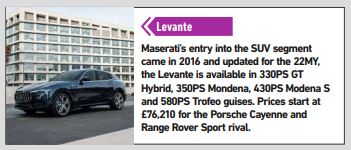 "To have a healthy network, we anticipate only one more UK site," says Charters. "We will substantially increase our volume, but we're not growing the network." Charters told AM that Maserati's network plan had not been influenced by the approach taken by parent company Stellantis, adding that the OEM giant "hardly touched" its operational business.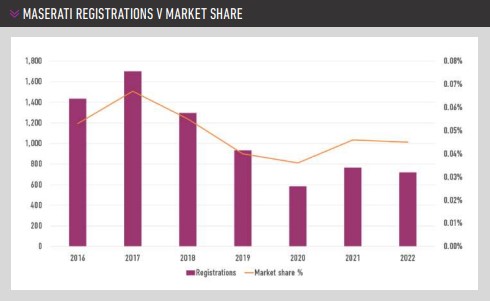 He did not discount following Stellantis' planned move to agency model in the future, however. "There is no current plan to go agency. However, you know the situation with the rest of the group with the rest of the industry, so it would be foolish to say it'll never happen", Charters tells AM.
"At the moment, we were just getting up and starting to jog. When we can run, then we can look at those things. At the moment, we've got plenty on our plate to deal with." The added volume expected by Maserati has already prompted Sytner Group to create a number of solus Maserati dealerships – separating the brand from its former sister brand Ferrari in Edinburgh and Solihull – with a further solus location set to be opened in Ascot.
Charters says solus sites are "the direction of travel" as the brand pursues growth with a new CI, but adds that it is not a prerequisite.
"We're not completely against multi-brand opportunities and (HR Owen's site at) Hatfield is a great example of that," says Charters. "If you make it big enough, bold enough and clear enough in terms of brand separation, that can also work."
Maserati welcomed new chief executive, David Grasso, just months ahead of Charters in 2020. Grasso was previously CEO and president of Converse, having been vice-president of global brand marketing at Nike. Charters said Grasso had brought an entirely new mindset to selling luxury.
CORPORATE IDENTITY
That will soon be translated into a new CI with a warmer brand experience and omnichannel consumer journey. HR Owen's sprawling, £30m multi-brand luxury car retail facility in Hatfield, which also features Lamborghini, Bentley and Ferrari franchises, will be the first location to fully realise the new CI this month.
Charters says that half of the network will be either finished or well into the process of installing the new CI by the end of 2023. The "pretty substantial change" features a warmer atmosphere, defined by darker colours which help to deliver an "immersive experience", according to Charters.
Charters says that, although there will be more digital touchpoints for customers, no direct online sales channel will be launched alongside the new CI, with the focus remaining on attracting customers to showrooms. "Digital in the showroom is going to change significantly because we're going to have massive LED backdrops to our cars and, this month, we've introduced 360-degree configurators," he says.
"It's a real sea change in how the customer experiences the product once they're in there.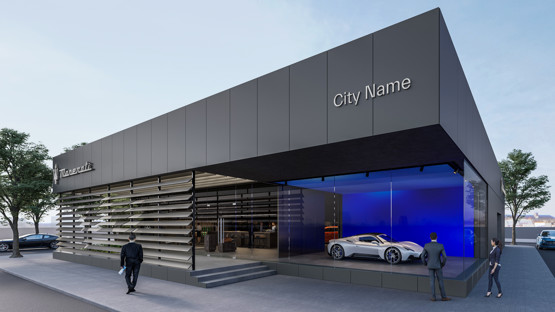 "But it is not a dive in at the deep end. Our view is that Maserati customers actually enjoy, and should enjoy, the experience of going into the showroom, so we will gently move towards an online sales presence."
One area where Charters concedes Maserati retailers might suffer from a lack of presence is in the used car market. The decision to withdraw from fleet and contract hire in 2019 has left it with limited stock for franchised forecourts and Charters says: "While retailers would like more, there are no more."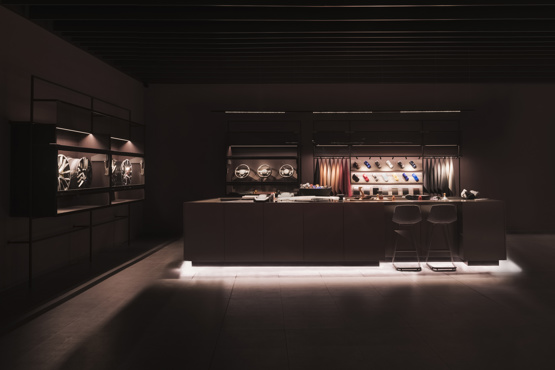 There is now an established funnel of used car stock ready for the brand's higher volumes, however. High PCP penetration gives it reasonable control of its used car stock, while that complimentary three-year service plan should ensure vehicles have been maintained within the network.
Right now, Charters' focus is on delivering high-quality model launches and establishing a new-look retail network. Asked what his hopes were for the end of 2023, he says: "I want to see a profitable network for everybody this year but I also want to see half of them with the new corporate identity and the new customer experience. It's gonna be one hell of a ride, the next 10 months."