Jaguar Land Rover (JLR) has been the subject of more speculation than perhaps any other car manufacturer over the past three months.
Amid faltering global registrations, a state of intense anticipation appears to have developed about the business's next move, with reports of a possible £300 million bid to acquire Addison Lee emerging just weeks before JLR denied that it was in talks about a potential sale to PSA Group.
At the start of June, JLR finally hit the headlines about a partnership that it could confirm – it is finalising a tie-up with BMW to develop the next-generation of electric vehicles (EVs) and manage a transition toward what it called "ACES" – autonomous, connected, electric, shared – mobility.
JLR posted a £358 million loss in its latest set of annual financial results – the result of a £3.3 billion write-down by its Indian owner, Tata – and many are keen to see how it plans to mitigate the effects of stalling sales in China, which triggered a global 5.8% registrations decline, to 578,915 vehicles, in 2018.
But JLR's UK managing director, Rawdon Glover, who has been in the post since May 2018, is focused on delivering growth for the business in Britain, not to mention for a franchised retail network that has invested heavily to be part of a growing premium market player's plans.
"Our global results get a lot of profile, but I'm focused on the UK results and they are doing very well," said Glover.
Year-to-date to the end of May, Jaguar's registrations were up 10.7% year-on-year, at 16,810 (2017: 15,192) and its market share up 0.2ppts to 1.61%, while Land Rover's negligible 0.53% rise in volumes, to 35,597 (2017: 35,408), increased its market share by 0.12ppts to 3.4%.
Glover believes the all-new Evoque, launched in March, and a 48V mild hybrid drivetrain, introduced to an updated Discovery Sport, give the Land Rover
brand good growth opportunities in the immediate future.
The new 48V system will be joined by a petrol plug-in hybrid that could prove popular with the SUV sector's user-chooser fleet customers.
"I'm really pleased with how we are performing in volume terms, but, while we are really strong in retail, fleet is where the real opportunity lies to the latter end of this fiscal year, when we get the plug-in," said Glover.
"That will open up the fleet market in a way that we haven't had before."
Consumer sentiment seems yet to be affected by JLR's plan to make £2.6bn in cuts over 18 months – announced in October by JLR's parent company Tata Motors – which led to the loss of about 1,000 contractor jobs in April last year and the subsequent plan to cut a further 4,500 jobs, with the substantial majority coming from its 40,000-strong UK workforce.
Nor does Glover believe that JLR's decision to build its latest additions abroad will have an effect.
"E-Pace and I-Pace are both built abroad," he said. "The fact that they are both engineered in the UK is important. I think the fact that the cars aren't physically manufactured in the UK isn't a particular disadvantage."
When it announced its EV tie-up with BMW in June, JLR confirmed that all future electric drivetrains would be manufactured at its Wolverhampton-based Engine Manufacturing Centre (EMC), in conjunction with its recently announced Battery Assembly Centre at Hams Hall, near Birmingham.
New models, new retail
The manufacturer is looking at a number of mobility solutions and it appears likely that its retail network will be involved in their implementation if trials prove successful.
Glover said short-term rental and delivery to consumers' doors are both being looked at by the manufacturer's InMotion start-up incubator. Following a soft launch of JLR's 'The Out' business, customers in London can rent a Land Rover Discovery Sport HSE for £295 a weekend.
"I don't know what the appetite for this kind of thing is at the current time, but it's good to have the ability to experiment," he said.
Glover said he is open to the prospect of "blends of traditional car retail", citing small operations such as Stratstone's operations in Berkeley Square, Mayfair, as the kind of high-footfall, high-cost environment that could be well served by a "hub and spoke" approach with remote aftersales facilities.
He is also a fan of the omni-channel model pioneered by Rockar, which operates a JLR store at Westfield Stratford City, London.
"What I like about Rockar is that the longer they have their online platform, the more people they are able to have a dialogue with and we are seeing that increase in sales," he said.
"They have the ability to evolve their offer and engage with more customers and that is really useful for us to take a look at when we are considering ways that we can use our own data.
"What is of real interest to us is that online journey. Currently, in our corporate Jaguar Land Rover journey, we're trying to mirror that."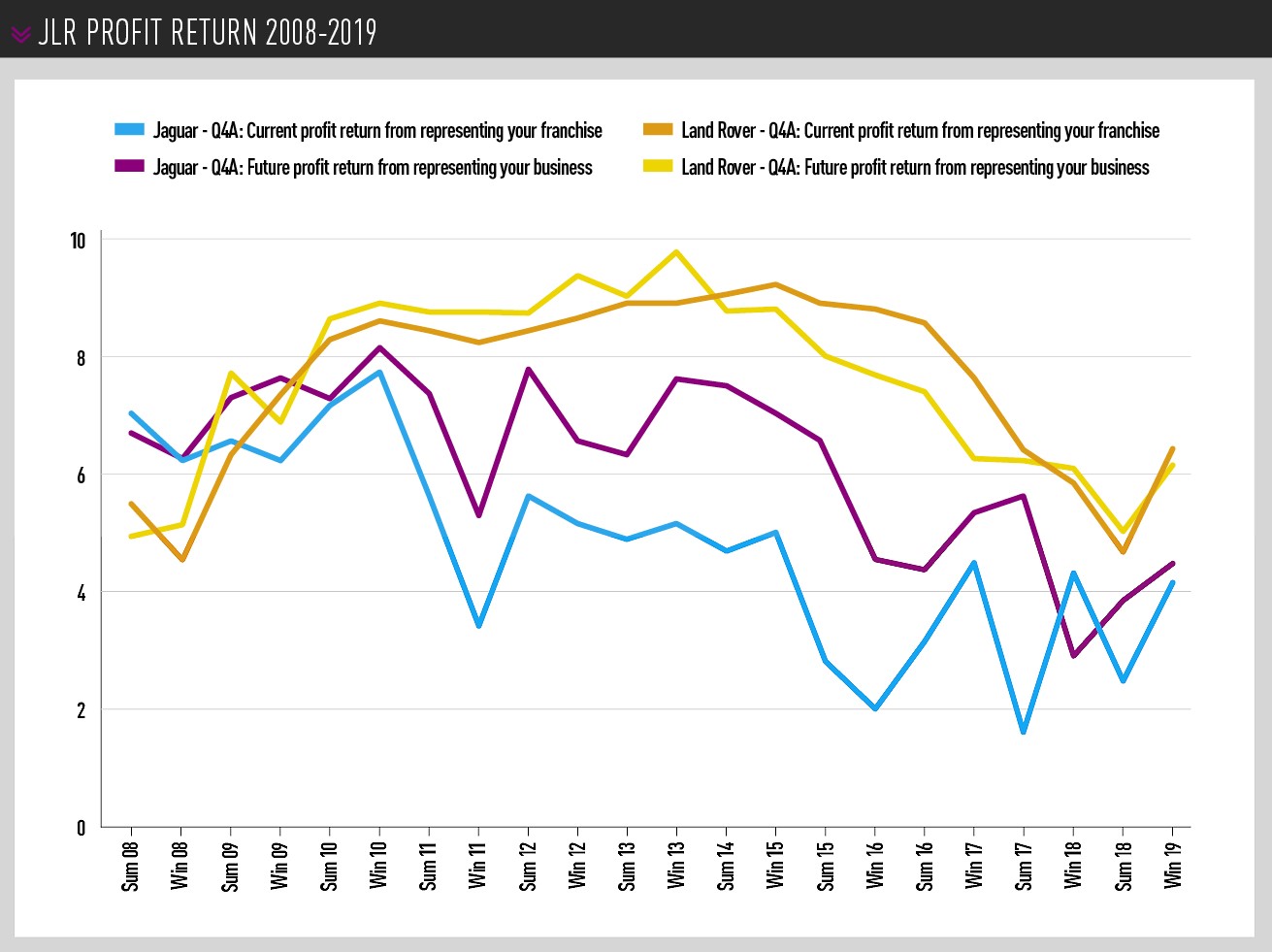 Of particular importance to Glover is the transition from online to offline. JLR's web-based configurator now produces a QR code that a prospective buyer can take to a local retailer, ensuring that their selections can be easily accessed by a sales executive in the showroom.
"The consistency of the physical and digital experience is something that is really important to us," he said.
Over-arching ambition
Glover does not believe JLR has what he would refer to as "a commodity product", which he said ensures that 'destination dealerships' and the expert teams that staff them remain at the heart of the manufacturer's retail operations.
However, the £1bn Arch Concept corporate identity update has clearly reshaped the Jaguar and Land Rover networks at a time when many manufacturers are reducing the size of their retail networks in an attempt to preserve profitability.
In the space of five years, JLR has whittled its 210 retailers down to 155 locations and that figure will end up at about 125 – resulting in an annual 919 vehicle sales per site at 2018's volumes (114,925).
Glover conceded, however, that the network restructure remains just 60% complete, despite JLR's "aggressive" original schedule, which was hoped to deliver changes to almost every retail site by the end of 2018.
The ambitious project to implement the new corporate identity, and bring the Jaguar and Land Rover franchises together under one roof at many JLR franchised sites, was billed as the "quickest total network re-think carried out by any manufacturer" back in 2016.
But Glover said there will be a further 20 Arch sites opened over the next 12 months.
"When we set off, it was an extremely aggressive timeline, but things like gaining planning permission and finding the volume of new sites that our retailers required for relocations has taken time.
"There are lots of reasons why it has taken a little longer than envisaged."
Glover insisted that retailers were still eager to invest in Arch Concept facilities despite the economic uncertainty associated with the prospect of Brexit.
But some dealers told AM otherwise this year, when the returns looked questionable.
Speaking to AM in August, 2016, Sarah Nelmes, then JLR's network development manager, said each franchised partner would be investing £2m-£15m implementing the Arch concept.
The AM100's number one retail group, Sytner, certainly has not stalled its investment in the JLR brands.
Its new five-storey 17,000 sq-ft Guy Salmon 'statement site', just off the A3 in south-west London, will house 27 technical aftersales bays and two MOT test lanes and will be one of just eight similar locations globally when it opens later this year.
Sytner is also investing £12.3m in a 72,000 sq-ft Dual Arch dealership at Cribbs Causeway, Bristol, with work expected to start early next year.
Glover said JLR was keen to see its retail network "right-sized" for the volumes it is achieving in the UK and added that a new focus on operational performance and aftersales had to be a priority for retailers who had invested in the new CI.
Currently, Land Rover retailers make about 0.4% return on sales, while the JLR network as a whole stands at just more than 1%, which is not where it "wants to be", Glover said.
"The focus now has to be very much on making those Arch sites profitable and we have a responsibility to help retailers achieve the best performance they can," he said.
"We'll be doing that in a number of ways, but the focus will be very much on process, with an increased involvement on older used cars and aftersales."
Profit from process
Glover said the JLR network would be encouraged to stock older approved used vehicles in an attempt to drive the retention of customers, but insisted that more efficient processes would also be key to improved profitability.
"What we have to remember is that a lot of retailers have moved into much larger facilities which have introduced drive-in service bays and increased the number of workshop ramps from 10 to 20 in many cases," he added.
"Those retailers have to have the processes in place to help them achieve the efficiency and capacity that they need to make that move a success."
Glover said JLR would continue to determine the optimal make-up of the network and retailer model and planned to appoint authorised repairers in an effort to drive efficiencies in aftersales and pre-delivery inspection (PDI) at non-customer-facing facilities.
Overhead absorption in aftersales is a key area of focus and Glover said he wants retailers to explore solutions such as split-shift operating, which could increase the utilisation of the network's workshops.
"We're also looking at flows in the workshop," he said. "The concept of flow lanes and how that works through the workshop is a primary driver of efficiency."
Flow management into the workshops could result from a new way of approaching approved used cars.
Glover said selling older used cars would help retain aftersales customers for longer and also open up sales to a new customer base.
Sytner's planned new Arch Concept dealership at Aston Clinton, Buckinghamshire has an 18-car showroom, but space for more than 100 used cars outside – the highest number of any JLR site in the UK.
Electric dreams?
At the start of June, Jaguar announced that its director of design director, Ian Callum, was to leave the company.
Callum, who was central to the establishment of Jaguar's current design language, will be replaced by creative design director Julian Thomson.
However, it is clear that the success of both JLR brands will increasingly be dictated as much by technology as design as it looks to move away from its reliance on diesel-powered vehicles.
Glover said diesel accounts for about 70% of JLR sales in the UK, with sales of even the flagship Range Rover and Range Rover Sport models now made up of about 30% plug-in hybrid.
He insisted that legislation – rather than a Dieselgate-triggered dip in consumer confidence – was to blame for a shift away from the fuel, which once powered more than 90% of its products. Glover claimed a 4.3g/km increase in average CO2 emissions in 2018, as consumers moved away from lower-emitting diesel vehicles, proved that the anti-diesel stance had been "folly".
AM's New Car of the Year Award winner, the £63,925 Jaguar I-Pace, is JLR's first pure EV and generated 919 registrations during Q1.
But the conventionally powered E-Pace was the volume success of the period, delivering a 26.9% year-to-date increase in sales to 3,051, as sales of the F-Pace declined 20.1% to 2,975.
The XF and smaller XE saloons both delivered growth – by 31.8% to 1,932 and 37.1% to 1,781, respectively – but the numbers leave the brand well off the pace of their German rivals.
Although the manufacturer has made no official statements about its long-term product plans, Autocar magazine has suggested that Jaguar could become an all-electric brand within 10 years and Car magazine believes the XF – due for replacement this year – could start the charge.
For now, the electrification push is entering Land Rover showrooms in the form of mild-hybrid derivatives of the new Evoque and Discovery Sport, which will JLR hopes will trigger a resurgence in sales.
In 2018, Evoque registrations fell 30%, from 24,906 to 17,434, and the far newer Discovery Sport declined by 18.7%, from 24,531 to 19,941.
In its second full year on sale (2018: 12,423), the Velar delivered a 25.1% increase in registrations during Q1 – from 3,199 to 4,002.
Glover wants Land Rover retailers to benefit from a sales boost resulting from JLR's early move towards electrification.
Commenting on the push for volume with the latest generation of the "game-changing" Evoque, he said: "Upon starting sales, we have 150,000 existing customers to approach. For those reasons, we are really, really confident about the vehicle and the success it can bring to the retail network."
Yet his 13,000 sales aim for 2019 remains well behind Evoque's UK record.
Early Evoques arrived at dealerships as long ago as February, with launch events attended by 120 to 150 people per site at retail sites across the UK.
In addition, the car was marketed in high- footfall retail destinations, which allowed JLR to collect and collate prospective customer data, Glover said.
"Opportunity will start to present itself in new areas," said Glover.
"Placing ourselves in front of new customers all the time and impressing with our retailers' levels of service has to be central to our UK growth. For that, we're relying very much on our retail network."
The return of an icon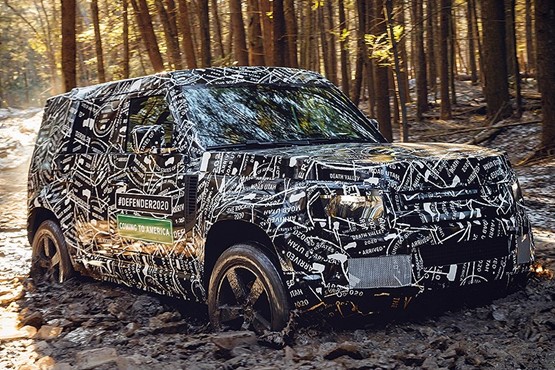 While Land Rover retailers will be buoyed by the arrival of the new Evoque, the long-anticipated arrival of an all-new Defender should prove even more of a landmark moment.
Although it's another vehicle that will be built away from the UK – alongside the Discovery at JLR's new £1bn manufacturing plant in Slovakia – the return of the iconic British off-roader in wholly re-engineered form will test the loyalty of a devoted group of owners.
Engineers have completed 1.2m km (750,000 miles), putting the rugged 4x4 through its paces in some of the world's most inhospitable environments, ahead of the start of production in January 2020.
Prices for the most rugged Land Rover are expected to start at about £40,000 and retailers are likely to gain more than one additional sales opportunity as a result of the re-birth of the Defender nameplate.
Land Rover's chief marketing officer, Felix Bräutigam, told Auto Express: "One of the exciting things for us is that we are not launching a car, we are launching a family of cars."