In the next decade, Vauxhall will trade with a dealer network almost a third smaller than it had at the start of 2018.
Its market share ambitions should bring a steady resurgence in sales of cars and vans from the lows the brand currently endures, helping to restore franchisees' profitability.
And as PSA Group makes savings in its manufacturing and sales operations across the group's brands, in the long term some dealers might bring the brands together to retail efficiently at shared locations.
PSA Group's takeover of Vauxhall/Opel completed in August last year, and in November its chief executive Michael Lohscheller announced a plan, branded PACE, to restore the business to profitability by 2020 through savings and efficiencies, including job cuts.
This month the group announced Vauxhall/Opel is already back in the black, with a half-year operating profit of €502m. The plan continues – from 2024 PSA will launch Vauxhall vehicles based on platforms shared across group brands.
Closer to home, Vauxhall's ageing Griffin House headquarters in Luton will close in 2019, and the freehold is likely to be sold for redevelopment. Back office jobs will move to PSA UK's Coventry base and other staff will relocate to offices at its parts distribution centre beside the M1 outside Luton.
In March, AM revealed the brand planned to cut around one in three dealerships, leaving thousands of jobs at risk; the subsequent media storm was not the discreet start that new managing director Stephen Norman would have wanted. AM visited Griffin House to meet Norman six months after he stepped up from his previous role as PSA's chief sales and marketing officer to lead Vauxhall's recovery.
But Norman told AM: "It's nothing like as Machiavellian and devious as some people would have us believe." With the reduction in the size of the franchised dealer network to around 250 outlets from the current 326, and a plan to halt the fall in market share and improve profitability, Norman expects the new car retail sales throughput per Vauxhall dealership to rise by more than 40% to more than 400 units.
Come 2020, the average return on sales for a Vauxhall outlet should climb to around the current UK industry average of 1% according to ASE, from its 2017 base of 0.4%.
Setting the strategy
Vauxhall has identified the dealers that will continue its representation by examining each of its 220 market areas in depth. It has considered the likely evolution of all the brands in the whole market, as well as the likely evolution of Vauxhall, and the profitability outlook for each and every single market area.
Norman said: "We do know where we are, and we do have an idea of where we need to go and how to do it. That's not to say we know everything."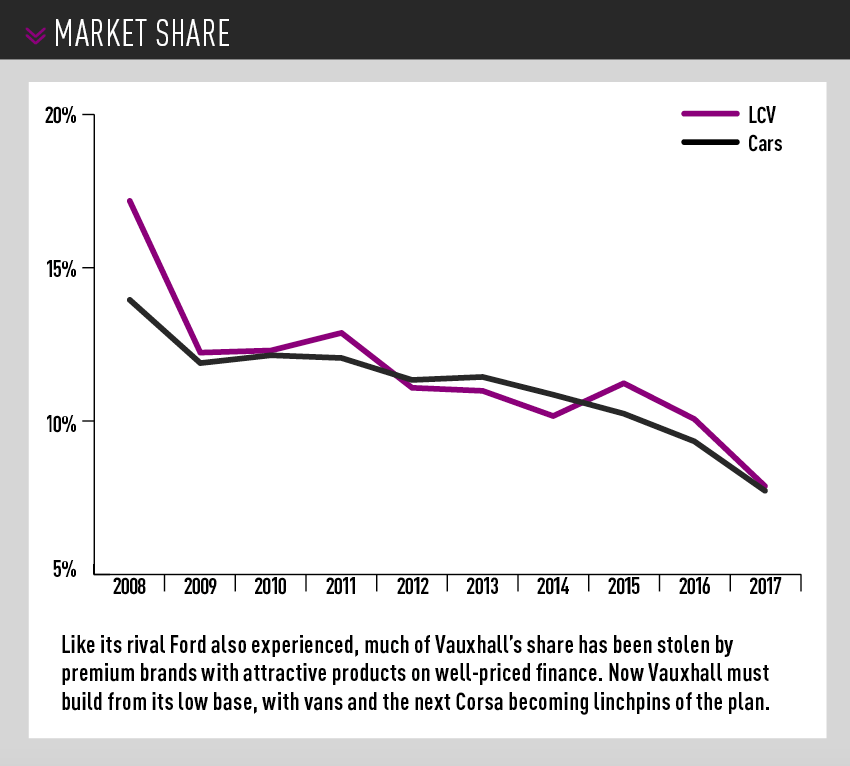 Franchisees were shown the plan on May 1 at Vauxhall's retailer conference in Birmingham. The onus is now on Vauxhall to deliver the plan, to show dealers who've seen other managing directors come and go after making promises.
"This is my strategy, which is designed to solve the problems I see here. I will hang my hat on the results of that. It's not a unique strategy. I think it's a problem that probably needs simple solutions that must be coherent and consistent. We must stick to our guns."
Norman, who turned 64 in August, said he will see his plan through and added he has no intention to stop working until he's 70.
He said he isn't sure that the role of managing director of a national sales company should be given to executives who are still climbing their career ladder. That executives come in to quickly make a mark and move on is understandable, but unacceptable, he added. "This is not a job for bullsh*tters," he explained.
"We're not wasting time on superfluous strategies to chase mirages. We're chasing something that is very practical. Yes vehicle sales need to become more profitable, yes we need to dial down on pre-registrations. But I'm not going to do that until I can see incremental sales coming from our new product. Why aren't incremental sales coming quickly enough? Because the marketing is not quite good enough. So I'm not laying the blame on the network."
New contracts will be sent out to the retained dealers by the end of 2018, and will come into effect on May 1, 2020. The new agreement includes a higher variable margin element, to give higher rewards to dealer performance across customer service quality in sales and aftersales as well as sales volume and retained margin.
And whereas GM Europe included all core conditions within its contracts which were last created in 2013, under PSA the new Vauxhall contract has conditions within annexes which will be published annually, to allow for some flexibility. Norman said input is sought from the Vauxhall franchise board.
He added the plan has been developed with the other PSA brands' networks in mind, and in the long term, as the industry rationalises, he does expect some chances for shared representation. But this is not planned for the short term.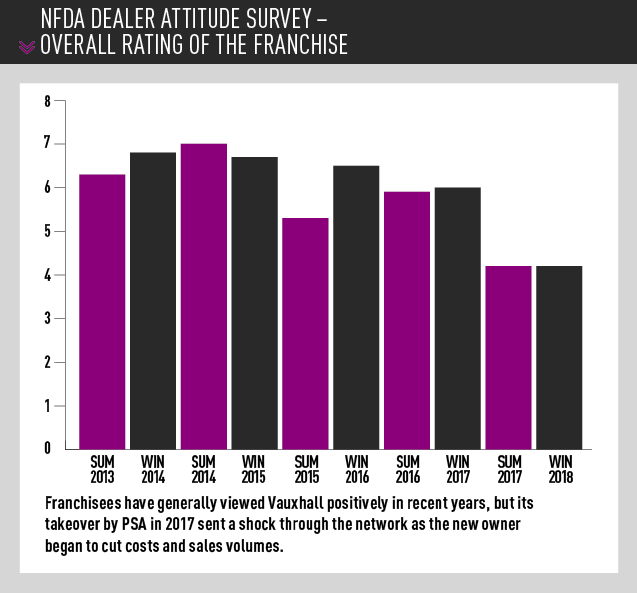 "Over time, as the British motor industry inevitably rationalises, we will be in a stronger position than most because we have four brands. Is there a plan today that says in any particular town it will be he who lives and he who doesn't? Certainly not. Is there going to be a plan like that in the next two years? Certainly not. But I do think in the future (there will be some shared representation). But I don't think it will be a plan from us; I think it will be very much an obvious thing that will be seen first by the dealers themselves."
The majority of the dealerships which will lose the Vauxhall franchise by 2020 are satellite operations within dealer groups, and 12 are solus Vauxhall investors, he said.
Norman said that having identified sites that are unlikely to be viable in the medium term, Vauxhall has a responsibility to give these dealerships the notice that they need to consider other brands and options rather than to wait for them to suddenly fail.
Norman believes people should not get hung up on Vauxhall's past market share, which has been in double-digits since the conservative Vauxhall Cavalier stole company car drivers away from the initially too-radical Ford Sierra. Until then, Vauxhall was barely bigger than it is today, he said.
"When people say 'Vauxhall today is a shadow of what it was', I insist it's a shadow of what it became almost overnight through the most brilliant piece of engineering and marketing that was the Cavalier," he said. While General Motors fought to preserve that market share, under pressure from company car drivers' shift towards premium brands, doing so has proved costly and PSA is picking up the pieces.
Marketing is key
In the medium term Vauxhall's share of the new car market will regain some lost ground – around 9% by 2020 is the plan.
Asked whether Vauxhall has pushed its network too hard to pre-register, Norman said it has, but "the market is so overcooked" because many other brands are doing so too. He said seeing 30% of registrations in the last three days is a sign of "more than overheating".
"This is what is differentiating the UK car market from the markets in Europe. This has nothing to do with Brexit," he said. "One of the worries we should have is if we do go into a hard Brexit, and there is a massive correction in the UK market, people will say 'well that's Brexit for you'. But believe me: that correction is coming anyway."
He said tactical registrations "have become very much the norm in the UK market over the past 15 years", which is something he is very concerned about.
Pre-registrations would have killed Vauxhall had it been alone in doing so, he said, "but it isn't a Vauxhall thing, it's an industry thing".
In future the brand will remain biased towards fleet sales. It's where the market is at, due to demand for contract hire and PCP, he said. After the new generation Corsa arrives at the end of 2019, that will be followed by a whole range of hybrid and pure electric vehicles.
Norman, with his strong marketing background, said a key driver for Vauxhall's future prosperity will be "the quality of the new car marketing we're going to be able to do". To that end, he has hired a new marketing director, Patrick Fourniol, who has experience in brand enhancement, customer-centric innovation and accelerating digitalisation, gained from senior marketing and sales roles with Toyota, Renault and Volkswagen.
Norman said: "Having started his marketing career in sales forecasting and research, and having taken responsibility for product marketing and marketing communications, Patrick is one of the few top-level automotive professionals who can genuinely claim 360-degree marketing management experience in our industry.
"I am sure that, with this experience and knowledge, he will make a significant contribution to our brand's renewal."
As consumer confidence began to recover after the recession it was slow to join the PCP surge, sticking instead with its Flexible Finance five-year hire purchase offering until finally bringing in PCP in 2014.
It attempted to win back conservative buyers from Kia, Hyundai and Toyota by launching a 'Lifetime Warranty' in 2010 which covered cars for up to 100,000 miles with the first owner, but reverted back to standard three-year warranties four years later in recognition that PCP customers expect to change car regularly.
Norman, who drives an Insignia company car, said Vauxhall must build on its current messaging, which uses statements such as 'True Brit' and 'Drool Britannia' to emphasise that Vauxhall has been a British brand since 1903. "During this transition we have to make a strong statement about what Vauxhall is," he said. It has no aspirations to be premium, but Norman sees a need to become what it was in decades past – a reference point, like Ford and Volkswagen are now. "I remember when Vauxhall was great, but the greatness it had is a greatness we're going to build back."
He said he needs Vauxhall to be attainable, progressive with technology, and ingenious. "There's no greater satisfaction for a motor trade individual than in selling a great product at a reasonable price to a modest person," he said.
Rebuilding the brand will take time, but Norman has a vision and determination. "I have no intention of cocking this up," he said.
Changing the pathways for parts and vans
In the LCV market Vauxhall aims to double its market share over the next two years to around 15% (potentially more than 40,000 registrations), to become the second largest brand in the van market, through a combination of product and professionalism.
"It's a 350,000 vehicles market come rain or shine. That's bigger than the Dutch car market and the same as Belgium's, but few people even talk about vans. And we're taking a miserly share of it, so that's where the opportunity lies," said Norman.
Its light van sales are meagre currently but Norman wants more Combo Cargo vans on Britain's roads, and believes the Luton-built Vivaro panel van can more than double its current sales.
In 2017's 362,149 registration LCV market Vauxhall took a 7.8% share (28,368 units), placing it fifth in the sector behind Ford, Volkswagen, Peugeot and Mercedes-Benz.
The way it brings vans to market will change, to help achieve this. All Vauxhall retailers will offer LCVs, but Vauxhall will create 50 to 75 Van Business Centres (VBCs), which will engage with major fleets and provide the rest of the network with the vans they'll retail. Norman said this means that fleets benefit from a centre focused on vans, but small businesses will still be able to purchase from their local dealers.
There will be "simple standards" for the VBCs that won't include bricks and mortar. "In 2018 we're not asking dealers to put up signage or build exclusive showrooms to display vans. We're asking them to be trained and competent."
Norman said the VBCs do not need to already be Vauxhall dealers, nor PSA franchisees. The brand wants to recruit dealers with expertise in van sales – some may be from within the network, some not.
"I think it's time to think out of the box. People have criticised Vauxhall understandably for being a bit staid and not getting on with the job, so as we look to refranchise vans it would be a very funny thing if we just said to our 326 retailers, 'Which of you wants to be the 50 to 75 VBCs?'
"Maybe there are some calls that we need to make to take us beyond that, into other areas of van sales and service we currently don't enjoy. I am thinking about competitor brands and about truck dealers," he said.
Vauxhall will make changes to how it sells trade parts too. As part of PSA Group, it will follow the group's aftermarket parts distribution model, branded Distrigo.
This means having 46 hubs which distribute firstly parts branded for the Peugeot, Citroen, DS and Vauxhall brands, secondly parts from PSA's Eurorepar all-makes operation, and thirdly OES (original equipment supplier) parts from manufacturers such as Bosch, SKF and Valeo.
"This will take Vauxhall, together with our sister brands, into parts distribution in a very different way from simply being receivers of parts from the Luton warehouse to being in the big time," he said. "We will become a significant force in the UK's parts distribution model. We're going to become independent distributors of not only our own parts but other people's parts. It's quite far-reaching."
PSA believes Distrigo will increase parts revenues for the group and its distribution hubs. It wants the Eurorepar and OES products to complement dealers' existing trade parts sales, securing sales from franchised dealers and independents who are servicing competitor marques. It is also a quarter of the way towards its ambitions for a network of 650 UK independent garages under the Eurorepar brand by 2021.