Automotive retail is often held up as an industry that has not really changed in 100 years. Manufacturers make the vehicles and retailers sell and service them.
However, there have been signs of a market shift on the horizon for some time, in the form of subscription service and mobility packages.
The consulting company Frost & Sullivan has predicted that 10% of all new car sales will be through subscription services by 2025, based on an August 2018 report into growth opportunities for the segment.
If you translate those numbers to the UK, that would mean growing the segment to at least 237,000 units within six years.
Among those seeming to take note are manufacturers such as BMW and Mercedes-Benz, which are joining forces on mobility services Reach Now, Charge Now, Free Now, Park Now ans Share Now.
The car subscription start-up Drover has launched partnerships with multiple manufacturers in the past 16 months, including BMW and Volkswagen.
It is also working with dealer groups, as well as leasing and rental companies, to help them monetise poorly utilised stock by leasing it out on subscription packages. This stock can be in the form of pre-registered or nearly new vehicles, pack deals that leasing companies have committed to or vehicles that have been returned from contracts early. Drover now has about 3,000 vehicles listed.
Pricing starts at £514 a month for a VW Passat and BMW's offering starts at £472 for a Mini hatchback. The cheapest option through Drover now is £295 a month for a new Fiat 500.
The price is on a 'just add fuel' basis and includes the cost of the car, as well as comprehensive insurance, VED, servicing, maintenance and breakdown cover, with no deposit to be paid. Contracts range from month-to-month rolling contracts through to 12 months, with discounts available for longer periods. There are plans to extend this to 24-month contracts soon.
Volvo's Care by Volvo offering starts from £799 a month and this includes insurance, servicing, tyres and breakdown cover.
Jaguar's InMotion Carpe scheme starts from £910 and dealers get paid for aftersales work in the same way they currently do, with vehicles sold by JLR on leasing contracts.
Car manufacturers 'need to adapt'
Claire McGreal, Volkswagen UK's brand strategy and mobility services manager, said: "Given the changes we face in the automotive landscape, and as drivers' needs change, we need to adapt and diversify from traditional concepts like outright ownership, into more flexible and user-friendly options like subscriptions.
"Our pilot partnership with Drover is VW UK's first exploratory step into subscription services, but represents the first shoots of something much bigger – an evolving brand."
Justin Benson, KPMG UK head of automotive, said that if manufacturers haven't already launched their own subscription services, they are certainly all looking at their potential.
He said: "The biggest issue right now is the price point and I think that's where some scepticism may creep in.
"But these pilot schemes are really there to explore how this model can work and more importantly, how they can forge a closer relationship with the customer over the contract period."
"Car subscriptions could fill the space left by PCPs, but at the moment the options are still too expensive for a volume market"
Justin Benson, KPMG UK head of automotive
Benson said there is a "push and pull", with consumers looking for more flexibility as the financial situation of the next generation of car buyers has been reversed: "Whereas previously you had asset-rich and cash-poor consumers, we are now seeing consumers that are asset-poor and cash-rich."
Benson believes utilisation will also be a driver for subscription services.
He said: "I don't think a big enough point has been made of this, but at the moment you're spending tens of thousands on an asset that is sitting there on your drive 95% of the time.
"There's going to have to be a big mindset shift to get consumers thinking about mobility in terms of cost per use and how that makes sense to them financially. But we're already seeing a change."
The new car market has been built on cheap finance – if that crashes, could subscriptions step in to pick up the slack from PCPs?
Benson said: "I'm sceptical of interest rates rising to the point where PCPs would be damaged by being too expensive.
"In a hypothetical situation, car subscriptions could fill the space left by PCPs, but at the moment the options are still too expensive for a volume market."
Vehicle subscription customers 'don't want exit fees'
Tobi Lawal, Drover's head of fleet partnerships, said consumers are not really calling for the flexibility to change vehicles on the fly, rather they want to be able to get out of a contract without big exit fees and balloon payments.
He believes this is the core of any subscription model.
Lawal said: "With Netflix or a pay-as-you-go gym membership you're safe in the knowledge that you can cancel at any time.
"If customers feel like they have control, they feel more confident to continue paying for that subscription."
Drover does charge a cancellation fee of 20% of the outstanding subscription payments. So if a customer cancelled halfway through a 12-month contract, they would have to pay 20% of the remaining six months on the subscription.
Lawal said this is still a cheaper option than having to pay a balloon payment or settle 100% of the remaining contract charges on a lease.
Graeme Banister, the head of Carpe in the UK, said car subscriptions are a catch-all term for anything vehicle mobility-related that is packaged up and lasts for more than 28 days, from PCH, PCP and longer-term rental.
Banister said: "Time will tell if it can reach 10% of the market by 2025.
"However, the appetite is there – if prices can be kept keen, then I'm sure customers will be keen too."
How do car subscriptions affect fleet customers?
Banister said Carpe was started as a niche service, targeting people whose motoring costs were already high. He said Carpe's unlimited mileage offering resonated with those customers who wanted to avoid excess mileage charges.
While Banister wouldn't disclose exact figures on how the Carpe business has grown, he did say 'thousands of customers' have engaged with the brand and he is encouraged at the level of interest in subscription motoring.
He said: "The clear message coming through is that people want flexibility."
Carpe's current customer demographic is made up of people looking at an alternative to a company car and looking for convenience with added flexibility.
Particular target areas include those working in the consulting industry, SME business owners and directors.
Nigel McMinn, Lookers' chief operating officer, thinks flexible leasing or car subscriptions could take hold in the company car market, which is seeing declines in fleet ownership.
This would incorporate the PCH market that has been growing in the UK and focus on fleet drivers or those working on short-term contracts at a company who are looking for a flexible lease option.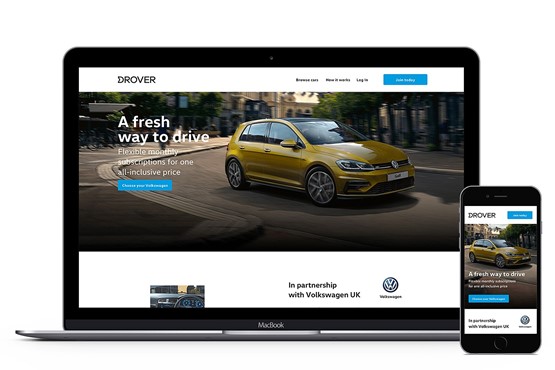 Lawal acknowledged that manufacturers are signing up at a pilot scheme stage with Drover and it's difficult to predict how Drover will grow in terms of its vehicle supply.
Rental companies currently account for the largest portion of vehicles on Drover at 33%, followed by 29% from dealerships, 17% from leasing, 14% from manufacturers and 7% from Drover itself.
Drover owns some vehicles, to make sure it had enough stock to meet demand when it launched its consumer offering 16 months ago, but it will be reducing this percentage as it builds up other streams of supply.
AM asked if there is a risk of manufacturers using Drover as a test case before taking the best parts that worked and launching their own subscription platforms.
Lawal said: "The average age of the team at Drover is mid-twenties. We're a venture capitalist-backed start-up and we have the ability to iterate and move quickly on ideas and technology.
"I think we're in a position where we add enough value that it won't be an issue for us."
McMinn said there will likely be a place for car subscriptions in the future, but he thinks it will be part of the more traditional mix of PCP, HP and outright purchase options.
He said: "I can see it working for younger customers in the city, but when you reach different stages of your life and if you have a family, your needs change. I'm still sceptical that subscriptions would replace traditional ownership."