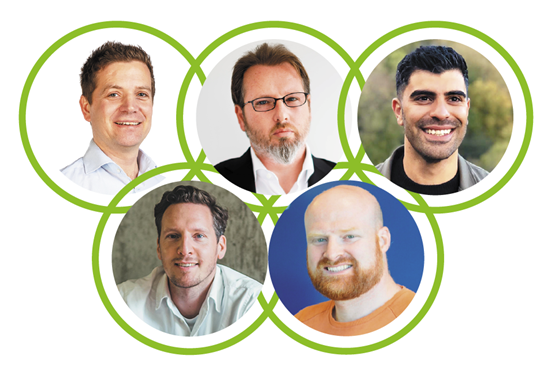 Forward-thinking automotive retailers will be looking at mobility services and new ways to evolve the customer journey over the next 10 years and several new automotive start-ups are vying to help them on their way.
Some of these companies are offering platforms to reach new customers and to remain part of the ecosystem alongside dealerships, while others, such as Cazoo, are looking to be direct competitors.
AM has put together a selection of start-ups that are looking to build volume in the UK car market to help dealers decide if it's better to partner up or forge their own way ahead.
Buyacar
Brothers Austin and Oliver Collins launched BuyaCar in 2002. It offers an online remarketing channel for dealers to help manage the distance selling of nearly-new and used car stock.
It is still run by the brothers, but after building up the business it was acquired in 2014 by Dennis Publishing, the parent company behind Auto Express magazine and carbuyer.co.uk. BuyaCar uses that publishing audience of more than six million readers to market its services. More than 700,000 browsers look through stock on the Buyacar platform each month.
Dealers can add stock at no cost and BuyaCar's team manage the distance selling process entirely, leaving the dealer to focus on their local market. BuyaCar only charges dealers a handling fee, which is agreed upfront, if it successfully sells the vehicle.
According to BuyaCar, its USP is that it steps in to help sell the vehicle nationally for the dealership, rather than just passing on a lead.
Customers can compare prices across the BuyaCar website, arrange finance and sort out their part-exchange, but there is no haggling and no hard sales pitch.
Buyers can arrange for delivery of their car with no face-to-face interaction with a salesperson or dealing with the dealership. It has a 14-day return guarantee, which includes a mileage limit. The company has sold more than 16,000 cars completely online since launch.
Austin Collins, Buyacar managing director, said the risks posed by distance selling regulations are removed as BuyaCar becomes the supplying dealer itself as soon as a customer clicks to buy a dealer partner's car.
Collins said: "It means all liability for problems with the car rests with BuyaCar.co.uk, within reason, so that dealers can focus on selling local cars themselves."
Collins said the average sale distance is 200 miles for a BuyaCar customer, so these are incremental sales dealers may not have achieved without the platform.
Cazoo
Founded by serial entrepreneur Alex Chesterman, who made his millions selling Lovefilm to Amazon and founded property website Zoopla, Cazoo has big name recognition behind it.
Chesterman raised £30 million in November 2018 to start Cazoo, an online platform where customers can buy, finance or rent a used car online and have it delivered to their door within 48 hours. It aims to disrupt the automotive retail market in the UK and will compete with dealerships, rather than partnering with them. Chesterman believes there is room for the platform as the industry is ripe for transformation.
Cazoo has joined forces with BCA for vehicle logistics, refurbishment and disposal of stock.
A Cazoo spokesman told AM that the company's mission is to "transform the way people buy used cars in the UK" by providing a better selection of stock, transparency, convenience and peace of mind.
The spokesman said: "Our aim is to make car-buying no different to buying any other product online today, where consumers can simply and seamlessly purchase a used car entirely online."
Cazoo is planning on launching later this year and has already recruited more than 50 staff at offices in Euston, London. The team has been bolstered with automotive sector expertise in the form of Kevin Harding, Auto Trader's former UK sales director; Tony Long, Tesla's former general manager for remarketing; and Bryan Stringer, formerly Manheim's vehicle solutions director.
Drover
Car subscription start-up Drover has partnered with multiple manufacturers in the past 16 months, including BMW and Volkswagen, and it currently has more than 3,500 customers.
It is also working with dealer groups, as well as leasing and rental companies – current stock partners include Hendy Group, Norton Way, RRG, and LeasePlan – to help them monetise poorly utilised stock.
This stock can be in the form of pre-registered vehicles, nearly new vehicles, pack deals leasing companies have committed to, or vehicles that have been returned from contracts early. Drover has about 3,000 vehicles listed.
The price is on a 'just add fuel' basis and includes the cost of the car, as well as comprehensive insurance, VED, servicing, maintenance and breakdown cover, with no deposit to be paid. Contracts range from month-to-month rolling contracts through to 12-month deals, with discounts available for longer contract periods. There are plans to extend this to 24-month contracts soon.
Drover does charge a cancellation fee of 20% of the outstanding subscription payments. So if a customer cancelled halfway through a 12-month contract, they would have to pay 20% of the remaining six months on the subscription.
Drover promises dealers to double revenue per car, earn an income on pre-reg and demo vehicles and to monetise idle used car stock.
Dealers can set the monthly rate they want to earn from cars listed on the platform or they can follow Drover's own guide prices for stock. Drover takes a 10% cut.
Dealers act as the point of contact for the customer when they "check in" or "check out" with their vehicle. They also take care of servicing and maintenance.
Drover pays dealers based on each day a car has been booked for a particular month, even if Drover itself hasn't received payment from the customer.
A spokesman for Drover said: "With vehicle ownership continuing to change, a partnership with Drover gives dealers an opportunity to understand the model. Drover has coverage across the UK and is always looking for new dealership partners."
Hiyacar
Founded in 2016, Hiyacar aims to be the Airbnb of the automotive industry. It is financially backed by Itochu, the owners of Kwik Fit. It's a car-sharing platform that connects people with under-utilised vehicles with those that need transport or "flexible car ownership". No deposit is required for customers to start using the service.
A "QuickStart" solution installs a telematics box that gives Hiyacar customers access to the vehicle and tracks and manages rentals and transactions.
Hiyacar's core model, is peer-to-peer or consumer-to-consumer, but it is looking to supplement that by partnering with dealerships.
Sepi Arani, Hiyacar's head of growth and formerly a future mobility operations manager for Audi, said the company is exploring multiple partnerships with dealerships and manufacturers directly.
The business launched with a focus on London, but is to expand to Brighton, Manchester, Bristol and Edinburgh this year.
Arani said: "Peer-to-peer will remain at the core of the business, but we are now looking to expand further with partnerships with dealerships and manufacturers.
"Dealers keep around 80% of the price they set for their vehicles and it's a way to generate money from pre-registered or used car stock that might be sitting idle. It's also a good way for independent dealers to diversify their business model."
Arani said Hiyacar is a different proposition to Drover as it offers older stock (up to eight years old) allowing prices to start from £28 a day or £250-£300 a month as part of a soon to be launched monthly offering.
Tomorrow's Journey
Tomorrow's Journey is also focused on monetising under-utilised vehicles.
Owners of cars or vans, including dealers, can add their assets to the JRNY platform. Customers can then rent a vehicle and JRNY uses telematics to manage and track the vehicle's location and availability.
The JRNY app uses technology through the app to prove identity, store payment data and match customers to the right vehicle.
Dealers and owners of vehicles can make stipulations for the type of drivers that can rent their vehicles like requiring drivers to be over a certain age, no points on their licence or being a UK resident for the last three years.
Dealers can list over-age or pre-registered vehicles on JRNY for rental or subscription from third parties while simultaneously listing them for sale, the idea being that these vehicles can be generating revenue while unsold.
LeasePlan UK is the first company to provide vehicles for a pilot scheme with Tomorrow's Journey in the Milton Keynes area.
Chris Kirby, Tomorrow's Journey chief executive and co-founder, believes dealers and manufacturers can combine their traditional retail model with the emerging mobility as a service (MaaS) trend rather than risk being overtaken by disruptors.
Kirby said: "If dealers embrace the changes, they are well placed to take a slice of a £900 billion mobility services market by 2025, the size of which was predicted by the Government's Innovate UK Transport Systems Catapult. We always say to dealers, don't fight mobility – lead it."