October 2017
Date: 29-09-2017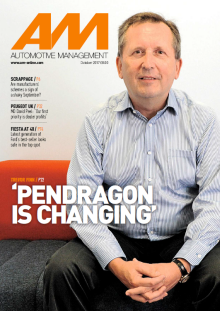 Trevor Finn: "Pendragon is changing"
Scrappage (page six): Are manufacturers' schemes a sign of a shaky September?
Peugeot UK (page 32): MD David Peel says: "Our first priority is dealer profits."
Fiesta at 40 (page 74): Latest generation of Ford's best seller looks safe in the top spot
GDPR
May 25, 2018 is the implementation data of the General Data Protection Regulation governing use of customer data.
Let AM help ensure you are compliant with news, insight and comment in our dedicated GDPR section – and at our February conference.
AM Jobs
16 March 2018, Salary to £50,000 per annum (basic £34 - £38k plus quarterly bonus scheme)
All AM jobs
Automotive Management is also available in a printed format on a monthly basis