Honda unveils pictures of three new EVs at new Civic hybrid launch
Honda has revealed plans to launch three new electric vehicles (EV) in Europe following the unveiling of its new hybrid-only Civic e:HEV hatchback.
The Japanese brand will realise its ambition of electrifying its entire model range with the launch of the 11th-generation Civic and has committed to be Carbon Neutral by 2050 on its way to an end to all sales of internal combustion engine vehicles by 2040.
And it delivered a clearer picture of its product strategy at the official unveiling of the new Civic.
Its new additions will include an all-electric B-segment SUV, previewed as the e:Ny1 prototype, a C-segment full hybrid SUV, and the all-new CR-V, which will be available with both full hybrid and plug-in hybrid powertrain options for the first time.
The e:Ny1 compact SUV will arrive next year, Honda said.
Shift to EV
Honda Motor Europe senior vice president, Tom Gardner, said: "We are already well advanced with our plans to further expand the choice of battery-electric and hybrid vehicles for our customers and increase our offering in the fast-growing B- and C-SUV segments.
"The new models we will introduce in 2023 set the course for the next generation of electrified Honda cars, all retaining the engaging driving dynamics, comfort and exceptional usability to which our customers have become accustomed."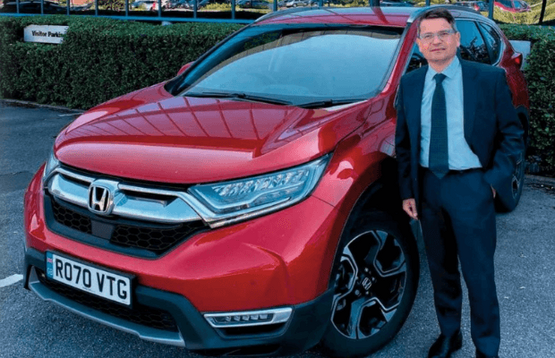 In a recent manufacturer profile feature for AM magazine, Honda UK managing director Jean-Marc Streng revealed that the brand's only current EV, the Honda e, had generated strong publicity and attracted conquest customers, but would deliver only 600 to 700 annual sales.
Earlier this year Honda chief executive Toshihiro Mibe revealed plans to launch 10 EVs in the next five years in a bid to fulfil his ambition for the brand to go fully-electric by 2040.
Streng said: "We finished with diesel a year ago and, after the last registration of the current Civic, we'll be finished with petrol. We'll then be one of few suppliers to have only hybrid and battery electric (BEV)."
New Civic
Set to reach UK showrooms this autumn, the Civic e:HEV is powered by a two-litre petrol engine that works in conjunction with two electric motors, giving a total output of 183PS and 315Nm.
Honda says the car should emit less than 110g/km of CO2.
The all-new Civic is sleeker than before, with a bonnet line that is 25mm lower than the last Civic and smoother panels. It also has a longer wheelbase, providing improvements in drivability, and extra passenger space.
To save weight, and therefore improve efficiency, the Civic's tailgate is made from resin.
On the inside, the new model's interior features more high-quality materials, to give a more premium feel.
A new nine-inch infotainment screen provides wireless Apple CarPlay and Android Auto, while there's also a digital instrument cluster for the driver and a 12-speaker Bose stereo system on top-spec models.
The new Civic will be built in Japan, following the closure of Honda's Swindon factory where the 10th-generation model is produced.
Pricing and specification details will be available later this year, before the car's official launch in the autumn.
---
---