Honda UK managing director Jean-Marc Streng says the brand is exploring the possibilities of the agency franchised retail model as it draws to the end of "phase one" of its retail network restructure.
Speaking to AM more than two years after the Japanese brand took the bold decision to cut its network from 155 to "around about 100-to-125 with 200 retail sales, minimum, per dealer and an average return on sales of 2%" by 2022, Streng says the tally now stands at 130.
That is set to be reduced further – to 115 – within the next six months in what he described as the completion only of "phase one" of Honda's network restructure.
Further changes will see the network divided into geographic market areas in a process that will result in other dealership closures.
"What we are going to propose next is a larger market area to existing dealers, but that won't involve much more reduction of outlets," he says. "We believe that with the volume we now have, the scale is about right."
Honda's bid to re-shape the way it does business in the UK could yet bring a switch to an agency-style franchise agreement, however.
Back in March a spokesperson for Honda UK told AM that it had "no specific plans" to introduce an agency model to its franchised car retail network in response to reports that the Japanese brand was about to embark on a global roll-out.
But Streng admits that it is "exploring" the concept in order to see "what was possible, or not".
"First of all, we're waiting for the new Block Exemption Regulations, because that has a massive impact," he says. "The main thing right now is to define what people understand as 'agency'."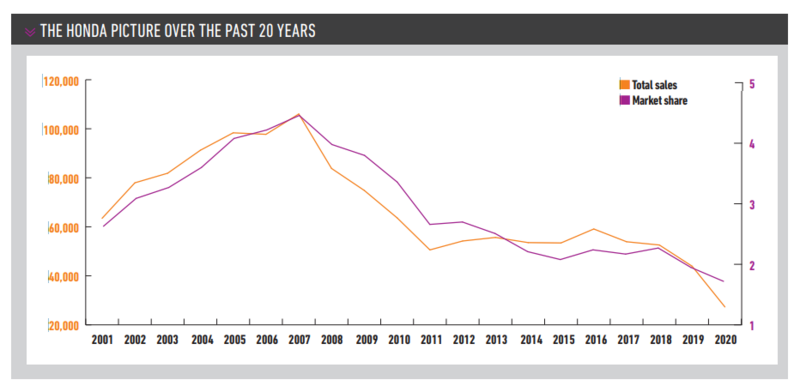 Honda's registrations slumped by 37.8% amid the COVID-19-enforced showroom closures of 2020, to 27,297 (2019: 43,913), following a 16.5% decline to 52,570 a year earlier.
The numbers are a far cry from the 106,018 record of 2007 when Honda's market share was 4.41%.
The brand ended last year at 1.67%. Year-to-date to the end of November 2021, registrations were down 2.18% to 25,340, taking market share to 1.73% in a market down 2.68% overall.
FROM PUSH TO PULL
Alongside its 2019 announcement regarding cuts to the scale of its franchise network the brand demonstrated a desire to move away from chasing volume by taking the radical step of removing dealer targets, instead asking dealers "what volumes do you need to trade in to make your business work?"
Speaking to AM about the plans at the time, then head of network development, Rebecca Stead, said that bonus payments would be paid within 20% of the agreed volumes, asserting that the buffer would "remove any distress" and reinforce the fact that the brand is no longer pushing for volume.
Streng told AM that Honda UK had met with its franchised retailers days before our interview to inform them of the brand's volume aspirations for 2022 "based on what we have in terms of supply", however.
"This year we will achieve 26,000 to 27,000 registrations with a large order bank which, as of today, stands at more than 3,000," he says. "Next year, we believe we can over-achieve, which will mean 30,000 to 32,000 registrations."
He adds: "We re-align volume on a quarterly basis so the dealers can align their targets. When the cars are loaded on the boat we know that they are arriving in two months' time, so we have certainty, unless there's another Suez Canal (blockage) crisis."
Streng says between 75% and 80% of Honda's sales go to retail customers, meaning it should be on course to significantly exceed is goal of 200 retail sales per franchised site with its smaller network of operators in 2022.
That will be positive news to franchisees, who were told at the recent dealer briefing that the network's average return on sales (RoS) stood at £364,000 – or 3.2% – for the 12 months to the end of November.
Streng is under no illusion how important profitability is to his franchisees.
In the National Franchised Dealers Association's (NFDA) Summer 2021 Dealer Attitude Survey, Honda was rated as 7.9-out-of-10 to rank eighth out of 32 brands, ranking seventh in relation to its "current profit return" with a score of 8.1.
When asked to rate their potential for future profit return from their franchise, dealers scored it 7.9-out-of-10, placing it fifth and indicating a positive response to its restructure plan.
"The NFDA survey results are important to us and we always score well in terms of profitability," Streng says.
"The overall score is down to that, but also down to the relationship we maintain with our franchisees. Many people use words like 'trust, transparency and partnership' when they talk about how they operate, but we mean it."
STRONG RELATIONSHIPS
According to Streng, the majority of cuts to Honda's retail network to-date have been made possible through consolidation, with existing franchise partners asked to take on more sites while closing outlying locations.
Vertu Motors cemented its position as the biggest European retail partner with the acquisition of Hepworth Honda, in Huddersfield, in March – a year after it acquired the neighbouring Bradford franchise from Vantage Motor Group.
Brayleys Cars is Honda UK's second-biggest partner with nine dealerships, which includes two aftersales only businesses, while Marshall Motor Group now has seven.
Asked if an increased representation from top AM100 groups had changed the experience of the average Honda customer, Streng says: "Those dealer groups have processes that ensure they can deliver the same service across the network. We see that the quality of service is not linked to the size of the operator.
"I think what matters is to have long relationships with our franchisees, because Honda is a quite unique proposition."
Streng succeeded David Hodgetts as MD of Honda UK from being general manager of Honda Motor Europe's Automobile Division, just ahead of the start of COVID-19 restrictions in February 2020.
He recalls: "My first registration month, in April, was just seven cars. As a new MD that's not the sort of record that you want to immediately set, but we put in place a series of strong measures to help us adapt to the situation."
Like many manufacturers, Honda has shifted towards incentivising order take, rather than sales.
ONLINE RELATIONSHIPS
And while its customers were cautious to visit dealerships in-person immediately after the lifting of various lockdowns, Streng says there was a shift online under COVID-19 restrictions.
"We developed a pre-reservation system with Honda e, that allowed customers to log-in online and create an account with us and that has been really positive.
"Our customers weren't keen to visit showrooms in March this year, but July-to- September we took 11,000 orders in three months. That tells us that the work has been done virtually."
Streng admits that Honda has watched as other OEMs developed an end-to-end retail solution, but added that it is now "around half-way through" developing its own.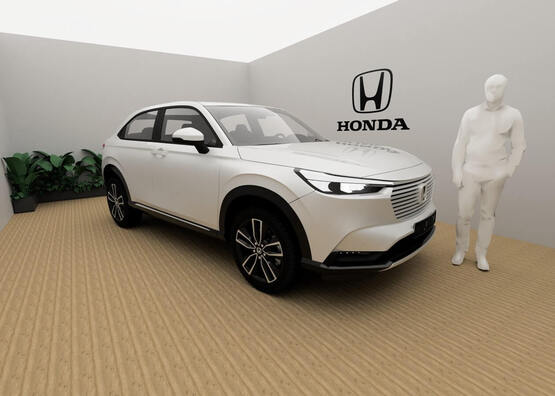 There has been a move towards digitalisation of its customer relationships, though.
Streng admits the brand was "a little behind the trend with virtual showrooms", but acknowledged the role it had played in the launch of the new HR-V, alongside a new personalised 'Virtual Demonstration' allowing customers to book a live 30-minute, one-on-one consultation with a Honda product expert.
Real-world reviews are another initiative aimed to "hear customers talk about their cars" and spread the word about the brand.
Streng says: "We're confident about our line-up and what people will have to say. We think it's a good way to get some really positive and widespread exposure."
RANGE RENEWAL
The recently-updated CR-V, the arrival of new HR-V and a 2022 run-out for the current Civic ahead of its replacement in Q4 will be central to Honda retailers' growth prospects in 2022.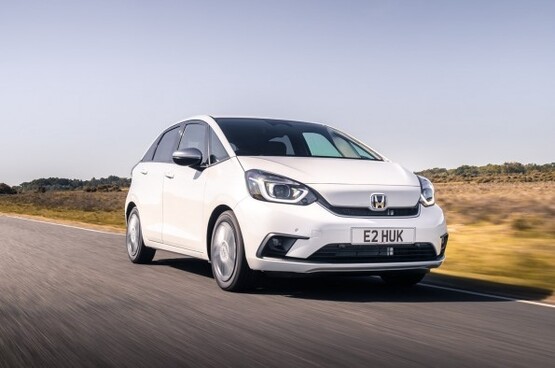 Sales of the brand's best seller, the Jazz, have risen 32.1% to 13,693 year-to-date to the end of November to achieve a volume more than twice that of its second-placed CR-V, which is up 6.7% to 5,677. HR-V has fallen 93.9% YTD, to 226, with Civic down 11.9% to 5,020.
"We just ran out of the outgoing HR-V, so there's a gap, and we're also coming to the end of sales of the current Civic, which will have an impact on volumes," Streng says.
"We only have five models, so when one of the big ones goes it has quite an impact."
On the arrival of the new HR-V, he says: "It's a clean, simple design which is very new and gives a clear ID to the brand and its future models. We believe it has the potential to account for 8,000-to-10,000 cars on an annual basis.
"We've already taken 2,000 orders and the first of those are now being delivered into the dealerships. A lot of those customers have bought the car without having test driven it."
One increasingly apparent gap in Honda's line-up is a big-selling electric vehicle (EV).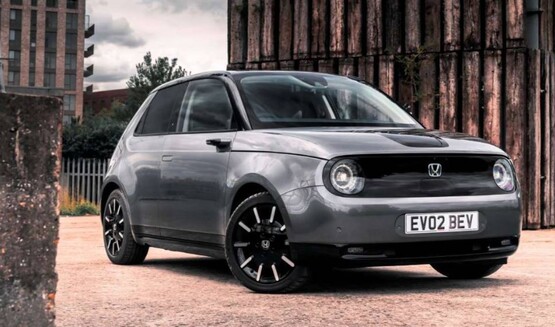 Streng says the Honda e – introduced in summer 2020 – had generated strong publicity and attracted conquest customers, but would deliver only 600 to 700 annual sales.
A second EV model is scheduled to arrive in 2023.
New Honda chief executive Toshihiro Mibe recently revealed plans to launch 10 EVs in the next five years in a bid to fulfil his ambition for the brand to go fully-electric by 2040.
Streng points out that Honda will soon be fully electrified. He says: "We finished with diesel a year ago and, after the last registration of the current Civic, we'll be finished with petrol. We'll then be one of few suppliers to have only hybrid and battery electric (BEV)."
DRIVING RETENTION
Streng says he and his dealers are well aware of the importance of aftersales and used cars.
Honda's five-year service plan achieves 85% penetration and works hand-in-hand with PCP renewals to retain customers and their cars.
Retailers are encouraged to stock vehicles up to eight years old on their forecourts, Streng says.
He adds: "The third thing that helps this cycle is our cautious approach to residual values. There is no push sales model and we are very selective with our fleet channels. Those things ensure there is no distress in the residual values."
Streng says retailers have been exposed to significant change over the past two years and, after establishing contacts virtually early in his role as Honda MD, he now aims to deliver transparency through the network's dealer council.
Plans are discussed before being implemented, he says, while 10 sales and 10 aftersales area managers – operating in two regions operated by two regional heads – offer ongoing support 'on the ground'.
"I think that activity in the field has been really important. It backs up that transparency and openness we want in that franchise relationship, says Streng.
"Our aim is to be the franchise partner of choice for our retailers."