Activate Group has opened the first of five planned vehicle accident repair centres as it invests £6m creating its bodyshop division.
The new division is part of its strategic growth plan that aims to service a need for quality bodyshops, able to repair structural composite materials, hybrid and electric vehicles and safety features such as ADAS systems, in historically underserved urban areas, it said.
The group expects the Activate Accident Repair division to achieve more than 16,000 repairs annually once all sites are up and running.
The first bodyshop has begun operations in Birmingham on an 18,000sq ft site and has capacity to repair up to 16 vehicles a day.
The other four, each in 15,000 sq ft sites, are in development and will be able to repair 12 vehicles daily each.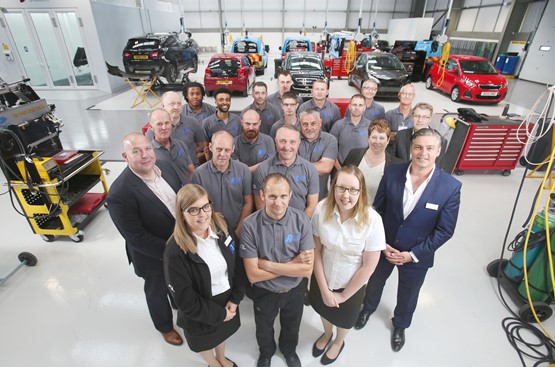 Chief executive Hannah Wilcox said: "We launched to the industry this week with an exclusive event for more than 50 customers and showcased the first Activate Accident Repair body shop with tours and a series of process demonstrations.
"Feedback has been amazing, and our customers seem as excited as we are about the direction we are taking and our ambition to set new standards in the industry."
The bodyshops will create more than 200 jobs and introduce an apprentice programme next year.
Activate Accident Repair is part of the AGL group of companies which includes Motor Repair Network, Sopp+Sopp and Sopp Parts. Once operational, Activate Accident Repair will co-exist with AGL's existing network of third-party suppliers.
Wilcox (pictured below, with Shane Maybank, left, and AGL chairman Mark Wilcox) said: "The relationship we have with our network of 200 bodyshops is not altered by the creation of our own five site bodyshop division. AGL will grow significantly this year, with the number of claims we handle projected to increase by around 50% over the next twelve months. This means there is more than enough work for our third-party network and our own bodyshops too."
Activate Accident Repair division managing director Shane Maybank added: "Work is well underway on the Glasgow and Leeds centres, which we expect to have operational before the end of the year. And in 2020, we'll complete work on the final two sites in this tranche of development."