The Institute of the Motor Industry (IMI) has said that the "race is on" to get vehicle technicians ready for 2035's ban on new petrol and diesel cars.
The automotive sector training and accreditation body claims that Prime Minister Boris Johnson's announcement earlier this week that all new car sales must be electric vehicles (EV) by the new tighter deadline had brought added pressure to the sector, adding in a statement that there's now "just 15 years to get a whole generation of technicians" EV trained.
IMI chief executive Steve Nash has welcomed the new earlier deadline for a ban on the sale of new petrol, diesel or hybrid vehicles but warns that urgent investment need to be made in EV skills training to support this goal – claiming that just 5% the sector is currently qualified to work on electric vehicles.
"The news that the ban on the sale of new petrol, diesel and hybrid vehicles has been brought forward to 2035 is an excellent step in the efforts that need to be made to improve air quality and tackle the threat of climate change," he said.
But Nash added: "It brings an added pressure for the automotive retail sector, and specifically the businesses that service and maintain vehicles.
"Currently just 5% of the sector is appropriately qualified to work on electric vehicles so in the next 15 years the race will be on to get the rest of the workforce up to speed."
In November 2018 the IMI stated that just 3% of UK automotive technicians had been trained to works on EVs.
Speaking at the IMI People Theatre at Automotive Management Live 2019, back in November, IMI technical trainer and consultant, Tom Denton, said: "There are currently 21,000 EV-qualified technicians across the UK from a sample of 180,000 technicians that we actually know about. So, broadly speaking, 5% of the technicians out there have started to upskill themselves in the right direction."
The IMI pulled no punches when it attempts to express the very significant dangers posed by EVs to technicians who aren't properly prepared at AM's annual expo at the NEC in Birmingham.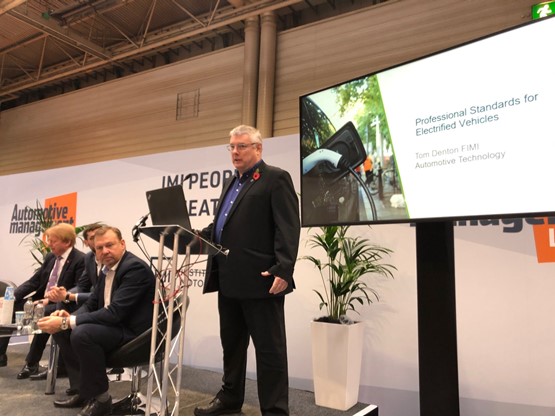 Denton said: "When the Prius arrived on the market its system operated with around 200 volts. Many electrified vehicles are now operating at 400 or 600 volts and there's a lot of working going on now to develop cars with 1000 volts. To be honest it doesn't matter. Once you get above 200 volts, if you touch the wrong thing the chances are you won't survive."
Nash, who was hosting the People Theatre seminars, warned that a workshop incident involving an un-trained technician could have serious consequences for a business.
He said: "If an accident occurs and your technicians aren't properly trained, when the HSE comes in to investigate not only will you be liable but your liability insurance won't apply."
The IMI has been lobbying for support from Government to get the technician workforce appropriately qualified.
Last October the Office for Low Emission Vehicles (OLEV) gave its endorsement to the IMI TechSafe standards for people working on electrified vehicles.
The programme allows electrified vehicle users to access the IMI Professional Register to check the electric vehicle technical competencies of technicians at their local garage.
Nash said that there remains a big challenge ahead, however, to ensure there are sufficient technicians qualified and highlighted that technicians who aren't properly trained or equipped to work on electrified vehicles would be risking serious injury or potentially fatal shock.
He suggested that the Government may choose to provide additional funding for technician training in its Spring Budget, adding that: "A lack of qualified technicians will seriously undermine the government's goals."