Car dealership aftersales departments attempting to plan ahead for an expected surge in MOT demand during the second half of the year have been handed a top ten ranking of the UK's most under-pressure cities.
Research conducted by GiPA UK in response to the Driver and Vehicle Standards Agency's (DVSA) "Beat the Rush" campaign identified Reading as the hot spot for MOT demand, with 84 tests carried out within the postcode in August expected to soar to 284 by November.
The MOT extension introduced by the Department for Transport (DfT) in response to COVID-19 created a spike in the number of vehicles whose MOT will expire in the coming three months, effectively doubling the number of tests required in September, October and November, with a total of 11.28 million vehicles now needing an MOT over this period.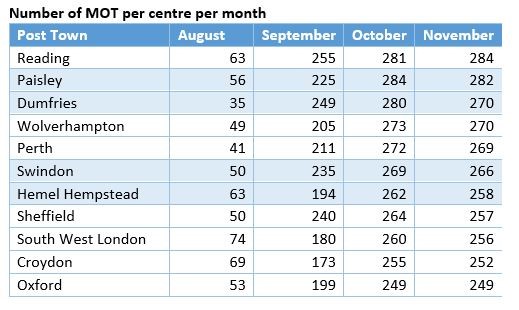 GiPA cross referenced DVSA data with the number of class IV MOT test centres by postcode in order to obtain the average number of MOT to be performed per month per centre in the different areas.
General manager, Quentin Le Hetet, who spoke on the IMI Theatre stage at AM Live last November, said: "This is a different picture than just looking at absolute data figures from DVSA.
"Thanks to the data per postcode from August to November it is now possible for MOT test centres to quantify and plan ahead. Businesses can understand clearly the impact in their wider area."
Recent GiPA research found that 56% of all MOT tests performed in 2019 were carried out with extra work.
During the COVID-19 lockdown period many cars were left on the driveway for longer than usual, leading Le Hetet to assert: "We can only expect even more repair opportunities linked to MOT in the coming months."
With the anticipated peak MOT period set to start in a few days, GiPA has recommended that all test centres should make sure:
They are fully staffed for MOT testing
There is no bay/ ramp that is left empty
To book ahead customer for MOT as much in advance as possible "Beat the Rush"
Earlier this month AM reported that car dealers should consider extending the operating hours of their workshops to handle the anticipated demand for MOTs, following the end of the Department for Transport's (DfT) six-month coronavirus extention period.
More than half of car owners (56%), who had an MOT test due between March 30 and July 31, 2020, chose to use the six-month extension to delay their car's test beyond the expiry date on their existing certificate, according to a study by The Motor Ombudsman.
Karen Rotberg, co-founder of BookMyGarage, said: "The demand is there, yet the current capacity is understandably stretched. In order to cope and mitigate against losing business from those unwilling to wait, a temporary increase in capacity is a logical move.
"We know it is being considered and debated across many groups at the moment."
On average, two thirds (66%) of all franchise workshop bookings managed by the BookMyGarage include an MOT test.
Analysis of job sheets processed by its network of 9,000 franchised and independent garages also showed a rise in additional repair work from 25% to 48% year-on-year in July.