Skoda has launched a new electromobility sub-brand, iV, as part of its strategy to sell a quarter of its cars with electrified powertrains by 2025.
The first two models to feature iV technology are the facelifted Superb, which gets a plug-in hybrid engine for the first time, and the new Citigo e electric supermini.
Skoda chiefe executive, Bernhard Maier, said: "The right time has now come for Skoda to enter the era of electromobility. We are now able to fulfil essential customer requirements: long ranges, quick charging and – particularly important for us here at Skoda – affordable prices.
"In addition to our successful petrol, diesel and CNG engines, the new drive systems will quickly become a relevant part of our range. We anticipate that they will make up around 25% of total sales by 2025."
In addition to the creation of an electrified model range, the new iV sub‑brand will develop a range of E‑Mobility solutions.
This includes affordable 'wall box' EV charge points with different power outputs which will allow customers to conveniently recharge their vehicles at home, along with mobile online services offered via Skoda Connect that allow customers to benefit from services such as an intelligent charging station finder.
Skoda will also develop a single‑card system that allows customers to pay to charge their vehicle all over Europe – regardless of the country they are in or the provider they are using.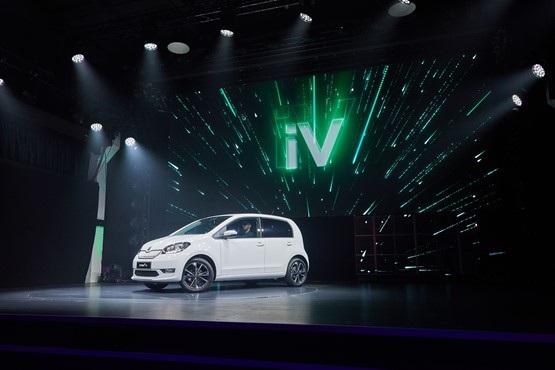 The Citigo e is expected to go on sale in early 2020, with prices predicted to start from £18,000.
It offers a maximum range of 165 miles and uses a 36.7kWh battery.
The battery is integrated into the car's chassis, meaning it retains a 250-litre boot.
Skoda says the Citigo e's battery can be recharged to 80% in one hour using a CCS (Combined Charging System) charging cable connected to a 40kW DC fast charger. Using a 7.2‑kW AC wall box, the battery is charged to 80% in four hours.
Exterior styling is largely carried over from the Citigo, although the dashboard has been revised for the all-electric version.
The car will be offered in five-door guise with a choice of Ambition or Style trim levels.
Standard equipment includes electric front windows, climate control, remote central locking, and a smartphone docking station.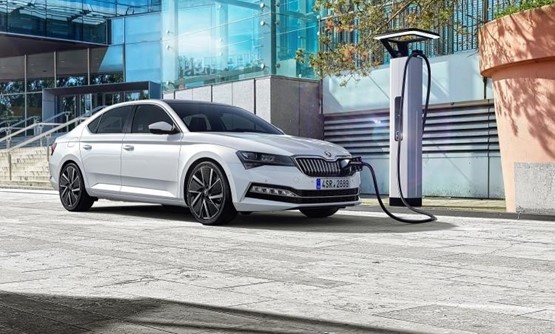 The Superb plug-in hybrid (PHEV) will launch as part of a facelift that will be available from early 2020.
Cosmetic changes are limited to revised bumpers and headlights, plus some new interior trims.
Technical updates include new Matrix LED headlights and a new predictive cruise control system that uses a camera to anticipate upcoming restriction and bends to adjust speed accordingly.
Final prices and specifications are yet to be confirmed, but the existing trim line-up is expected to remain.
There will be seven engine options. The range starts with a 1.6-litre TDI diesel with 120PS and a seven-speed DSG. There is also a 2.0-litre diesel with 150PS or 190PS.
Petrol engines include a 1.5-litre TSI with 150PS and a 2.0-litre TSI with 190PS or 272PS.
The PHEV uses a 1.4-litre TSI petrol and electric motor to deliver a combined 218PS. It has a zero-emission range of 34 miles and CO2 emissions from 40g/km.
The PHEV model's battery is stored in the rear of the car, meaning boot space is reduced from the existing car's 625 litres to 485 litres.
In the Superb estate, boot space drops from 680 litres to 510 litres on the PHEV model.
Three new 'simply clever' features have been added as part of the facelift. An enlarged Phone Box provides wireless charging and connects the phone to the car's external aerial for better signal.
A new Space Organiser below the false boot floor provides a shallow, divided tray for securely storing equipment. Also new is an optional, Flexible Organiser in the luggage compartment with a movable horizontal bar on the adjustable false boot floor (estate only).