Citroen has announced a new retail concept for its van operations, which it hopes will underline its commitment to business customers in the future.
Branded 'La Manufacture Citroen', it requires specific franchise standards, such as displaying a 'hero' vehicle high up on a branded podium to immediately identify the site and promote Citroen's offering, and a dedicated car park and reception area for customers.
Extensive use of masts and banners, and illuminated signage and symbols will explain the commercial offers and vehicle specifications, and Citroen suggests a covered area displaying the its flagship vehicles will provide more comfort for customers.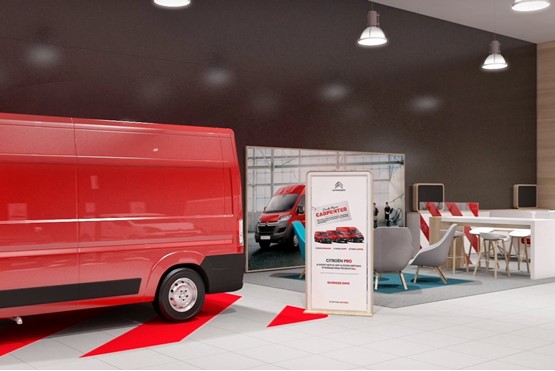 Inside the showroom, there will be a vehicle on display on a podium at the entrance, plus the complete range of business vehicles in various configurations.
Citroen believes the use of red and white, plus light oak panelling and grey fabric, will underscore the business-like look and feel in the showroom and workshop.
The new van sales corporate identity is already being trialled at Reims in France and Amsterdam in the Netherlands, and Citroen aims to roll it out across its van dealer network internationally over the next three years.
The French brand said the design for La Manufacture Citroen has graphics which reflect the professional world of building sites and workshops, through their red and white striped design.