HR Owen has brought Ferrari fever to Mayfair with a display of classic Italian sports cars ahead of the opening of its new Mayfair supercar showroom this week.
To celebrate the opening of HR Owen Ferrari Mayfair, the company is currently showcasing three of the most iconic Ferraris ever made in a special display on the lawns of Berkeley Square Gardens.
On display until tomorrow (July 11) will be a trio of Italian classics made up of a 750 Monza, 250 California Spider, 250 GTO
They will be joined by a current product of the Italian supercar maker in the form of the Monza SP1.
HR Owen's opening of the new Ferrari facility follow its recent announcements that it has become a franchisee of the new Pininfarina and Rimac electric vehicle (EV) brands and is planning the creation of a new Rolls-Royce Motor Cars showroom in its London heartland.
A summary of tha cars that Mayfair visitors are being invited to see, courtesy of HR Owen, this week:
Ferrari 750 Monza from 1954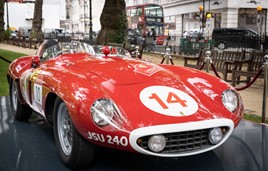 The prototype made its debut at Monza in 1954 with an engine based on a development of the four-cylinder Type 555 and took both first and second positions.
HR Owen said that the new engine, with its twin overhead camshaft, developed a very high torque that made for particularly impressive driving.
The most notable of the 750 Monza's other victories was the 1954 Tourist Trophy.
Ferrari 250 California Spider from 1961
Thanks to Ferrari's reputation in motor sports, and the work of importer Luigi Chinetti, the United States became an important market.
John Von Neumann, the west coast representative, thought that there was potential for an open Spider suited to the Californian sun, a sort of open 250 GT Berlinetta.
Chinetti welcomed the proposal and convinced Enzo Ferrari that it was a good idea.
Scaglietti was therefore given the opportunity to create this now almost legendary car, building 106 of them, nine with aluminium bodies.
Ferrari 250 GTO from 1962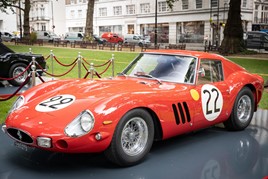 The 250 GTO model was said to be the pinnacle of development of the 250 GT series in competition form, whilst still remaining a road car. It made its public debut at the annual pre-season Ferrari press conference in January 1962, and was the only front engine model on display, with its monoposto and sports racing counterparts all having a mid-engine configuration.
A HR Owen statement said: "Charisma came not only from its innumerable racing victories, but from the unique sum of its parts – stunning looks, a highly competitive chassis and a thoroughbred V12 engine."
Ferrari Monza SP1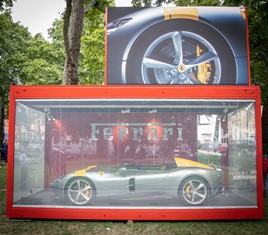 The Ferrari Monza SP1 has been inspired by barchettas of the 1950s which were driven to victory in international motor sport not just by official works team drivers from the Scuderia, but also by a legion of gentlemen drivers who, in those years, frequently found themselves wheel to wheel with legendary professional drivers of the era.
The first ever Ferrari to be referred to as a barchetta was the open-top version of the 1948 166 MM.
The name was coined by Giovanni Agnelli who, upon seeing the car for the first time at the Turin Motor Show that year, commented that it was less like a car and more like a barchetta, referring to the Italian for a small speed boat.
HR Owen's profit growth
Last month AM reported how HR Owen's financial results for the year to April 30 had revealed that the London-based supercar and luxury car retailer had delivered a four-fold increase in pre-tax profits in the three years since its acquisition by the Malaysian Berjaya Group.
The dealer group came under the control of billionaire and Cardiff City owner Vincent Tan back in 2013 and was acquired in its entrity in 2016.
Now run by chief executive Ken Choo, the group published financial results, on June 17, which detailed profit before tax of £8.3m and annual turnover of £459.9m.
The result represents a 418.8% increase in PBT since 2015/16 and a 29.3% increase in turnover over the same period.
Last year's PBT and turnover figures were 43.1% and 8.7% upon the prior year, respectively.