HR Owen's financial results for the year to April 30 have revealed that the London-based supercar and luxury car retailer has delivered a four-fold increase in pre-tax profits in the three years since its acquisition by the Malaysian Berjaya Group.
The dealer group, acquired by billionaire and Cardiff City owner Vincent Tan back in 2013 and run by chief executive Ken Choo, published results today (June 17) which detail profit before tax of £8.3m and annual turnover of £459.9m.
The result represents a 418.8% increase in PBT since 2015/16 and a 29.3% increase in turnover over the same period.
Last year's PBT and turnover figures were 43.1% and 8.7% upon the prior year, respectively.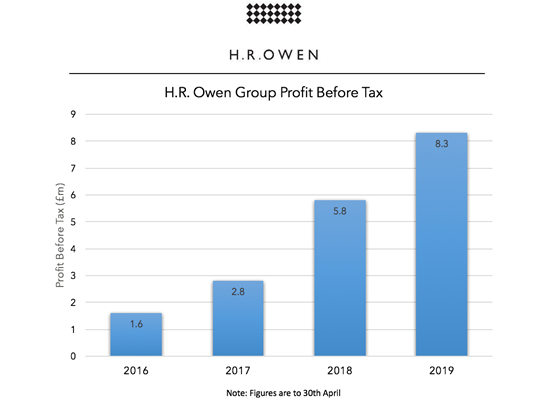 Commenting on the burgeoning results of the group - now comprised of 15 dealerships and 14 service centres and soon to add the Rimac EV supercar brand to its portfolio - Choo insisted that "the super-luxury segment is not slowing down". He said: "It's really pushing ahead."
Choo, who took his post as as chief executive in January 2017, said: "We are ideally located in London which is the only mega city in Europe and continues to be a place where the super wealthy call home or use as a stop off point."
HR Owen said that it would be opening two new global flagship London showrooms for Rolls-Royce and one other brand within nine months.
The group recently announced that it would add the Pininfarina electric vehicle (EV) brand to its franchise portfolio and revealed that it would also be retailing Rimac EV hypercars.
It may not be doing so from a new London showroom, however.
Instead, HR Owen revealed that it is considering innovative new business models for these new electric car brands, suggesting that with Rimac it will fly customers out to the factory in Croatia rather than creating conventional showrooms.
Investing in the next generation of electric luxury and sportscars is part of HR Owen's strategy under Choo and Berjaya Group – HR Owen's parent company – founder, Vincent Tan, according to Choo.
"Vincent is very progressive and advanced in his thinking on environmental issues, so it is part of his vision that HR Owen is a world leader in electric cars," he said.
"There is also a growing demand from our customers for electrification whether that be hybrid or full battery electric.
"When they are driving in the city, we can see them wanting to use their supercars in EV mode to contribute to clean air."
The introduction of a number of efficiency measures throughout the HR Owen business and the uniting of many of the HR Owen brands to work "in the common interest of the broader Group", was credited with three years of performance improvements within the business, meanwhile
HR Owen currently offers the only dedicated Bugatti showroom in the UK, the largest Ferrari Technical Centre in Europe and Bentley's oldest showroom, in the form of Mayfair's Jack Barclay.
The Jack Barclay site was first opened in 1932, and was recently subject to a multi-million refurbishment, maintaining a number of important historical details in the process.
The group said that this investment is just one small part of HR Owen's plans to continue to innovate and deliver the finest customer services and experiences in the world, a point discussed with AM editor, Tim Rose, in an interview last autumn.