Williams Group claims to have brought together "blue chip" brands BMW/Mini and Jaguar Land Rover (JLR) for the first time ever with the opening of its new £41m flagship TraffordCity car dealerships.
The family-owned AM100 retail group, which this year celebrates its 110th anniversary, opened its new franchised sites - initially revealed in April, 2018 - as part of Peel Land and Property's TraffordCity development, located directly adjacent to the Intu Trafford Centre.
A statement issued by the Manchester-based group said that the 14.5-acre site had been selected by Williams because it "met exacting requirements for a prominent location to accommodate a retail centre with landscaped parking and grounds, setting new standards in retail and service for customers".
About 240 of Williams' workforce of more than 800 are relocating to TraffordCity from centres in Upper Brook Street and Birchall Way, Manchester, with 20 new jobs being created.
Located on Barton Dock Road, the centre is within minutes of the M60 and opposite a new Metrolink station which is scheduled to open in 2020.
Williams Group's new three-storey contemporary glass fronted showroom complex, features incorporates the largest BMW centre in the North West of England, showcasing more than 70 BMW cars, as well as a purpose-built 10-car Mini showroom and an 18-car Dual Arch Concept JLR showroom.
Outdoor display areas allow Williams to also showcase hundreds of approved used BMWs, more than 80 approved used Minis and in excess of 150 approved used Jaguar and Land Rover cars.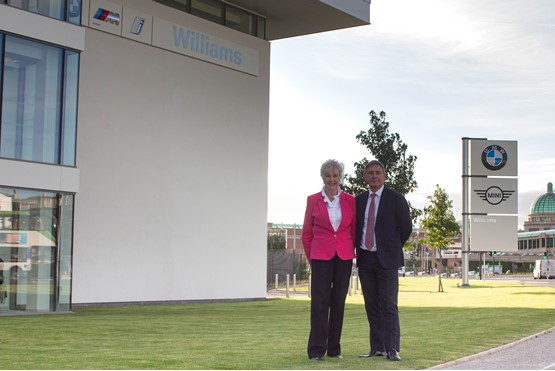 Guy Adams, managing director of Williams Group, said: "After 110 years of supplying prestige cars to our valued customers throughout the North West of England and further afield, we are thrilled to bring our family values and customer focus to TraffordCity, the biggest undertaking in our history as a business.
"Our world-class facilities provide an outstanding environment, from where colleagues can continue to deliver the difference that is Williams with market-leading levels of customer service and attention."
Williams BMW Motorcycles will remain at its location on Chester Road, Manchester, with Williams Select, the firm's used car business retailing non-franchise brands, relocating from Upper Brook Street to the vacated site of Williams Mini Manchester on Chester Road as part of the group's developments in the area.
Customers at the new TraffordCity site will benefit from the new facility's large lounge areas, Isetta and Barista bars, handover bays and a covered service drive-in with dedicated lanes where customers are personally greeted by staff with a concierge-style service.
The completion of the development of the Williams TraffordCity site comes just weeks after AM exclusively revealed that JLR would be easing off its Dual Arch Corporate identity demands for showroom developments at certain locations.
The manufacturer had hoped to complete the ambitioius CI project by the end of 2018 but JLR manging director, Rawdon Glover, told AM earlier this year that the "aggressive" original deadline had been missed, with only 60% of retailers having completed their investment in new facilities.
Founded in 1909, Williams Group now represents BMW, Mini, Land Rover, Jaguar and BMW Motorrad with centres in Bolton, Liverpool, Rochdale, Stockport and the Manchester flagship centre at TraffordCity.
Williams Group's most recent annual financial results – to December 31, 2018 – reveal that the business achieved a 7.3% increase in turnover, to £501.1m, alongside a 134.6% rise in profit before tax.
The profit increase came as the group delivered a 9.8% increase in new vehicle registrations (to 9,844).