Car retailers in South Yorkshire have shown resilience with a series of rapid clean-up operations after a month's rainfall fell in just one day last week – triggering severe flooding throughout the region.
Businesses hit by severe flooding back in 2007 were hit by a tide of dirty flood water in Sheffield and Rotherham after the parts of the River Don broke its banks last Thursday (November 7) night in a repeat of 2007's great flood.
Burrows Motor Company managing director, Steve Burrows, whose river side Rotherham Toyota dealership was affected by the devastation, said: "We've been on this site for over 20 years and we took action to move cars to other sites and higher ground when the rain was heavy on Wednesday night.
"Still, I wasn't expecting the river to breach the 12-foot high wall behind our dealership again."
Footage posted on social media when the flood waters hit Rotherham last Thursday night showed submerged cars stranded outside Perrys Motors Group's Vauxhall and Kia dealerships at Rotherham's Parkgate Retail Park as other ill-advised motorists tried to push through the deep water.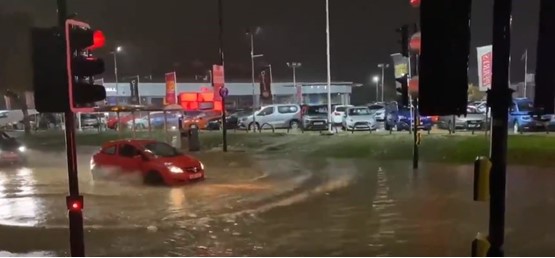 Some businesses were able to weather the storm and get their retail operations back on track despite the devastation.
Vertu Motors chief executive Robert Forrester visited the recently redeveloped Nissan dealership on Attercliffe Road, Sheffield, the day before the flooding hit.
In a message posted via Twitter, showing a portion of the clean-up, he said: "Who would have known this floor was white at Sheffield Nissan yesterday before the floods! Big job to get the place clean!"
A day later, following the dealership's rapid re-opening, Forrester posted: "Well done to Steve Fish and his #Sheffield #Nissan team. Flooded on Friday and did 8 deals yesterday (Saturday). #Commitment."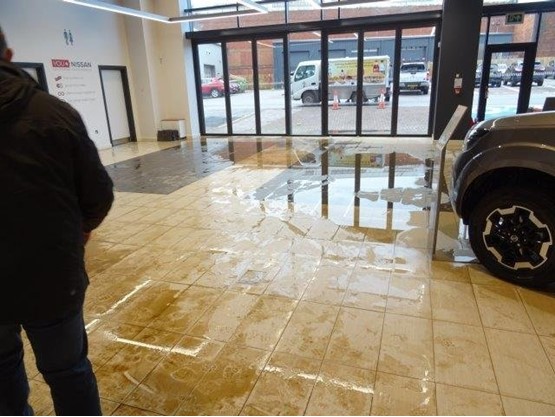 Downstream from the Nissan facility, in nearby Rotherham, riverside dealerships Burrows Motor Group Toyota and Pendragon's Evans Halshaw Citroen both felt the impact of the rising flood waters.
An employee at Evans Halshaw's Citroen franchise on Riverside Way, Rotherham, which was hard hit by the flooding in 2007, told AM that the business had managed to reopen for trading on Saturday despite suffering significantly.
But he revealed: "We had to close on Friday due to access issues but we were able to re-open on Saturday, despite the damage that the flood water had caused.
"At this stage we estimate that 30 to 50 vehicles are potential write-offs."
Burrows said that his dealerships' efforts to move vehicles to higher ground had saved them from the flood, with around 25 eventually affected and only seven or eight suffering water ingress.
The dealership was forced to close, however, and only re-opened its doors today (November 11).
Burrows said: "After all the years we've been at this site, spending around £1.2 million in business rates, it's quite hard to stomach that we're in a similar position again.
"I'm just glad we took our own initiative to avoid greater damage. We had no warning at all from the local authority."
This morning (November 11) five severe flood warnings remained in place, meaning that a risk to life remained in parts of South Yorkshire as a result of the flooding.