Car showrooms are likely to join "non-essential" retail businesses in re-opening on June 1 if infection rates remain under control, Government's 50-page 'COVID-19 Recovery Strategy' document indicates.
In the document, which delivers additional detail to build on the guidance issued by Prime Minister Boris Johnson in his televised speech last night (May 10), food production, construction, manufacturing, logistics, distribution and scientific research in laboratories have been listed among sectors of the economy that are allowed to be open.
While food retailers, hardware stores and garden centres also have the green light to open, a phased re-opening schedule depending on a controlled rate of infections will see other retail operations open from June 1.
Businesses in the hospitality industry could possibly open in July, depending on the effect of the easing of lockdown measures - outlined by the Prime Minister yesterday - on infection rates.
Speaking to AM this afternoon, a spokesman for the National Franchised Dealers Association (NFDA), said: "NFDA is currently requesting further clarification from Government. We expect sector specific guidance to be published tomorrow, this is likely to provide us with a clearer picture of the next steps."
Government's aim is to ensure that the COVID-19 reproduction rate (referred to as 'R') remains below one. This means that each infected person will infect fewer than one other person, a level at which the number of new infections will fall over time.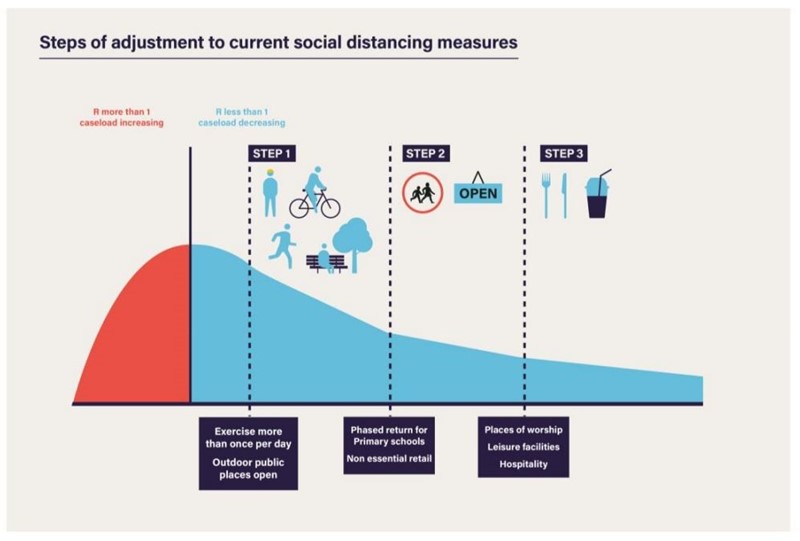 Citing reports compiled by the Office for Budgetary Responsibility (OBR), the Government's 'Recovery' document warned that if the current measures stay in place until June and are then eased over the next three months, unemployment would rise by more than two million in Q2.
The OBR's scenario suggests that GDP could also fall by 35% in Q2, adding that the annual contraction could be the largest in over 300 years.
While lockdown conditions in Scotland, Wales and Northern Ireland remain unchanged this week, Government's guidelines now state that individuals can exercise outdoors more than once a day from Wedenesday of this week (May 13) and can drive "as far as you like" to do so.
On the return to work, it states: "All workers who cannot work from home should travel to work if their workplace is open.
"Sectors of the economy that are allowed to be open should be open, for example this includes food production, construction, manufacturing, logistics, distribution and scientific research in laboratories.
"The only exceptions to this are those workplaces such as hospitality and non-essential retail which during this first step the Government is requiring to remain closed."
In an opening address attached to the Government's 60-page document, which was published at 2pm this afternoon, Johnson said: "I must ask the country to be patient with a continued disruption to our normal way of life, but to be relentless in pursuing our mission to build the systems we need.
"The worst possible outcome would be a return to the virus being out of control – with the cost to human life, and – through the inevitable re-imposition of severe restrictions – the cost to the economy."
A minimum of three more weeks of showroom closures means that many car retailers who have already adapted their dealerships to begin diarised customer visits will have to continue to nurture customer enquiries online.
As revealed by the National Franchised Dealers Association (NFDA) last month, online car sales "remain acceptable" during the COVID-19 coronavirus lockdown, as long as handovers are provided away from the showroom environment in a manner which which complies with government guidleines.
James Hind, the chief executive of carwow, was one of the first to voice his disappointment that car showrooms would not be opened before June. He said: "We are disappointed to learn that car dealers have not been given the green light to open until at least June. There is considerable pent-up demand from people looking to buy a new car who are having to put their plans on hold due to lockdown.
"We've seen a significant increase week on week in consumers looking to buy a new car on carwow over the last few weeks, with activity levels close to what we'd have expected in a normal May. Consumers are increasingly seeing the attraction of owning their own car given the ongoing and expected future need to social distance, particularly as they are being actively encouraged to avoid public transport for the meantime by the government.
"Car showrooms are not especially high traffic stores compared to normal high street retailers, so have a lower risk of transmission, and many dealers have already got setup to allow for click-and-collect at their showrooms.
"The majority of dealers are currently offering delivery, so consumers who don't want to wait till then can still get a car, but the majority of consumers say they still want to view a car in-person before buying it."