The UK's used car sector lacks a single, comparable reference in vehicle valuations that would allow dealers to compare services and respond to consumers' 'poor value' claims.
A study for AM has identified an opportunity for a commonly agreed test of valuations accuracy, which would then help dealers to better understand and compare the various pricing products in the market, and help them deal with customers whose views on a car's price have been shaped by a pricing product.
"For an industry that expects cars to have standard measures such as crashworthiness, emissions, acceleration and servicing costs, it is a contrast to the purchase of price prediction products for which there is either no measure of accuracy available or a unique one that doesn't enable any comparisons," said Andy Carroll, the independent consultant and industry veteran who conducted the survey for AM.
"Trade customers deserve a common measure of accuracy, to give them confidence in the selection and usage of such products."
For dealers faced with customers using price predictions on consumer websites, which suggest whether or not a car is well priced, this study highlights a number of valid reasons why there may be variance in expectation, including colour, condition and factory-fitted options.
The research found that there are two very different methodologies for the prediction of wholesale prices.
Some, such as Cox Automotive, build their predictions using a blend of auction wholesale transactions and retail data. Others, such as Auto Trader and Cazana, reflect actual retail market activity, predict retail prices, predict gross margins and then calculate wholesale prices.
"The latter, more indirect, methodology may benefit from the substantially larger sample sizes from retail listings but, in my view, it has the fundamental disadvantage of partially tying together retail and wholesale prices," Carroll said.
"While the link is true on average over the long term, the reality is that there are two different marketplaces and retail prices and wholesale prices do not move in step.
"There are differences in supply and demand, differences in timing."
Cazana's chief executive Tom Wood countered that he believes that in a real-time environment wholesale pricing is intrinsically linked to the retail market and, in the vast majority of cases, the price paid is directly related to what a vehicle can be retailed at.
Factory-fitted options and pricing
Carroll said one of the least understood aspects of used car price prediction products is the impact, or not, of factory-fitted options.
All vehicles have a base specification, on top of which options are often added in the factory, including an optional colour.
Vehicle registration data from the DVLA can be combined with standard datasets from Cap HPI, Glass's and the like to provide a complete list of specifications and equipment, except for the fitted factory options.
Carroll said: "Given that the cumulative list price of options on many cars can surpass £10,000, this is a large blind spot for the price prediction products.
"First, they must analyse price transaction data without being certain of the equipment on the vehicle and, second, they must predict the value of a car based on a VRM, condition and mileage alone, oblivious of factory-fitted options.
"Both these issues lead to inaccuracies and are one reason why specialist, experienced trade buyers of premium cars may often outperform buyers reliant on guide prices provided by third parties.
"It is very important to understand how the various suppliers of price prediction products handle the issue of factory-fitted options."
The German experience
Those familiar with car retail in Germany know that base specifications tend to be much lower than in the UK.
With BMW and their premium rivals, the list price of a car can be nearly doubled once the options have been selected.
How do they cope with such an enormous blind spot in their valuations? The answer is that they don't, but rather they use a functionality known as VIN Look-up.
Carroll described VIN Look-up as being different from the standard process used in the UK, whereby a VIN is decoded and the underlying vehicle variant is identified.
A VIN decode cannot help with identifying factory-fitted options, but a VIN Look-up interrogates the relevant manufacturer's master production database and thereby identifies all factory equipment, standard and optional.
Carroll said the service typically costs around 90p, and is considered money well spent by German dealers.
Here in the UK, Cap HPI offers a similar service, but take-up is very different to that in Germany. Cazana, too, has its Spec Check product which accounts for VIN-level options.
"The heart of the issue may be the reluctance of the UK trade customer to pay the premium required for a more accurate price prediction, which in many cases is a false economy," added Carroll.
AM understands some manufacturers, finance companies and leasing firms are beginning to warm to such products.
Carroll said: "It is very important the buyers of any price prediction products have an exact idea of their requirements for the datasets they are purchasing.
"For example, monthly average prices have specific advantages over spot prices in certain applications, such as stock valuation for balance sheet calculations.
"Similarly, if a dealer group tends to purchase stock on the basis of its ultimate selling price, then it clearly needs to source a robust retail pricing product based on direct access to a large dataset of retail listings."
(Press 'Ctrl +' a few times on the tables below to zoom in, and 'Ctrl -' to zoom out again. Or click here to read this full article and tables in the digital AM magazine.)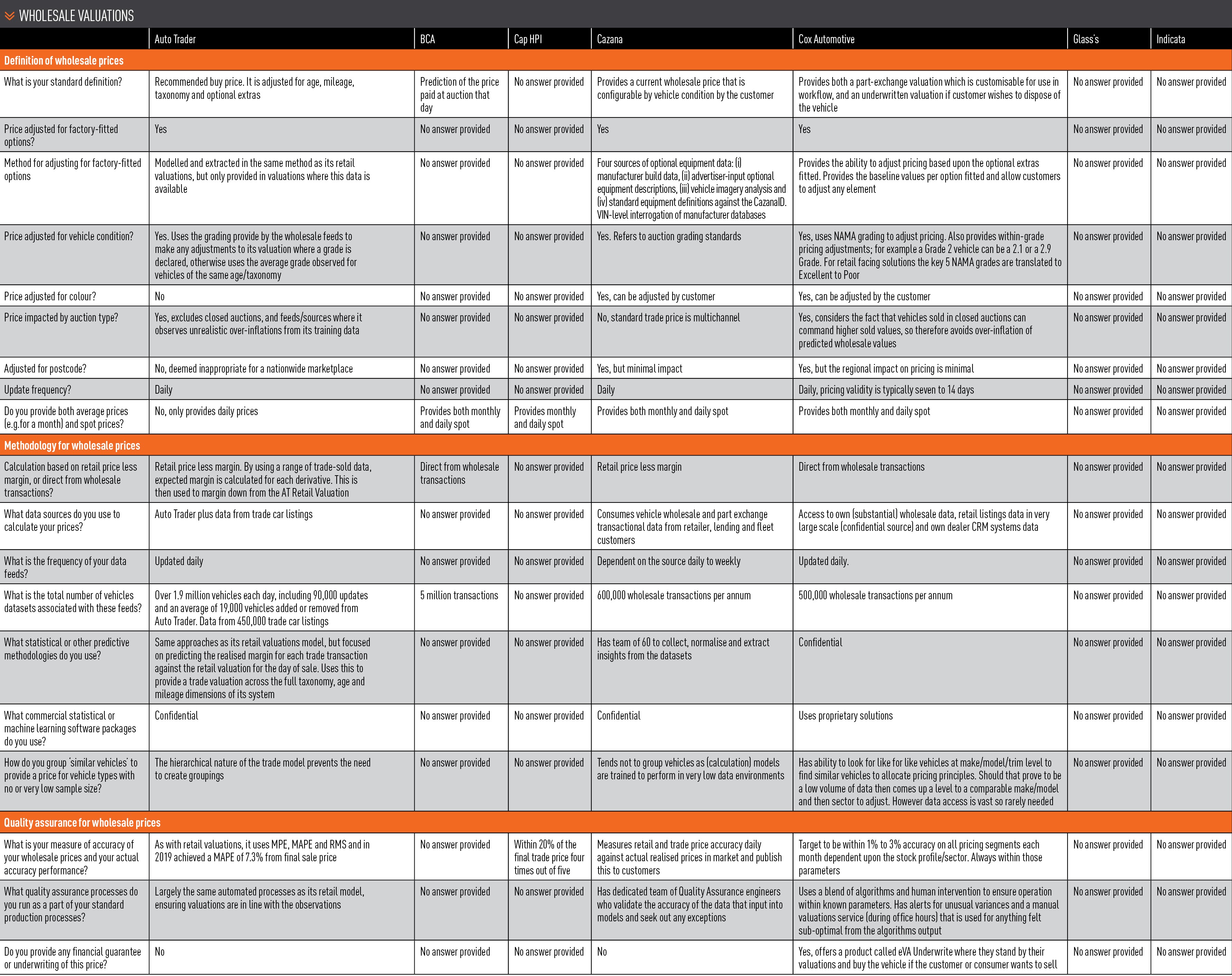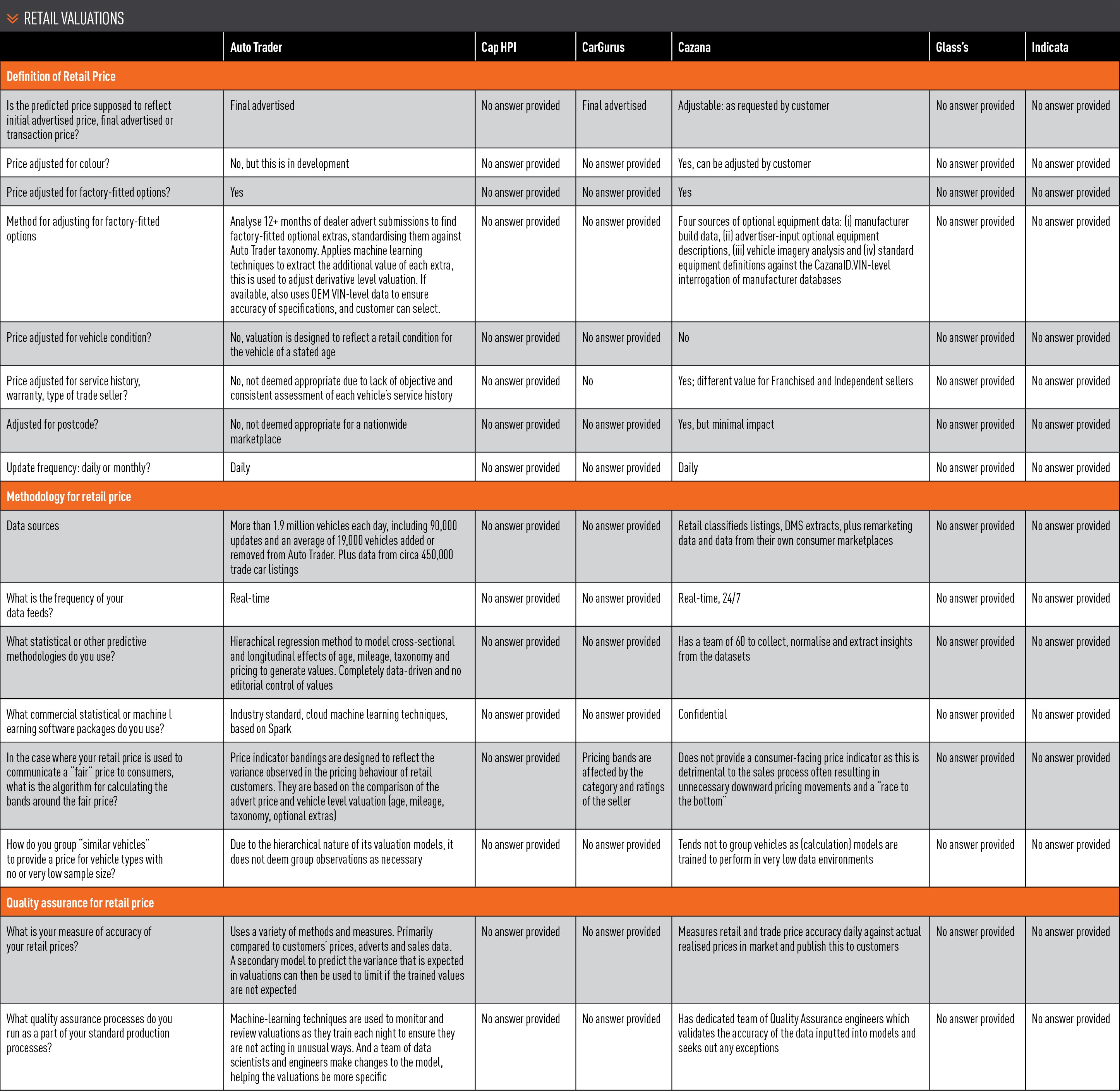 Survey aims to help dealers engage customers better on price
The purpose of the inaugural Automotive Management survey is to help dealers and other trade customers to better understand and compare the various pricing products, writes Andy Carroll.
This, in turn, will hopefully support better purchase decisions and improve the ability of dealers to engage with customers whose views on the "correct" price have been shaped by a pricing product.
William Glass was the first person to monetise the provision of forecasts for the prices of used cars, back in July 1933.
The Glass's Guide was strictly for trade eyes only, was an essential tool for dealers, and its accuracy owed much to the self-fulfilling nature of its predictions, alongside the extensive manual collection and interpretation of data.
Advance almost 90 years and today a number of suppliers provide a broad range of pricing products to dealers, fleet and leasing companies, some products stand-alone and some integrated into other products.
While some forecasts are provided for prices up to five years into the future, the vast majority of pricing predictions used in the dealership environment are, in reality, predictions for only a few days or weeks in advance, where the primary challenge of the prediction is the fact that all 39 million licenced vehicles on the UK roads are unique, and therefore have a unique value.
Some price prediction products are directly shared with consumers on websites such as Auto Trader or CarGurus.
Other pricing products are used to power online part-exchange valuation tools and car buying services such as WeBuyAnyCar.
Buying and selling decisions are now frequently made using algorithms powered by such pricing data products, without human intervention.
Price prediction products are, therefore, more essential than ever to automotive businesses.
But in a world of increasing transparency and ever finer margins, how well are they understood: their definitions, their differences, and their inherent accuracy?
Are some better than others, or is it just a question of horses for courses?
Drawing the parallel between buying a price prediction product and buying a new car, for the latter there is documentation available that describes the detailed specification of the product, and its performance for dimensions such as power and fuel consumption.
Putting aside Dieselgate, the figure for fuel consumption is calculated using a detailed, standard, and published test procedure.
A car buyer can use the information regarding specifications and fuel consumption to compare between products to help choose the best solution.
There is no comparable ability with pricing products.
Survey methodology and participation
The survey questions were broken down into three main categories:
Looking separately at retail and wholesale values, what is the definition of the value that is produced by a given product? For example, does it reflect the colour, or postcode, or the factory-fitted options of the vehicle? What assumption is made for vehicle condition and is the value affected by who is selling the vehicle or whether it is sold under a manufacturer-approved scheme?
How is the predicted price calculated? What transaction data is used, and what methodologies are used to make a prediction based on this data?
How accurate are the price predictions? Specifically, how is accuracy defined and measured, and how accurate is the product over the recent past?
Survey participation
Eight businesses were invited to participate in AM's study:
One business that features its price predictions on consumer websites: CarGurus
Five businesses that provide pricing predictions across the automotive trade: Auto Trader, Cap HPI, Cazana, Glass's and Indicata
Two businesses that provide pricing predictions linked to their auction and other services: BCA Marketplace and Cox Automotive.
Of the eight businesses, two declined to participate, three participated partially and three participated fully.
The purpose of the survey is to help dealers and other trade customers to better understand these products.
We would like to sincerely thank those businesses that fully embraced the project.