Car dealers have been urged to "lobby hard" to ensure that Government gives motorists and the motor retail sector the tools required to truly 'go electric' by 2030.
While Cambria Automobiles chief executive, Mark Lavery, is keen to highlight the folly of Government plans to ban the sale of non-electrified new petrol and diesel cars by 2030, others have said "careful planning" and long-term commitments are what's needed to smooth the road to widespread electric vehicle (EV) adoption.
Either way, former Hyundai Motor UK president and chief executive, Tony Whitehorn, predicts the fast-forwarding of the shift to EVs will bring about "fundamental change" for franchised car retailing.
Perrys Motor Sales managing director, Darren Ardron, said he felt carmakers and retailers were ahead of the curve and issued a rallying cry to MPs to back their efforts.
"We have spent around £500,000 making our network EV-ready over the past 12 months," said Ardron. "That's a significant investment at a time when new car sales volumes are faltering and, while EV demand is growing, it's yet to form a large part of our sales.
"There's a sense now that retailers have made huge investments in facilities, tooling and training, but we need to see much more of a focus on affordability, infrastructure and customer education from Government to meet the 2030 and 2035 targets. There needs to be long-term planning on tax benefits and incentives that will allow us all to plot the way forward."
Prime Minister Boris Johnson announced the plan to end the sale of new petrol and diesel cars by 2030, and hybrids by 2035, in November, in line with Committee on Climate Change (CCC) recommendations.
Among plans outlined in the Government's National Infrastructure Strategy (NIS) to help deliver the shift was £1.3 billion of public spending on charging infrastructure, which would include a high-powered charging hub at every motorway service area, installed by the private sector, by 2023.
To ensure the private sector can continue to expand the charging network, Government has also confirmed it will invest £950 million in future-proofing grid capacity along motorways and key A roads.
It also plans to extend support for charge point installation at homes, workplaces and on-street locations, while committing £90m to fund local EV charging infrastructure to support the roll-out of larger, on-street-charging schemes and rapid hubs in England.
FUNDAMENTAL CHANGE
Action needs to be decisive and swift, even with the near-decade-long timeframe now in place, however.
A report by Cazana valuations director Rupert Pontin and its global automotive lead Tom Lawrie-Fussey said: "Reaching pure EV production in UK by 2035 means roughly 10 million EVs on the road, assuming a conservative growth in EVs over the next 15 years.
"The Government commitment places huge pressure not only on OEM new-technology production ramp-up rates (to a level never before seen) and also asks some huge questions of the Government's own commitment to deploying a viable charging infrastructure.
"There also remains a huge hole in fuel duty that must be recaptured somehow from EV drivers.
"One thing's for sure, the vehicle retail marketplace will become increasingly volatile, as the value and long-term attractiveness of EVs plays out."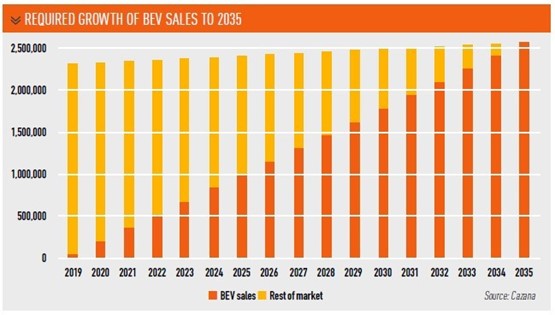 In a blog published by Endava, former Hyundai Motor UK president and chief executive Tony Whitehorn said EVs remain 30% more expensive to produce than internal combustion engine (ICE) cars and would not reach price parity until 2050.
He warned the resulting balance between profit margins and fines resulting from stringent EU emission regulations, which demand an average 95g/km of CO2 for 90% of the vehicles in 2020, increasing to 100% in 2021, will fundamentally change franchised car retail.
"To make these cars more accessible to the public, manufacturers have had to reduce their margins substantially," said Whitehorn (pictured). "Some manufacturers are even taking a net loss on such cars in an effort to increase demand for battery electric vehicles (BEVs)."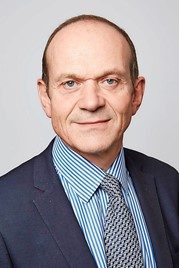 He added: "Margins made in 2020 will be further threatened in 2021. As a result, cost-cutting will escalate even further, factories will have to review their future, manufacturers will look to increase their joint venture developments in electrical technologies and further manufacturer amalgamation will occur.
"Certain manufacturers will look at specific markets that have penal BEV targets in 2021 and will opt to vacate their presence, realising there is no long-term business proposition (e.g. Mitsubishi in Europe). Also, OEMs will aim to reduce dealer margins, resulting in price maintenance for the customer but in significant margin reduction for the dealer.
"Across various regions, this will mean a move away from the franchise business model and towards an agency structure.
"Commencing in 2021, this will fundamentally change the relationship with the dealer network."
MPs' 'LACK OF UNDERSTANDING'
Right now, Ardron is concerned about the affordability of EVs for some Perrys customers.
The UK has failed to follow the lead of other European countries which have boosted EV grants as part of their efforts to reboot their economies in the wake of the COVID-19 pandemic.
In Germany, the government doubled its share of the existing purchase incentive for EVs and hybrids in June, paying a grant of €6,000 (£5,370) for a pure EV in addition to an OEM-backed subsidy of €3,000 (£2,685).
France, meanwhile, increased its the state-provided grant towards an EV purchase to €7,000 (£6,243) from €6,000 (£5,342).
Ardron said: "It is one thing to communicate the fuel savings as part of the overall running cost of a car to someone who buys their car on finance and might be paying an extra £100 to £120-a-month over the equivalent ICE car, but it's not the same for those paying cash.
"For people like my parents the prospect of spending £35,000 to replace their hatchback would blow their minds."
He added: "More needs to be done to address the various issues around affordability and the daily running of EVs and more needs to be done to address the concerns of the car retail sector.
"Has anyone in Government actually done a study to see what the shift to EVs will do to our workshops, for example? This is where I agree wholeheartedly with Mark (Lavery). We need to be lobbying MPs hard as a sector to ensure that the impact is properly understood."
Lavery met with Transport Secretary Grant Shapps and MP Brandon Lewis in October in what he described as "a proper tear up" over Government EV policy. He said the politicians "had no understanding" of the high whole-life cost of producing an EV or the environmental damage and child exploitation in some countries mining raw materials such as cobalt.
"What you have is a metropolitan elite who've come up with a political soundbite to make us look 'green'," he said. "It's soundbites rather than utilising the data. This is a Government that talks about listening to the science. Well I suggest they do."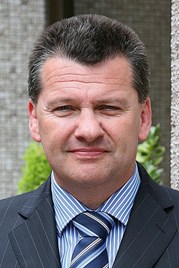 Lavery (pictured) believes many OEMs have accepted a purely EV future as their fate, so motor retailers and consumers must make their voices heard and create enough push-back to ensure proposals are reconsidered.
Earlier this year he warned that an all-out push to EVs risks catching UK automotive "sleeping at the wheel", bringing an a end to OEMs' research and development in hybrid, hydrogen and synthetic fuels which could all play a vital part in the UK's aim of 'net zero' in a better manner.
"We have all got to not just accept defeat here and get stuck into our MPs. We're incredibly robust, and we do normally find a way to get things done," Lavery said.
EV OPPORTUNITY
Devonshire Motors managing director Nathan Tomlinson also believes the car retailer sector's case needs to be clearly heard by UK policymakers, warning that "without careful planning I think there will be some reckless consequences".
But he also acknowledged that franchised retailers must be ready to embrace a "golden opportunity" being presented by EVs. IMI data suggests that just 5% of UK automotive technicians are "adequately" trained to work on EVs and franchised retailers should become the go-to service provider of choice.
"Almost every EV or PHEV vehicle that has been sold to date remains within the franchised dealer network," he said. "If you look at data now, we just manage to hang on to the (ICE) cars and customers in vehicles that are less than three years old, everything else leaks out.
"That's something we've been battling with – retention products and bolt-on solutions – forever, but with EV we get to start over again and create the right solution from day one."
While Ardron said that limited EV penetration today means that many of Perrys recently installed charge points remain the preserve of dealer demonstrators, Tomlinson said OEMs would have to be open to a holistic approach to charging.
He said: "Next year we expect to have a multi-brand site with dedicated EV bays for several manufacturers, but if they all want their own branded charge point then we are going to have a very crowded set-up for very confused customers."
He added: There's also the consideration of how long current charging technology will be relevant, by rushing in we are exposing ourselves to the potential for huge obsolescence costs.
"Balancing the required infrastructure with a long-term plan is going to be very important."