Staff across the TC Harrison business cut cake and raised a glass as the Ford car retail group celebrated its 90th birthday this week.
The Sheffield-based car retailer's workforce took to social media channels to share images of their celebrations as customers were thanked for decades of loyalty on its website.
TC Harrison also used the occasion to launch its new logo (pictured below), a redsigned version of the original logo created by the group's founder.
Joel Harrison, TC Harrison's group project manager, said: "We've taken the original TC Harrison Group logo designed, by Cuth himself, and changed elements to help make the logo work better in digital formats, giving the overall appearance a fresher look to help further commemorate our fantastic milestone."
A family-run business now in its fourth generation, TC Harrison was founded by Thomas 'Cuth' Harrison in 1931 and secured its first Ford franchise just five years later.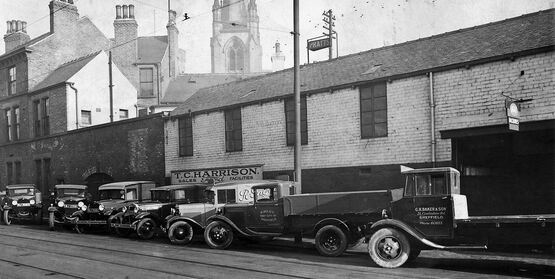 After the second World War the business formed a second franchised relationship with JCB, becoming one of the first retailers in the UK to do so.
To this day, the two franchises remain at the heart of the £305.3m (2019) turnover AM100 business.
TC Harrison now operates Ford franchises in Derby, Huntingdon, St Neots, Peterborough, Burton, Stamford and Spalding.
The business also trades in JCB vehicles across the UK and has an X Lease site in Sheffield.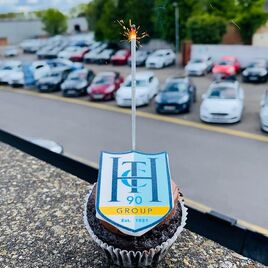 In its thank you to customers this week, the group said: "We would like all our loyal customers from past and present, and our hardworking Team, to join TC Harrison in a celebration of our 90th birthday.
"After what has been a very difficult year for everyone, we would like to offer our sincere thanks and appreciation for everyone's loyalty and support."
TC Harrison founder Cuth Harrison passed on his 50-year legacy to his two sons Edward and John, who later welcomed their sons James, Jonathan and William, Cuth's grandsons, into the business.
In this week's anniversary statement, the group said: "For a man who entered the very first Grand Prix, something only elite drivers could take part in, it makes you wonder just what he would have thought of an all-electric future for motor cars.
"Could he have ever imagined that TC Harrison's would be flourishing 90 years on within the ever-changing sector we are in today?
"With the appreciation that self-driving cars will become much more prevalent on our roads further into the future, we wonder just how fathomable this would have been back in 1931 on the day Cuth opened his small repair shop."