Arnold Clark aims to introduce a new Alternative Fuel Vehicle (AFV) Innovation Centre in England, following the launch of its first in Scotland.
Speaking at the VIP Launch Night for its new £5 million Innovation Centre in Glasgow, attended by around 60 guests, chief executive and group managing director Eddie Hawthorne stated plans were being formulated to extend the concept south of the border, writes Jim McGill.
The current Innovation Centre, which occupies a regenerated former Phoenix Car Company dealership on Dumbarton Road in the West End of Glasgow, is not a car sales location. Instead it's core priority is to educate the public on AFVs.
Developed in association with Transport Scotland, OLEV, Scottish Power, Energy Saving Trust, Go Ultra Low, Strathclyde University and The NVT Group, Hawthorne is keen to use the results achieved in Scotland to spread the education principle across the UK.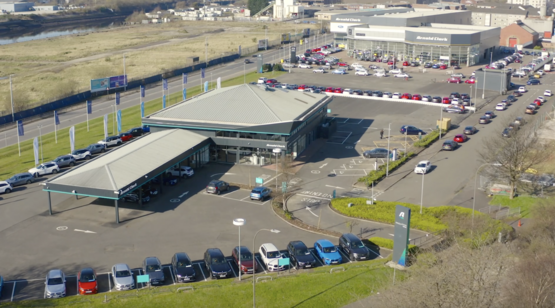 "I'm often asked 'what do I believe is required to persuade new car buyers to switch to EVs?'," the Arnold Clark boss explained. "The answer is simple: education.
Currently only around 1% of all new car sales pure electric vehicles.
"That 1% will definitely grow; and in fact it could, should, already be higher but for the supply problems the industry is experiencing at the moment; and that problem's not restricted to EVs.
"We've invested well over £5 million in the Innovation Centre in Glasgow. It's not a site we are selling anything from. It's specifically an innovation, information and educational centre."
And Hawthorne is working closely to develop the relationship the AM100 dealer group has established with Strathclyde University. "We're pushing further ahead with our links to Strathclyde and letting the students and staff use the Centre to develop new areas of innovation; and not just vehicle innovation," he continued.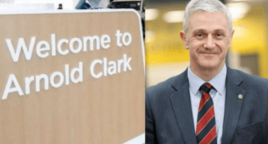 "There are a lot of SMEs who are innovating and are bringing things to market that are going to be useful to the economy, the environment, climate and the planet. We're going to allow these people to use the centre free-of-charge.
"We would, at the right time, consider introducing an Innovation Centre in England. I think we've got probably two or three months more of learning. But certainly, when we see what success looks like in Scotland, then we would definitely look to put one down south."
Currently around 100 members of the public, actively considering switching from ICE to AFVs, visit the Innovation Centre every week to discuss their options with the team of Arnold Clark 'product genies'.
"We ask the right questions," Hawthorne said. "What's right for you?". "What do you need?". "What's the best vehicle and package that works for you?". And then obviously we talk to them about charging, infrastructure, where they'll charge it, and that's why we're partnering with other people.
"What we're trying to do at the Innovation Centre is just showcase everything that's out there, and it's not just about electric vehicles."