Peter Vardy Group has committed to donating 10% of its March profits to humanitarian projects in Ukraine as the Russian assault continues to impact civilian lives.
The Motherwell-based AM100 car retailer – winner of the AM Awards 2021's Community Hero accolade – donates the proportion of its profits to good causes across the globe on an ongoing basis, but has vowed to exclusively support Ukraine in what is normally one of the sector's busiest months.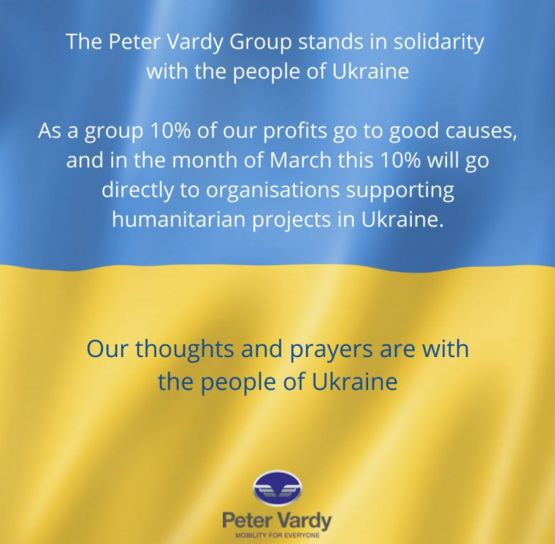 In a statement publicised via LinkedIn, the group said: "At the Peter Vardy Group our Just Cause is "Every Life is Worthy", and we are shocked and saddened by the recent events in Ukraine.
"As a group we are committed to help support the people affected by the invasion of Ukraine, and have redirected our current Giving Back programme to support humanitarian projects in Ukraine."
AM reported yesterday on analyst reports that the global scale of car retail and distribution PLC, Inchcape, would mitigate against its £750 million exposure to the Russian automotive sector.
A Stellantis spokesperson reassured retailers that the impact of Russia's invasion of Ukraine – and the resulting economic sanction – would not impact its light commercial vehicle (LCVs) supplies to the UK.
The OEM giant has recently established a van production facility at Kaluga, about 120 miles south of Moscow, with the intention of exporting vehicles into Europe.
The spokesperson told AM: "We continually monitor the situation with the well-being of our employees, facilities and supply chains in mind. We currently see no impact on our business operations in the UK."
Peter Vardy Group emerged as the winner from a hotly-contested Community Hero category at the AM Awards 2021 in recognition of its charitable giving.
It donates 10% of its profits annually to The Peter Vardy Foundation to support children and young people across the UK and internationally without courting constant publicity.
Amid the worst of the pandemic, the group's COVID community response project donated £500,000 to support communities in Scotland and charity partners in Uganda.
Colleagues also volunteered to support charities on the frontline, delivering food parcels and providing cars to key workers.
As part of induction, new employees are introduced to the group's 'Giving Back' culture and the 'No Planet B' – Positive Environmental Impact project – to help reduce its carbon footprint.
Starters are also given £100 to donate to a charity of their choice and are required to volunteer with one of the group's charity partners.