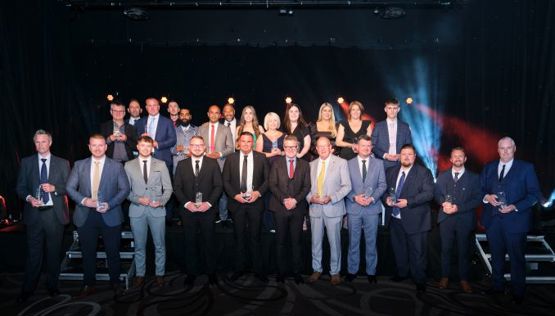 Vertu Motors has welcomed 26 new members into its Masters Club, which is a Group-wide recognition programme that identifies and celebrates the achievements of high-performing colleagues.
The new inductees were officially acknowledged at an awards ceremony hosted by former England footballer John Barnes.
Winners were selected from nominations made by their colleagues and managers with a focus on professionalism, commitment, respect, passion and integrity as well as performance-based league tables.
Robert Forrester, chief executive of Vertu Motors, said: "Recognition is one of our Group's core values and those we have inducted into our Masters Club are an inspiration to their colleagues.
"They have demonstrated best practice, exceptional levels of service and noteworthy attention to detail that all contribute to ensuring our customers have an outstanding experience when doing business with us.
"The Masters Club also acknowledges that it is not just customer-facing colleagues, but also those who work behind the scenes, that have an important part to play at Vertu Motors plc.
Comedian Jed Stone helped present the awards along with Barnes. The awards ceremony had a wizardry theme, which included a live owl experience and some magical entertainment.
The group completed a £2 million share buy back transaction, in May, to boost its employee benefit trust" as Forrester increased his own shareholding in the car retail PLC.
It followed a 41.9% rise in turnover and 228% rise in adjusted pre-tax profits in a record-breaking set of 2021/22 annual financial results.
Those welcomed to the Vertu Motors plc Masters Club for 2021-2022 comprised:
Apprentice Technician of the Year: Douglas Lyall, Macklin Motors Edinburgh East Hyundai
Service Technician of the Year: Thomas Brookes, Bristol Street Motors Ilkeston Nissan
Senior Technician of the Year: Justin Whitehall, Bristol Street Motors Nottingham Kia
Valeter of the Year: Roger Allen, Valeter at Macklin Motors Glasgow Central Nissan
Support Centre Colleague of the Year: Steven Blyth, Lead Web Developer
Ford Division Colleague of the Year: Pete Skuse, Compound Controller at Bristol Street Motors Gloucester Ford
Vauxhall and Citroen Division Colleague of the Year: Dylan Hurley, Workshop Controller at Bristol Street Motors Chingford & Waltham Vauxhall
Multi-Franchise Division Colleague of the Year: Hannah Aries, Fleet Administrator at Bristol Street Motors Banbury Peugeot, Hyundai and Mitsubishi.
Honda, Kia Toyota Division Colleague of the Year: Stephanie Webster, Service Administrator at Vertu Honda Nottingham
Nissan Renault Division Colleague of the Year: James Bex, Local Business Development Manager at Bristol Street Motors Nottingham Renault
Volkswagen Audi Group Colleague of the Year: Hannah Chapman, Senior Service Adviser at Vertu Harrogate Volkswagen
Jaguar Land Rover Division Colleague of the Year: Harry Topping, Assistant Accountant at Vertu Bolton Jaguar Land Rover
BMW Division Colleague of the Year: Philip Morfitt, Product Genius at Vertu York BMW and MINI
Mercedes-Benz Division Colleague of the Year: Andrew Meadmore, Preparation Controller at Vertu Beaconsfield Mercedes-Benz
Ancillary Business Division Colleague of the Year: Christopher Barker, Alloy Wheel Technician at Vertu Cosmetic Repair
Customer Satisfaction Index Champion Award: Ainsleigh McMullen, Macklin Motors Hamilton Ford
Most Premium Units Sold: Stewart Jackson, Vertu Beaconsfield Mercedes-Benz
Most Alternative Premium Units Sold: Adil Eddy, Vertu Honda Doncaster
Most Volume Units Sold: Brett McGrane, Bristol Street Motors Nottingham Hyundai
Most New Car Volume Units Sold: Peter Singh, Bristol Street Motors Darlington Nissan
Most Used Car Volume Units Sold: Sean Benn, Bristol Street Motors Exeter Renault
Highest Number of Diamondbrite Sold: Jason Lord, Bristol Street Motors Derby Citroen
Most Two Year-Plus Warranties Sold: Jay Alderton, Bristol Street Motors Darlington Nissan
Most Used car Service Plans Sold: Chris Layton, Bristol Street Motors Stafford Ford
Most Emission Control Services Sold: Meg Jessop, Vertu Honda Derby
Most Tyres Sold: Kevin Pretty, Vertu Toyota Chesterfield