Vertu Motors PLC leveraged car retail's "sector tailwinds" to deliver a 41.9% rise in turnover and 228% rise in adjusted pre-tax profits in a record-breaking set of 2021 annual financial results.
Revenues at the AM100 car retail group rose to £3.62 billion (2021: £2.55bn) as adjusted profit before tax reached £80.7 million (2021: £24.6m) during the 12-month reporting period to February 28.
Vehicle sales volumes ahead of market trends, with new car volumes up 7.4% as used car volumes declined 13.2% on a like-for-like basis.
Gross margin rose to 12% (FY21: 11.8%, FY20: 10.9%), meanwhile, with used car gross profit per unit reaching £1,763 in what the group described as a reflection of "supply constraints and strong pricing disciplines".
Vertu chief executive Robert Forrester said: "The group performed at record profitability levels in the year.
"Undoubtedly aided by well-publicised sector tailwinds, the group executed well, gained share, strengthened its foundations, positioned itself for the transition to EV and displayed fundamental growth, all aided by its investment in the Click2Drive technology platform.
"The outlook will depend on the available supply of new vehicles and continuing consumer confidence."
Vertu's reported period brought about the acquisition of Hepworth Honda, Huddersfield, Farmer & Carlisle dealerships in Leicester and Loughborough and the addition of Arnold Clark's former Toyota territory in the West of Scotland.
It also joined the MG Motor UK franchise now operates three outlets in Carlisle, Beaconsfield and Edinburgh.
Despite the developments, the business reported a strengthened financial position, with free cash flow of £44.2m in the year and net cash of £16.2m as at February 28 (2021: Net debt £4.5m).
Forrester said: "The Group's excellent financial position provides the resilience to overcome any economic slowdown and resources to continue to grow."
Brand and digital developments
During the reported period Vertu moved to bolster its brand profile and digital retail capabilities.
Extensive TV campaigns, sports sponsorships (including coverage of Channel 4's Formula One coverage) and partnerships and digital marketing initiatives helped grow awareness of the Vertu, Bristol Street Motors and Macklin Motors brands, as well as the group's Click2Drive online retail offering.
Forrester has yet to be convinced of the case for purely online retail, however, insisting that most customers will still want to visit one of its 160 retail locations for advice or a test drive.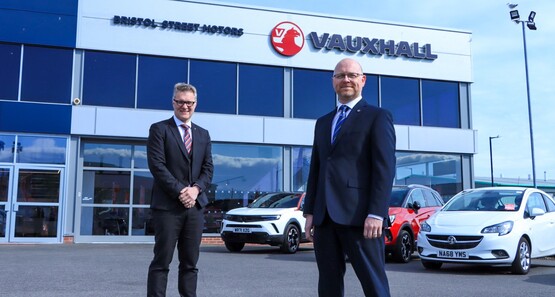 Vertu appointed Bruce Clark as chief technology officer and former Auto Trader franchise brand director Chris Penny as its new group strategic projects director during its reported period as it moved to bolster its online offering and is now on the hunt for a new head of head and a head of data.
As well as employing new AI processes, it migrated its online functionality to the Amazon cloud to speed-up customers' online experience.
However, just 900 of the 89,000 used cars it sold in 2021 were done so in completely contactless fashion, Forester told AM.
"They are the people that have bought end-to-end online with no intervention from us and that number has doubled year-on-year to get to that point," he said.
Vertu sold 4,300 cars where a £99 deposit was left to secure the vehicle online, but Forrester said that "most came in for a test drive before they took the car from us".
Multi-franchising
Vertu has continued to execute multi-franchising actions in its locations to maximise the long-term profitability. Among the key integrations were:
Addition of Citroen alongside the group's existing Vauxhall outlet in Northampton.
Vauxhall, Renault, Dacia and Hyundai franchises were to an existing dealership in Dunfermline, Fife, with Ford sales operations having ceased.
The Honda Bikes franchise added to Honda dealership in Stockton bringing the total number of outlets in the Group's Vertu Motorcycles Division to four.
Opening of a Stellantis multi-brand aftersales centre in Harlow, located near the group's existing Peugeot dealership.
Hyundai franchise added to an existing Honda dealership in Sunderland.
Peugeot added to Sunderland Vauxhall dealership.
New build Kia and Peugeot dealership opened in Newbridge, Edinburgh, with MG added in December.
Looking towards the year ahead, Vertu said its 'Current Business Priorities' were: cost management; maximisation of conversion of enquiries to revenues; and customer experience to drive retention.
Its group outlook statement said: "The board believes that the Group is strategically very well placed to capitalise on the challenges and opportunities in the UK automotive retail sector and remains confident in the prospects for the group.
"Its strong balance sheet, management and technological capability underpin this confidence."