Waylands Automotive chief executive John O'Hanlon admits the group has "unashamedly" been investing heavily on its car dealership property ahead of Swindon Volvo opening.
The AM Awards-winning retail group opened the new dealership on Great Western Way, Swindon, yesterday (February 13) to create a new flagship dealership for the Swedish brand and another statement site for the business.
And it comes just weeks after O'Hanlon explained the importance he sees in property investment in conversation with AM news and features editor Tom Sharpe on an episode of the AM News Show podcast.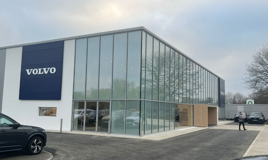 Appearing alongside eBay Motors chief executive Phill Jones, O'Hanlon said: "Swindon is our biggest spend so far. It wasn't plan A to knock down the building but it was a 1970s dealership with a lot of grass and greenery and it was up and down like a fiddlers elbow.
"Swindon is a big market. Behind Bristol it's our biggest market. To have a two-acre site, 80 used car display and full Volvo VRE environment on one of the biggest roads in and out of Swindon, that will be a statement property for us.
"For Volvo we've now done four, this will be the fifth, and every one's bee multi-million. Unashamedly, we've been spending a lot of money in and around property, but that's important because we want environments that our customers want to come to and our teams want to work in.
"I think you can demonstrate that if you make investments in the right places you can get the return and that's what we're working really hard on."
Waylands acquired Volvo Cars Swindon from Johnsons Cars back in August 2018.
Yesterday, O'Hanlon took to LinkedIn to mark the opening of Waylands' new Swindon dealership in a message that thanked sales manager Nick Hayes, transaction manager Christian McLean and aftersales manager Ben Ambrose for their work to move the business.
Waylands investment in expansion is not finished yet, however, and O'Hanlon is targeting a £250 million turnover with the help of new OEM partners.
AM reported last month that the three-time AM Awards Dealer Group of the Year (up to 10 sites) winner is poised to join the Polestar network with the opening of a new store in Bristol.
It will add the Geely-owned brand to a portfolio already featuring Volvo, Kia and MG as part the OEM's drive to double its physical footprint to six sites in the UK this year.
O'Hanlon said: "We already offer value and mainstream EVs and Polestar really adds a performance element to that mix. The brand wants to go toe-to-toe with Porsche, so there's no conflict in our portfolio. It's a very exciting prospect."