Brindley Group is set to introduce a host of eco-friendly measures to reduce its carbon footprint when it commences the £2 million redevelopment of its Kia dealership in Wolverhampton.
Solar panels and electric vehicle (EV) charge points will be among the features of the dramatically upgraded car retail facility on Penn Road, Wolverhampton, which is set to be transformed in a 10-month project starting next month.
AM initially revealed Brindley's plans to update the Kia franchised site after planning permission for the project was approved in July last year.
Detailing what it means for the group, which operates a total of 11 franchised sites with Honda, Hyundai, MG, Volvo, Nissan, Mazda and Maxus, group operations director Chris Adams said: "Brindley Kia is looking forward to a greener future thanks to the eco-conscious redevelopment of its Wolverhampton site. The existing showroom will be completely demolished, and a new state-of-the-art showroom built in its place.
"This is a massive investment for the group and shows the confidence in the quality of the Kia franchise that surpassed the massive milestone of 100,000 cars registered in the UK in 2022."
In the last two years, Brindley Group – the AM100's 58th-placed retail group by turnover (2021: £248.8m) – has spent over £1.5m on solar panels and electric car charging points to future-proof its sites as electric cars become increasingly popular.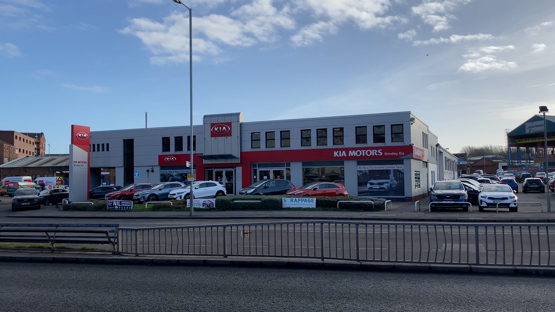 Becoming a Brindley site in 1997, Adams said that its Penn Road Kia site was a "thriving business", describing it as a "landmark" location that served as the group's home for many years.
He added: "The fantastic growth the group has enjoyed over recent years led it to move its head office from Penn Road to a new seven-acre site at Featherstone that serves as both a car preparation and storage centre.
"It is also home to the group's Fleet department which has grown massively and now supplies over 4,000 cars per annum to customers all over the UK."