Less than six years since its inception the Independent Motor Dealers Association has reached the 1,000 member mark.
Conceived to bring independent dealers together for sharing best practice and support, and to give a voice to a typically fragmented sector of the UK automotive retail industry, the IMDA has grown the support and services it provides to members.
IMDA membership brings access to free legal advice, DVLA support, connection with more than 50 supplier partners who offer services and products for used car dealers, and a service support network.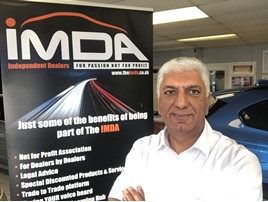 Its chairman and co-founder Umesh Samani, who owns used car dealership Specialist Cars and its neighbouring workshop Harris Motor Company in Stoke-on-Trent, said: "The aim was to bring these dealers all together under a recognised association and to help provide them with a voice and support.
"There is still a long way to go, and we will continue to get the IMDA name out there to help encourage more quality independent dealers to join us."
Free to join, the IMDA encourages its members to follow a code of conduct which reflect the standards expected when conducting business with consumers, following the FCA (Financial Conduct Authority) principle of Treating Customers Fairly (TCF), the Consumer Rights Act 2015 and the Consumer Duty.
Samani said: "I am extremely proud that we've got to this. We got laughed at back in 2017 when we set up the IMDA.
"Thanks to all the founder members, current committee members and the partners for their continued support. It's brilliant that we can represent some of the fantastic Independent motor dealers, non-franchised and franchised, that do an amazing job in representing the Independent dealer network."
At Automotive Management Live last November Samani and several IMDA members debated issues such as used car stock sourcing and customer experience.