The Finance and Leasing Association (FLA) has revealed that the point of sale (POS) consumer car finance market fell 1% by volume in March, compared with the same month in 2018.
While the value and volume of advances in the used car sector rose by 9% (to £1.63bn) and 4% (to 130,632) in the used car sector, a 3% decline by value (to £3.3bn) and 5% by volume (160,906) in the new car sector during the key numberplate change month took its toll on the sector.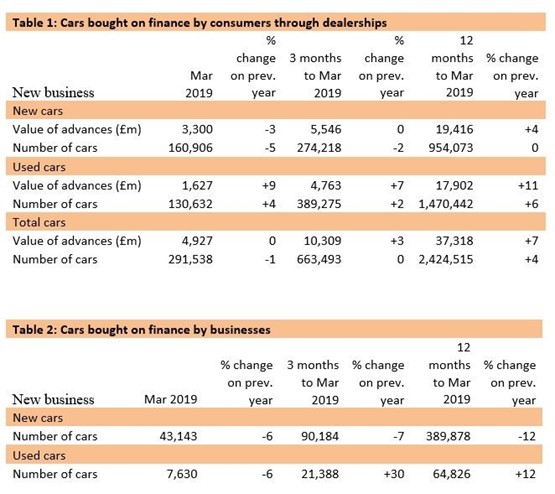 The number of new and used cars sold via POS finance to businesses also decline by 6% in both the new and used segments, meanwhile.
Geraldine Kilkelly, head of research and chief economist at the FLA, said: "The POS consumer car finance market reported new business volumes stable in the first quarter of 2019, with a fall of 2% in the new car finance market offset by growth of 2% in the used car finance market.
"The Q1 2019 performance reflects our expectations for the year as a whole, with annual new business volumes of around 2.4 million, a similar level to 2018."
The percentage of private new car sales financed by FLA members through the POS was 90.9% in the twelve months to March, down from 91.1% in the same period to February.
In 2018, FLA members provided £137 billion of new finance to UK businesses and households, with a total of £104 billion of this being provided in the form of consumer credit – more than a third of total new consumer credit written in the UK in 2018.
Of this, £46 billion was supported the purchase of new and used cars, including over 91% of private new car registrations.
For views and insights into how motor retail will adapt to new technologies and consumer behaviour come to the Automotive Retail Congress on May 21. Click here for more details.