The Government's decision to cut the plug-in grant came out of the blue in March, but there are a strong set of incentives in place for electric vehicle (EV) buyers for Q2.
The plug-in car grant (PiCG) for pure EVs was reduced from £3,000 to £2,500 and the list price cap reduced from £50,000 to £35,000.
But, as AM's data shows, there are still plenty of models that qualify (17 that AM could find on manufacturers' representative examples online) and the average monthly payment across all of them is less than £300.
The cap of £35,000 does rule out most of the more premium models from brands like Audi, BMW, Mercedes-Benz and Tesla, but there is still a breadth of model sizes available, from city cars to crossovers to SUVs.
Citroën revised its prices to make sure the new eC4 remained eligible for the grant and while it's at the pricier end of the market compared with others, it has a relatively low deposit level and a deposit contribution of £700 in Q2. Citroën is hoping this adjustment will help the new EV make up to 20% of all C4 sales.
Smart's EQ models come out on top for the most affordable EVs in the UK from £177 a month, closely followed by the Renault Zoe and Vauxhall Corsa-e at £212 and £224 respectively.
The average deposit for eligible plug-in car grant cars is £3,670, which doesn't necessarily put these offers out of reach for those customers that have a decent part-exchange or have been lucky enough to build up some savings during the pandemic.
There are some generous deposit contributions available for those wishing to make the switch too, with MG quickly offering £3,000 contributions to customers that bought before the end of March to take the bite out of the reduction in Government grant support.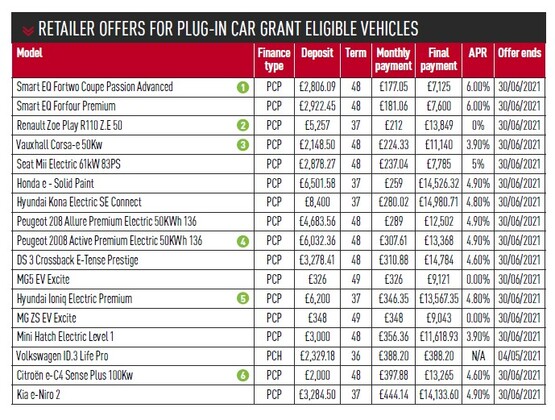 However, these have now been removed in April, so it's Peugeot leading the way in Q2 with £1,700 of support behind the 208-e and a £500 reduction off the e-2008.
Hyundai is putting in £1,000 off the Ioniq Electric to tempt customers before summer.
Nissan also revised Leaf pricing in light of PiCG changes with a new 0% PCP offer on LEAF e+ N-Connecta versions, attracting monthly payments of £299 over 37 months.
And let's see if Tesla's Model 3, now exempt from the PiCG, will drop out of the top 10 best sellers list in April (it was the fourth most popular model in the UK during March this year).