High monthly payments are likely driving thousands of private motorists away from signing up to new car PCH deals, according to the latest report from the British Vehicle Rental and Leasing Association (BVRLA).
In Q1 2022 there were 325,885 PCH contracts recorded by BVRLA members. In Q1 this year that has dropped to 303,092 vehicles.
The combination of much higher new car prices than in 2020 and soaring interest rates have significantly increased the monthly payment when replacing a car on a like-for-like basis, which could be putting off many private drivers, it report said.
"Leasing brokers report that motorists are switching to second-hand cars or even reconsidering the need for a second car in two-car households as hybrid working practices see more home-based workers," stated the BVRLA.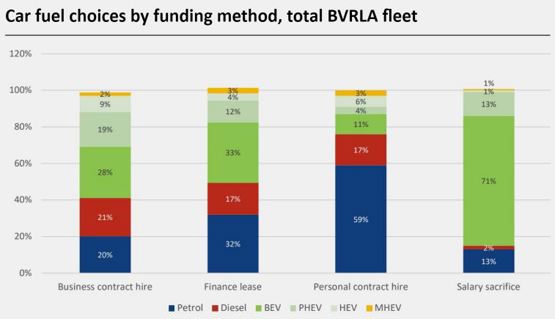 However salary sacrifice schemes, which tempt a company's employees to lease a car tax-efficiently, recorded a phenomenal 41% year-on-year rise in volumes ,to around 50,000 cars as company employees, including drivers who had previously accepted a cash allowance in lieu of a company car, have seized this cost-effective opportunity.
It's particularly effective in making electric cars more affordable - 91% of the salary sacrifice cars added in Q1 2023 were battery electric vehicles (BEVs).
"Brand-new electric cars are still too expensive for many consumers, with new fossil fuel cars continuing to outsell them.
"But with the tax advantages of salary sacrifice a lease on an electric car becomes incredibly affordable - which is why salary sacrifice is both growing and dominated by clean cars," said Thom Groot, CEO and co-founder of The Electric Car Scheme.
Some leasing specialists have now launched lease programmes specifically for young-used electric cars. AM reported recently that Octopus EV, owned by the energy group Octopus, is the latest.
In the same period, business contract hire numbers rose by 3.5% between the first quarters of 2022 and 2023 to 789,742 cars. Of these, 24% are battery electric vehicles
The BVRLA is concerned that the rapid growth in business's demand for new BEVs is not being balanced by private motorists' desire to go electric.
"We have had a two-tier transition to zero emission motoring for some time and this growing gap between the fleet and retail sectors' appetite for decarbonisation could put the 2030 phase-out target in jeopardy," said BVRLA director of corporate affairs, Toby Poston.
"All these fleet BEV registrations will hit the used market in three or four years' time. The last year has already shown an increasing imbalance between the fast-growing supply of used electric cars and demand that isn't keeping up."