Advertisement feature from Ssangyong

Meet Britain's best performing car manufacturer
On the back of the hugely successful launch of its new Musso pick-up, SsangYong is continuing its major push to attract new dealers. "We want to make it easy for dealers to acquire and operate the franchise," says David Rose, franchising manager, "and have removed the barriers to ensure representing our brand is highly appealing and easily assessible.
"We have changed the traditional way people view a new vehicle franchise, and SsangYong will be known for the quality of its products, its industry beating warranties, the ease of operating a dealership, and it now comes with free start-up costs! Our new approach means there is no investment in signage, special tools, vehicle diagnostic equipment and other set-up costs when joining the SsangYong family. Not only that, but SsangYong gives you industry leading margin retention on new vehicles, so all in all, highly compelling!"
Adds Nick Laird, managing director of SsangYong Motor UK, "The brand is committed to long term investment in new product, and we will be seeing at least one new model launch a year through to 2022. We offer a very clear product portfolio of SUV, 4x4 and pick-up models - all sectors of the market in growth, and we are committed to ongoing investment to build great relationships with our dealers and customers.
"Our big launch in 2019 will be an all new C-segment SUV to replace the Korando. Arriving in showrooms towards the middle of the year, it will give the brand a significant new player within its five model range. In the meantime, South Korea's third largest vehicle manufacturer has a number of other changes lined up that include Euro 6D engines and smaller petrol engines. EVs haven't been forgotten either, and expect to hear news about electric and other new models in the coming months.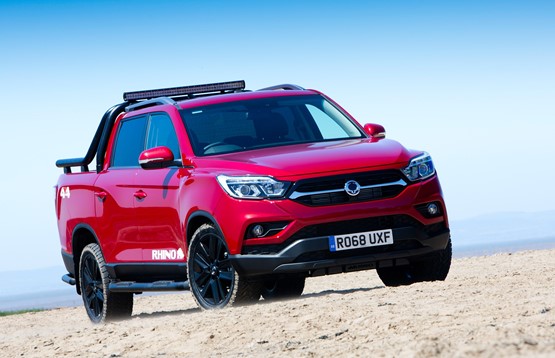 "We shape our customer offers to what dealers need, and having introduced a 7-year/150,000 mile warranty when we launched Musso and retrospectively on all new Rextons, this has now been extended across the range giving SsangYong the best warranty in the motor industry by some margin."
"We are looking to recruit a further 20 dealerships in 2019," says David, "with open points available in both urban and country locations; I am keen to talk to both experienced new vehicle franchisees, and operators who are considering their first franchise. Indeed, SsangYong is an ideal "first step" into new vehicle franchising, as it's very easy to operate and enjoy incremental income from sales and service from day one. "
While it might still be a small brand, SsangYong has just been named 'Best performing car manufacturer' by HonestJohn.co.uk and top for owner satisfaction, beating names such as Porsche, Lexus and Jaguar.
It offers dealers a five model range of cars so there's something for almost every customer: B & C segment SUVs, a large 4x4 and a crew cab pick-up, which means that whatever your dealer profile, there's a product you can offer.
For new dealer franchising enquiries, call David on: 07964 806938 or visit http://www.ssangyonggb.co.uk/pages/become-a-dealer
---