Advertisement feature from Autoclenz
Seeing is believing
If you haven't got 100% visibility of your valeting processes, how are you going to see improvements?
It goes without saying that the easiest way to save money on valeting and vehicle preparation costs is to do less of it. You should only prepare a car when you have to. Just how many unnecessary valets are going through your system? Answer that question, shine a light on the anomalies and you'll find savings.
Effective Cost-control is Vital to Maintain Dealer Margins
With ever increasing running costs to dealerships, outgoings must be reduced to preserve margins. Here at Autoclenz we recognise this and have invested in unique technology to allow you to track your valeting and vehicle preparation costs down to the minutest detail.
It's called the Autoclenz Paperless Vehicle Management System (PVMS) and it is unique in our industry.
Save up to 3% Per Annum with Cost Control using Management Information
The Autoclenz PVMS (Paperless Vehicle Management System) is the ultimate tool in controlling the movement of your stock through the valet, preparation and imaging process whilst controlling the spend. PVMS is live, showing jobs awaiting, progressing and completed through the valet bay.
Our PVMS allows you to control duplicate valets and configure sign-off by managers for "exceptional" valets... Early signs suggest that this can save up to 3% of annual valet spend.
Fully Outsourced End-to-End Solution
Autoclenz is best known for its vehicle valeting services but there's a whole lot more to see with Autoclenz than just cleaning cars. Clients now benefit from an award-winning suite of services.
With the customer experience and customer journey now an integral part of car retail, Autoclenz offers a fully outsourced solution to all preparation needs, offering services ranging from Meet and Greet, Delivery and Collection, Imaging and Cosmetic Repair to Premises Cleaning.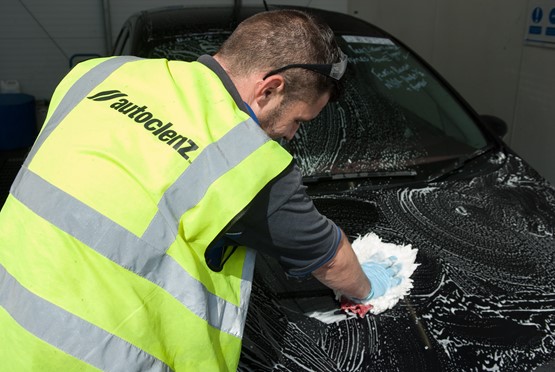 Whether you are a Retail Dealership, Auction House, Volume Refurbishment or Daily Rental Operator, the ability to consistently deliver a high-quality customer experience is paramount.
At Autoclenz we've got all the expertise and resources to not only provide a superb valeting service but also a portfolio of services that can either save money, increase revenues or improve customer satisfaction.
Your Stock Ready to Retail in 72 Hours
Imagine a world where your used stock could be appraised, SMART/bodyshop repaired, valeted and imaged all within 72 hours of arriving on site. This is a reality with Autoclenz.
Our Imaging service delivers consistency of imaging, quality and speed of upload by making imaging part of the vehicle preparation process. Partnered with AutosOnShow, we offer our clients the best possible imaging solution in the marketplace.
Link this with our unique, fully managed Cosmetic Repair and Smartshop service that offers a complete cosmetic repair solution on-site and you have a full end-to-end service.
Join Our Blue-chip Client List
As proof of our ability, Autoclenz is the regular winner of countless awards and is the preferred supplier for 8 of the AM Top 10 Dealer Groups.
Contact
Martin Peters
Sales Director
Autoclenz Limited
Tel: 01283 554682
Email: sales@autoclenz.co.uk
Web: www.autoclenz.co.uk
---